May's top conservatory is owned by Miss Dowdeswell in Chatham, Kent, who wanted to give her home a roomier feel and offer the family a space of real peace and quiet. Miss Dowdeswell sought the professional expertise of our approved local Kent installers to make her dream a reality. And following the advice from the Conversatory Land team, she selected a lean-to conservatory.
Our lean-to conservatories are a very popular choice with many of our customers – easy to erect and offering a really sleek and contemporary finish, creating a light and airy room for everyone to enjoy. Extending your home quickly and easily within a matter of days, a lean-to conservatory is a stylish addition to any modern home.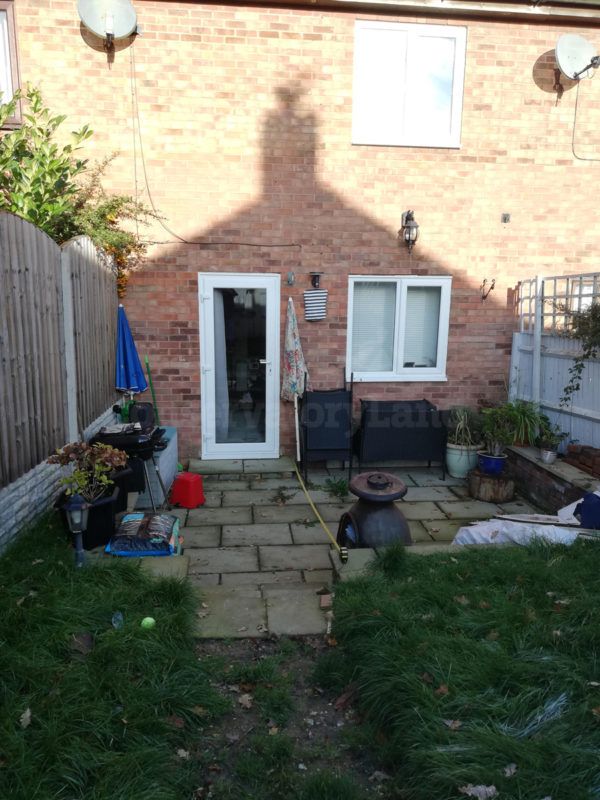 May's customer of the month enjoyed her long garden, but had an existing patio that felt neglected. Home to occasional garden furniture and parasols, with a few potted plants and garden tools, Miss Dowdeswell felt it was an area that just couldn't be enjoyed all year round and needed regular maintenance to keep clean and tidy.
Miss Dowdeswell was keen to make better use of the area with a conservatory to enjoy the space all year round, extending her terraced home with an extra room to entertain friends and family whatever the weather.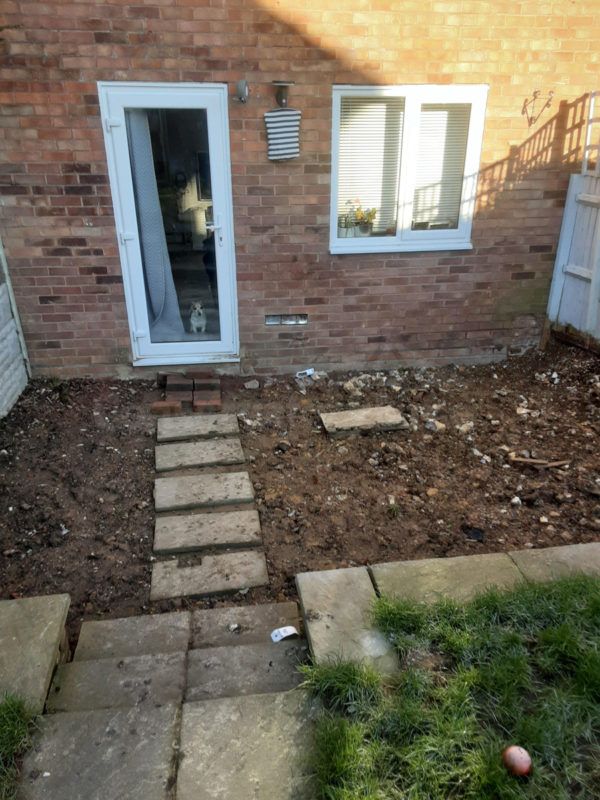 Keen to get started on extending her home, Miss Dowdeswell called upon the services of our local Kent Conservatory Land installers to take up the existing patio slabs, levelling the ground ready for the foundations of her bespoke DIY lean-to conservatory.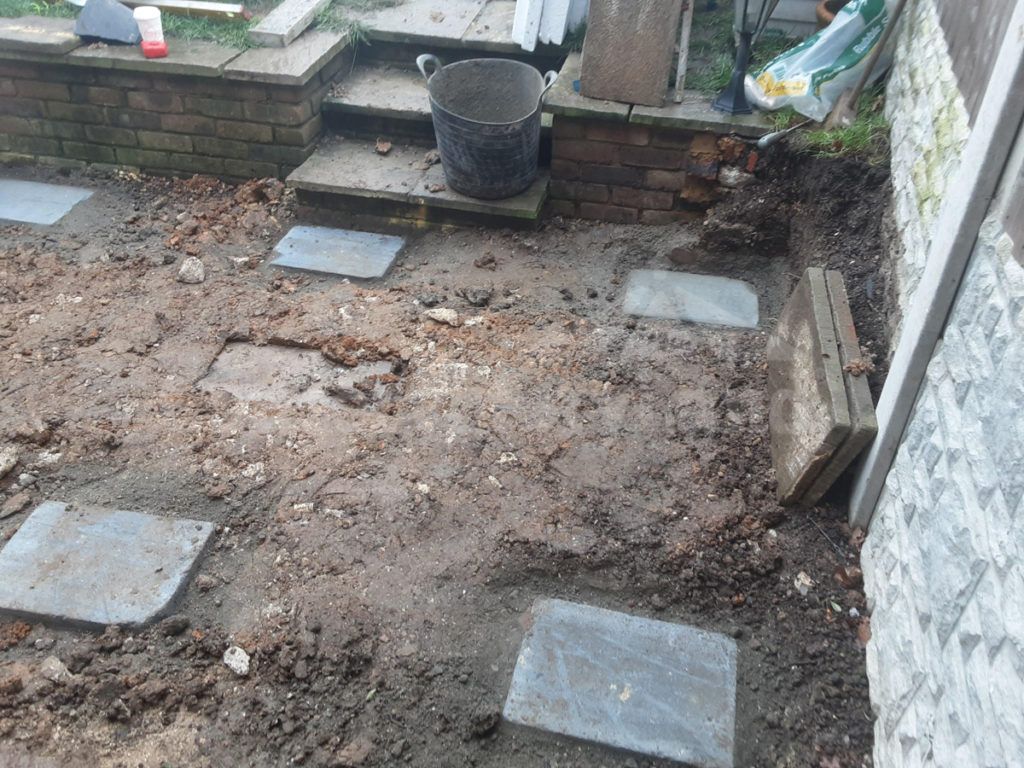 This first step really lent perspective on just how much space the patio had been taking up unnecessarily, with plenty of room afforded to provide that additional space and brand new conservatory.
The Project Technical Specifications
| Name | Miss Dowdeswell |
| --- | --- |
| Location | Chatham, Kent |
| Conservatory style | Lean-To conservatory |
| Dimensions | 4000mm x 3000mm (made to measure to customers requirements) |
| Glazing | tandard glass windows, standard glass roof |
| Base type | ConservaBase with UPVC skirt |
| Colour | White PVCu, standard glass windows and roof, chrome handles |
Before delivering and installing her conservatory, we developed a CAD drawing according to Miss Dowdeswell's design specifications to help her envisage what the finished product would look like. Miss Dowdeswell specified that her DIY conservatory be 4m x 3m, providing an additional 12 m² (129.17 ft) room to her modern terraced home.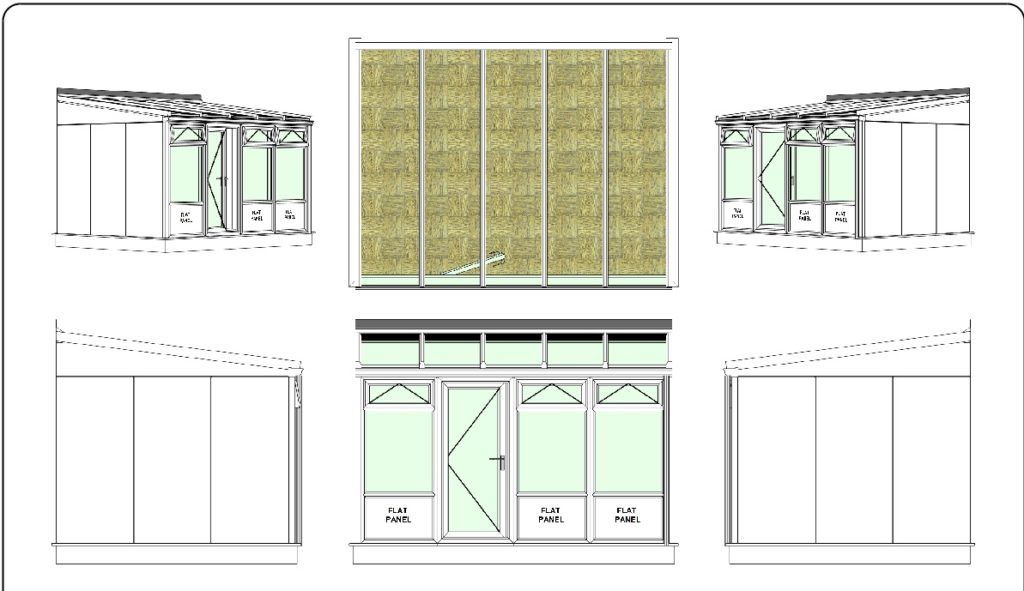 With the help of our friendly design team, she chose a bespoke lean-to conservatory with bright white windows and doors to match the style of her home, with chrome handles for a cool, contemporary finish.
Keen to avoid encroaching on or being looked over by her neighbours, Miss Dowdeswell specified that both left and right hand sides of the conservatory be fitted with opaque panels. These panels also helped the room to feel like a more natural extension of her existing home, with large windows fitted at the end of the lean-to looking out onto the garden beyond. 
Coupled with the standard glass roof, these windows and single glass door helped to maximise light within Miss Dowdeswell's lean-to conservatory without compromising on privacy. Smaller windows were fitted within the standard glass windows next to the door to provide a gentle breeze on warmer days.
Lean-To Conservatory Installation Process
Following a consultation with our Conservatory Land team, Miss Dowdeswell's bespoke DIY lean-to conservatory was erected in just a few short days. After the first visit to measure and prepare the site ready for build, work began on the patio and underlying ground to build the foundations for the conservatory.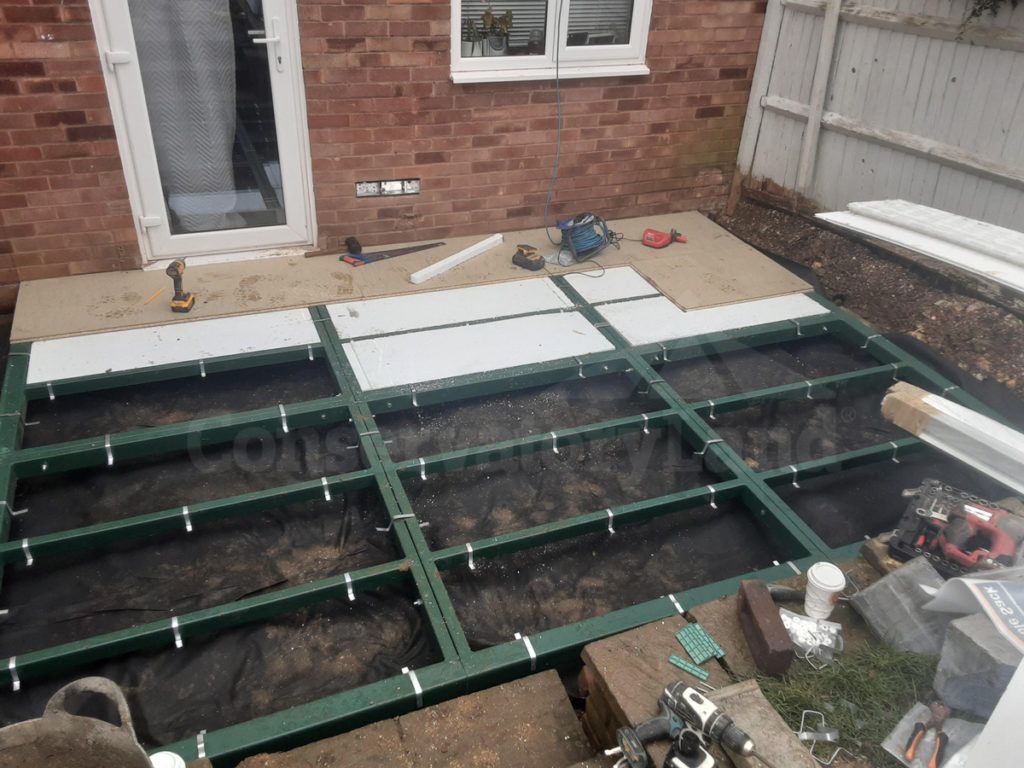 Our installer began by building the framework on the foundation pads, levelling them flush with the existing patio door to avoid a large step down into Miss Dowdeswell's lean-to conservatory. Access was limited to the property and garden, and so the conservatory base and frames were manufactured into manageable pieces to be able to accommodate this.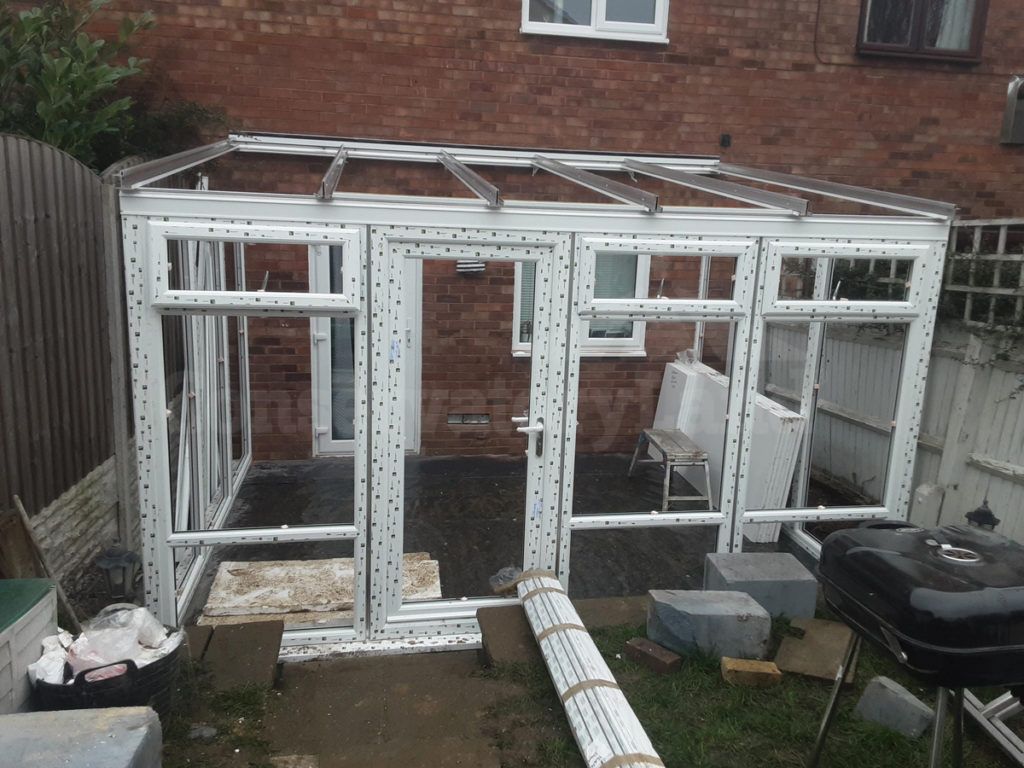 Once the foundations were laid, the Steel frame of the ConservaBase and UPVC skirt were erected with chrome handles affixed to the windows and doors. Taking the existing garden dimensions into account, our team worked with the client to ensure the conservatory was built sympathetically to ensure a natural flow from the conservatory door to the steps of the garden. With this, the lean-to was already taking shape and beginning to give Miss Dowdeswell a real idea of the finished article.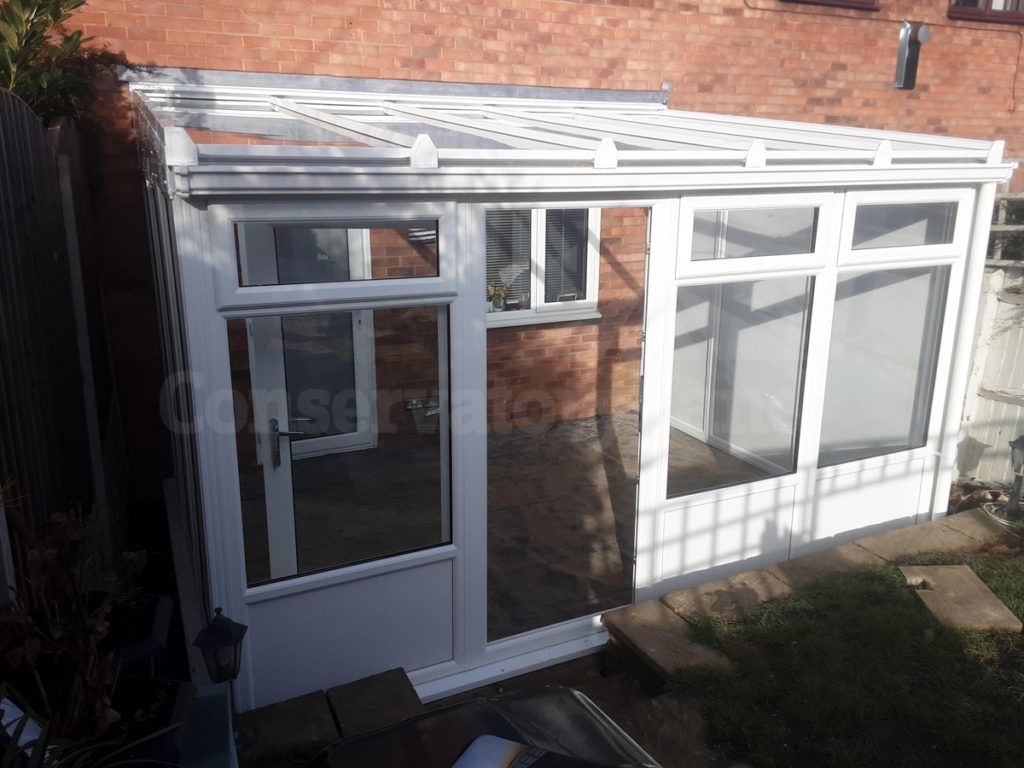 Next, our installer took care to fit the glass windows and roof, followed by the  flooring and privacy panels. The overall effect meant Miss Dowdeswell achieved the privacy she desired, with no light lost to neighbouring fence panels. Instead, the glass roof and windows maximised brightness within the space – a clever touch to ensure all she desired from her new conservatory. For the final flourish, our local Kent installer cleaned and polished the entire structure, leaving Miss Dowdeswell's lean-to gleaming – ready for furniture, decoration and a homely touch! 
The finished lean-to made a great addition to Miss Dowdeswell's home, taking a disused outside area and making it a usable space  to relax in all year round – leaving one very happy customer!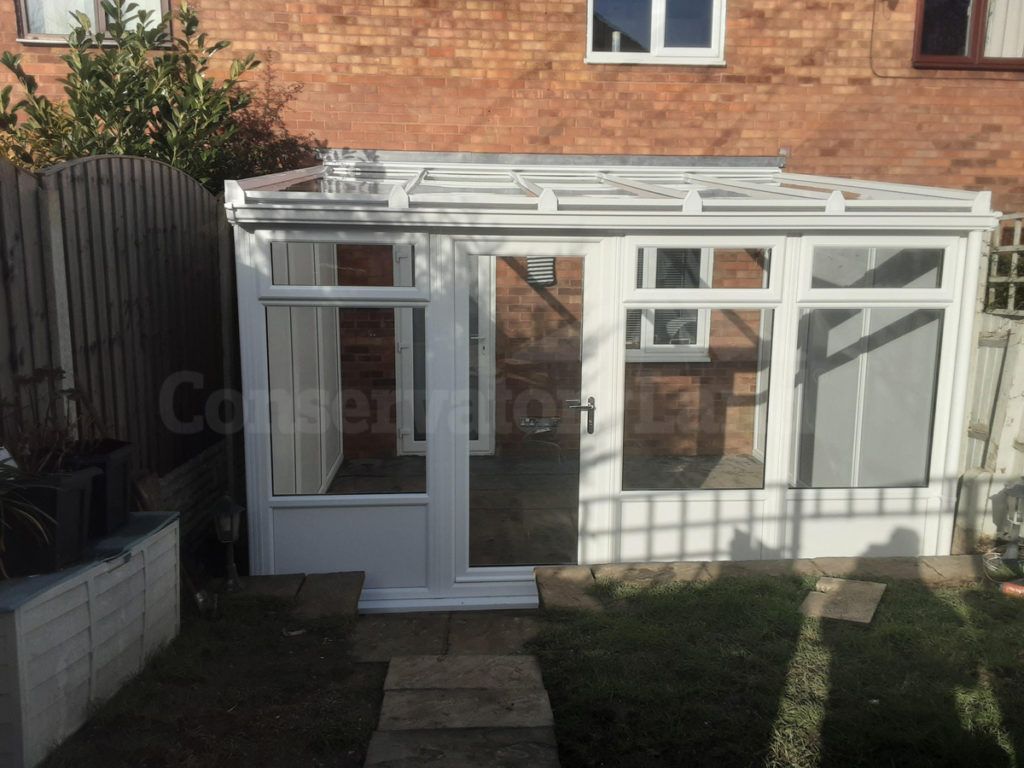 Customer Testimonial
From start to finish, Miss Dowdeswell found that choosing, designing and installing a lean-to from Conservatory Land couldn't have been simpler:
"My experience was absolutely excellent. Conservatory Land have been brilliant from the first phone call! Everyone I spoke to has helped me every step of the way to create the most perfect conservatory; I couldn't believe how easy and hassle-free it all was. I cannot fault the in-house team and the builders did a brilliant job, despite it raining down on them every day! I highly recommend Conservatory Land to my neighbours, friends and family. My new conservatory has made such a difference!"
Inspired to recreate Miss Dowdeswell's DIY lean-to conservatory? Or perhaps you have a different design in mind? Our team would be more than happy to talk through all the different options available. 
You can trust wholeheartedly in our great team of reliable approved installers. Local to your area, your conservatory can be designed and erected in time to enjoy the long summer months ahead! 
Want more information (or inspiration)? Check out more of our customer case studies, or order a free brochure. 
If you'd like to talk to us about a conservatory project, get in touch today for a free quote.