Our Customer of the Month for November 2023 is Mrs Wachon in Banwell, Somerset. Her Hipped-Back Edwardian conservatory is an excellent addition to her bungalow, giving her plenty of space to dine, socialise and relax.
Mrs Wachon had a little uncertainty when it came to choosing between a regular extension and a conservatory for her extra living space. However, after finding out about ConservatoryLand, she made the choice of a custom-made Hipped-Back Edwardian conservatory and she couldn't be happier with the final outcome.
Watch Mrs Wachon's video testimonial below and find out how ConservatoryLand has transformed her bungalow.
Once Mrs Wachon had decided that a conservatory was the right option for her home, she called ConservatoryLand. She was delighted with the level of customer service and was given help and advice whenever she needed it. She was also pleased that she could customise every element to her style.
Mrs Wachon couldn't be happier with her new addition – a stylish Hipped-Back Edwardian conservatory that's flooded with sunlight. Her new conservatory now doubles up as a dining area and a place of socialising for Mrs Wachon and her loved ones. What's even better, it seamlessly extends to her garden patio, which creates a welcoming connection between her home and garden. Come rain or shine, it delivers that ideal al fresco atmosphere.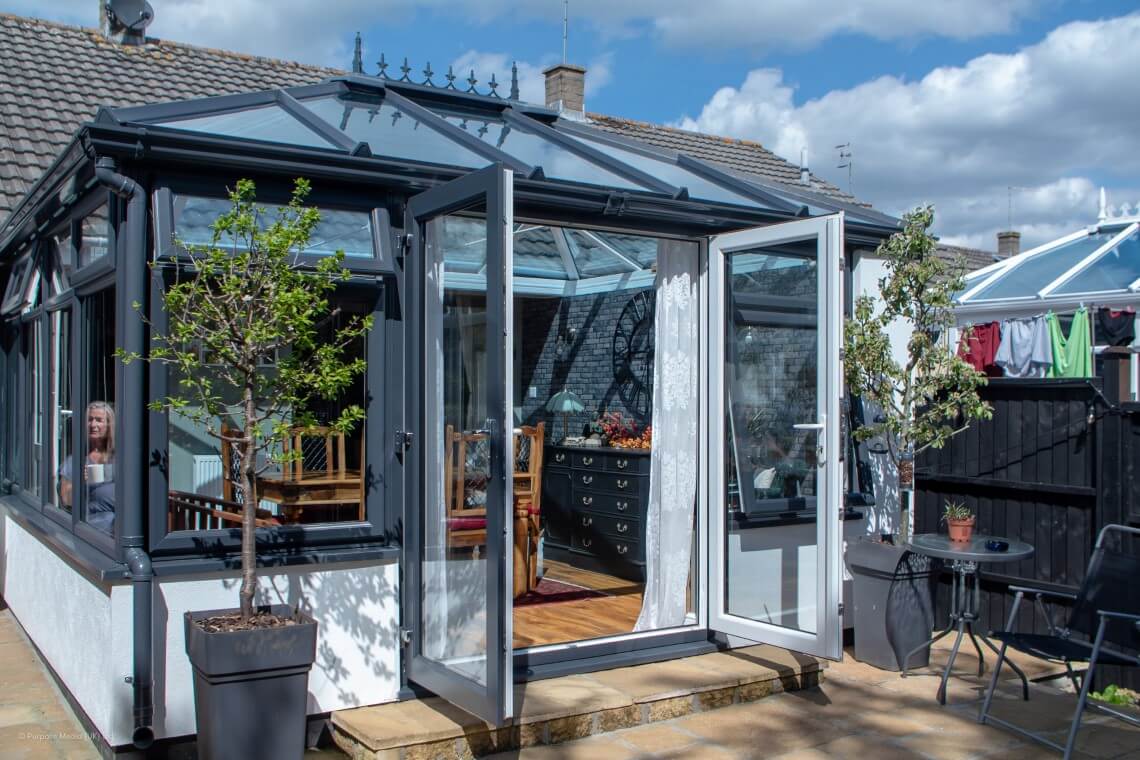 The specifications
| | |
| --- | --- |
| Name | Mrs Tracey Wachon |
| Location | Banwell, Somerset |
| Conservatory style | Hipped-Back Edwardian Conservatory |
| Dimensions | 4360mm x 4000mm (made to measure to customer's requirements) |
| Glazing | Standard glass in the windows, Blue Self-Cleaning, Solar Control Glass roof |
| Base type | ConservaBase with a ready to render finish (Customer rendered themselves) |
| Colour | Grey on White uPVC, 24mm Blue Self-Cleaning, Solar Control Glass for the roof, white handles |
Building Mrs Wachon's conservatory
While our conservatories are suitable for DIY assembly, Mrs Wachon enlisted the help of one of our Approved Installers — a network of independent installers who have all been vetted by ConservatoryLand.
Our Approved Installers brought everything they needed and fitted it in just three days. The team built her new conservatory using ConservaBase, ConservatoryLand's unique all-in-one base and wall solution. As a result, there was no need for messy and time-consuming foundations and Mrs Wachon was delighted at how easy the process was.
Had Mrs Wachon chosen a traditional built extension, she might have faced the inconvenience of her home turning into a construction zone for weeks, or even months. Fortunately, by opting for a ConservatoryLand conservatory, she's able to kick back and relish her brand new living space in just a matter of days.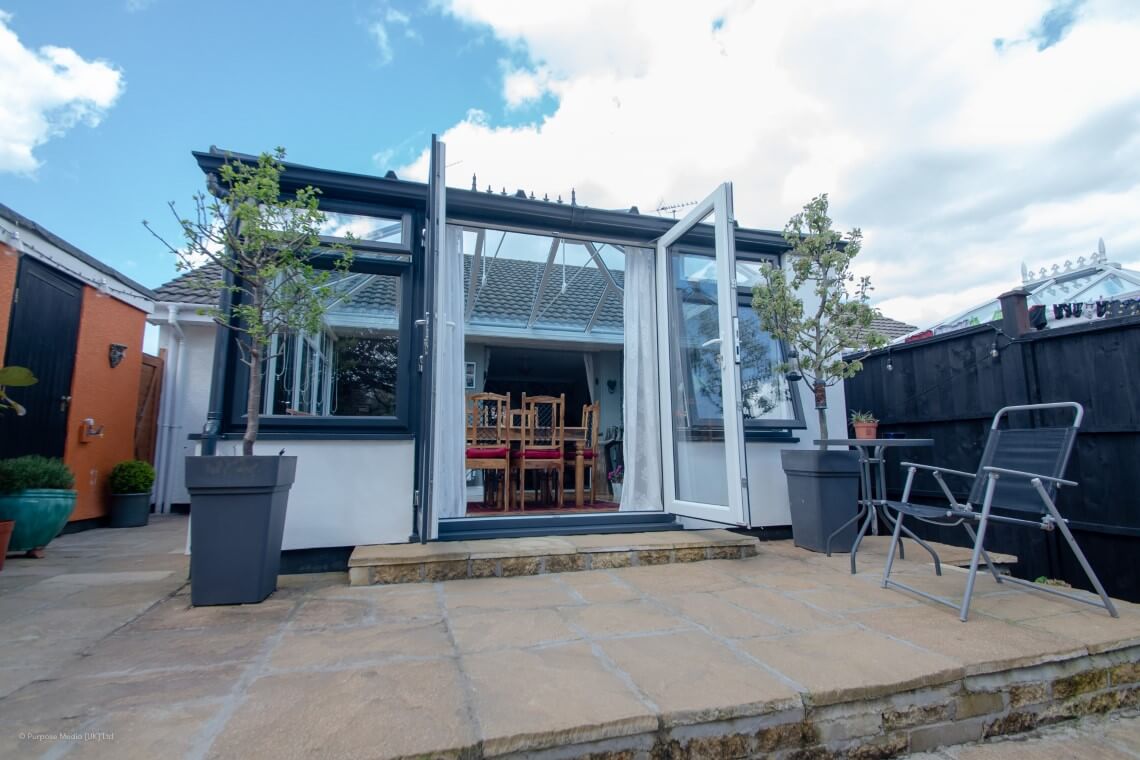 Like all of our conservatories, Mrs Wachon was able to customise her Hipped-Back Edwardian conservatory to make it unique to her preferences.
Her choice of a grey on white uPVC frame with a white render creates a sleek, modern exterior. It's an excellent colour match to her bungalow and existing wooden fencing, making it blend seamlessly with her bright and airy garden.
The Blue Self-Cleaning, Solar Control Glass was the perfect choice for the roof. This regulates the temperature so Mrs Wachon can enjoy her new space, whatever the weather. This material stops the conservatory from getting too hot, even on the brightest days. Plus, it keeps the heat in during the winter so she can stay warm and cosy with her friends and family during the winter season.
Thanks to her wonderful new space, she can comfortably accommodate a generous dining table, chairs, and there's even room for a large chest of drawers for extra storage.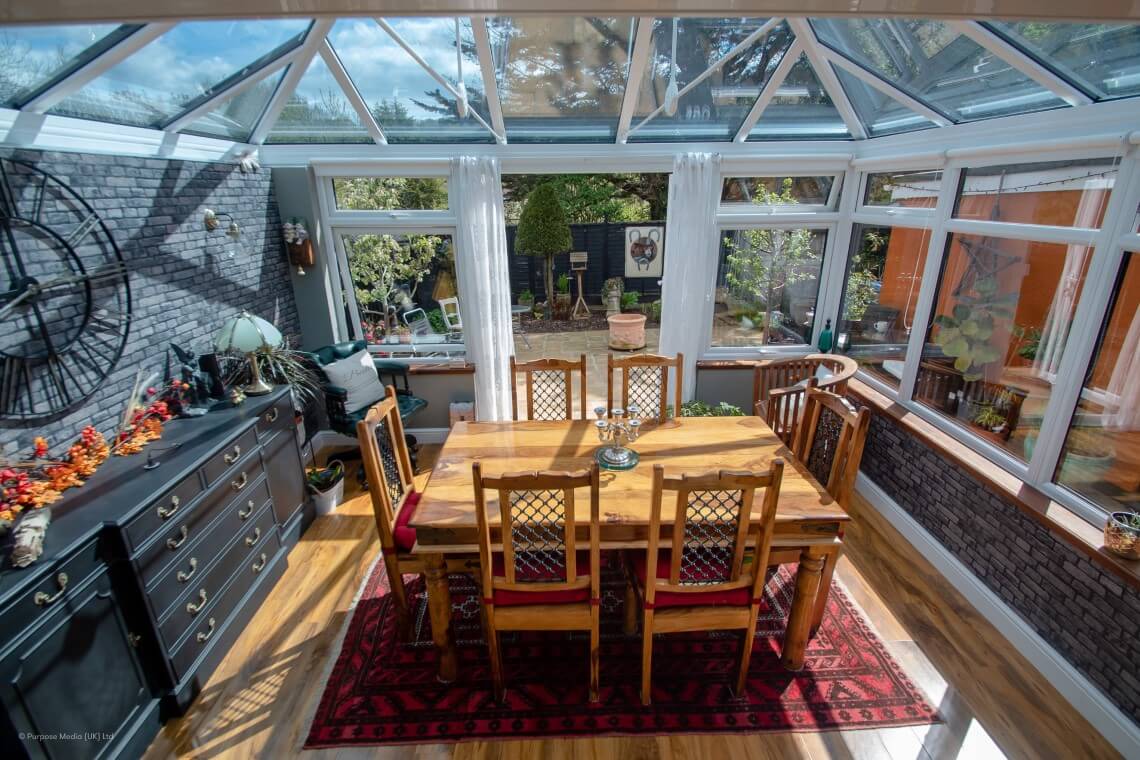 Mrs Wachon loves her new conservatory. It's given her the space of a traditionally built extension for less money and, just as importantly, less hassle. She couldn't recommend ConservatoryLand highly enough and was delighted with the service from beginning to end.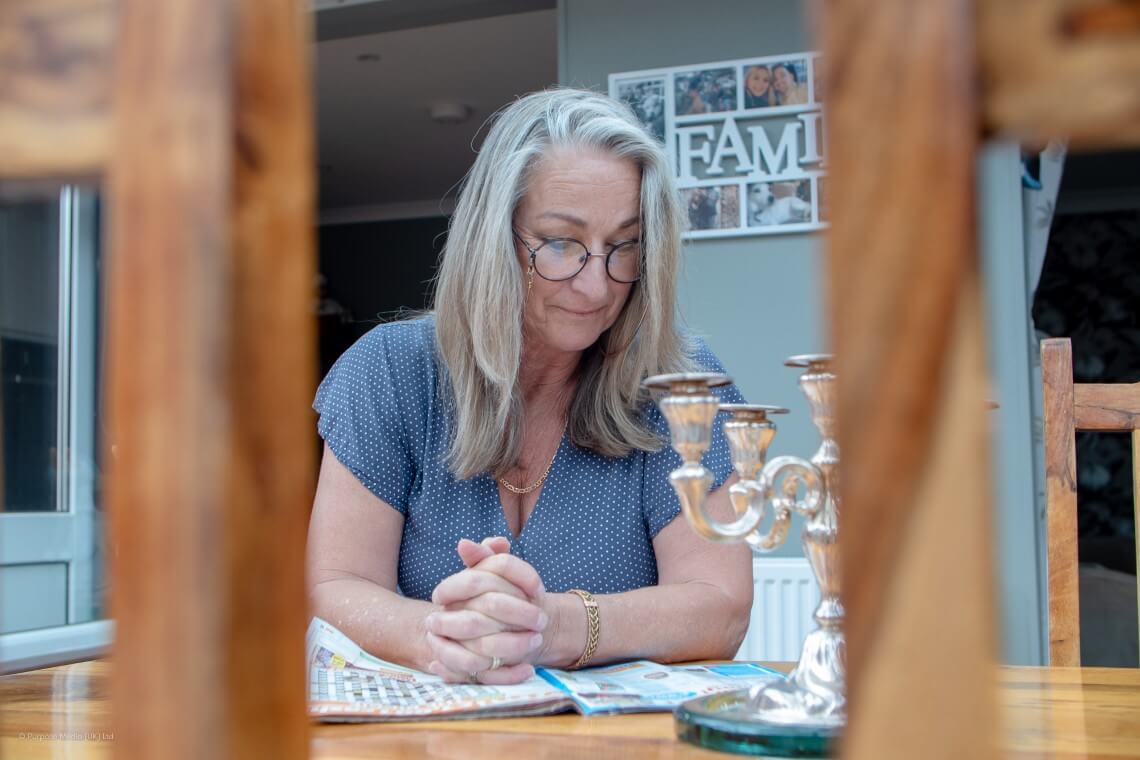 Are you feeling inspired?
If you would like to transform your living space, get in touch today. Whether you're looking for a room to entertain your guests, a new dining area or a place of tranquillity, take a look at our free brochure. You're sure to find a model that will work for you. And remember, all our conservatories are made to measure, so you can customise your build.
You can find more stories and testimonials like Mrs Wachon's by browsing our previous Customer of the Month blogs.
If you already have a style and size in mind, it's quick and easy to get a free personalised price with our instant quote generator. You'll receive a no-obligation quote within seconds. Want to talk through your options? Call us on 0800 952 8000 or fill in our contact form.
To learn more about the fully-vetted contractors we work with, visit our Approved Installers page. Because we're a contactless company, our Approved Installers will only enter your home when necessary.