When it comes to individual customer projects – meticulous design and planning and first-class materials are at the heart of what we do. 
It's therefore little wonder that once again we're celebrating another exemplary customer project.
This month, our focus shifts to the medieval town of Saffron Walden in rural Essex. 
Mrs Archdeacon opted for a hipped back Edwardian extension built especially by one of our approved installers in the local area.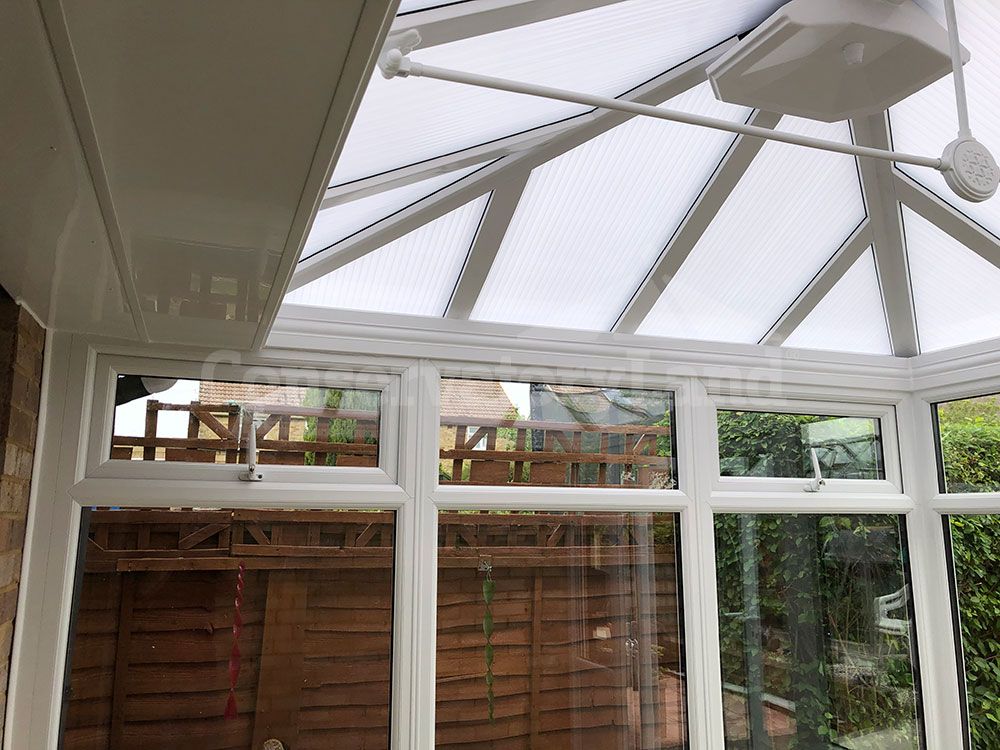 As you can see below, Mrs Archdeacon has a wonderful, large back garden. 
The new conservatory provides to ultimate transition from indoor to outdoor space, while bringing a new sense of Edwardian charm to the property.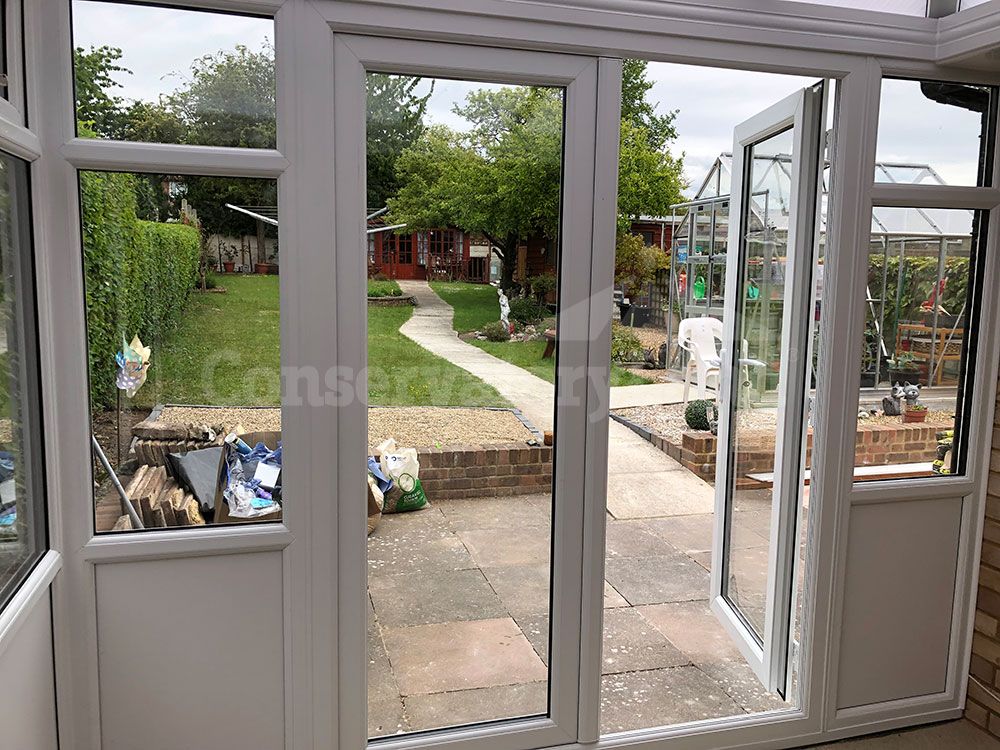 The Project Technical Specifications
| Name | Mrs Archdeacon |
| --- | --- |
| Location | Saffron Walden , Essex |
| Conservatory style | Hipped Back Edwardian Conservatory |
| Dimensions | 2800mm x 2800mm (made to measure to customers requirements) |
| Glazing | Standard glass in the windows. 25mm Opal Polycarbonate in the Roof. |
| Base type | ConservaBase with uPVC skirt |
| Colour | White PVCu, Opal Polycarbonate, White handles. |
The project technical specifications were clear. 
Mrs Archdeacon required a sided conservatory to plug a ready-made gap between a pre-existing brick extension and the neighbouring fence (see below).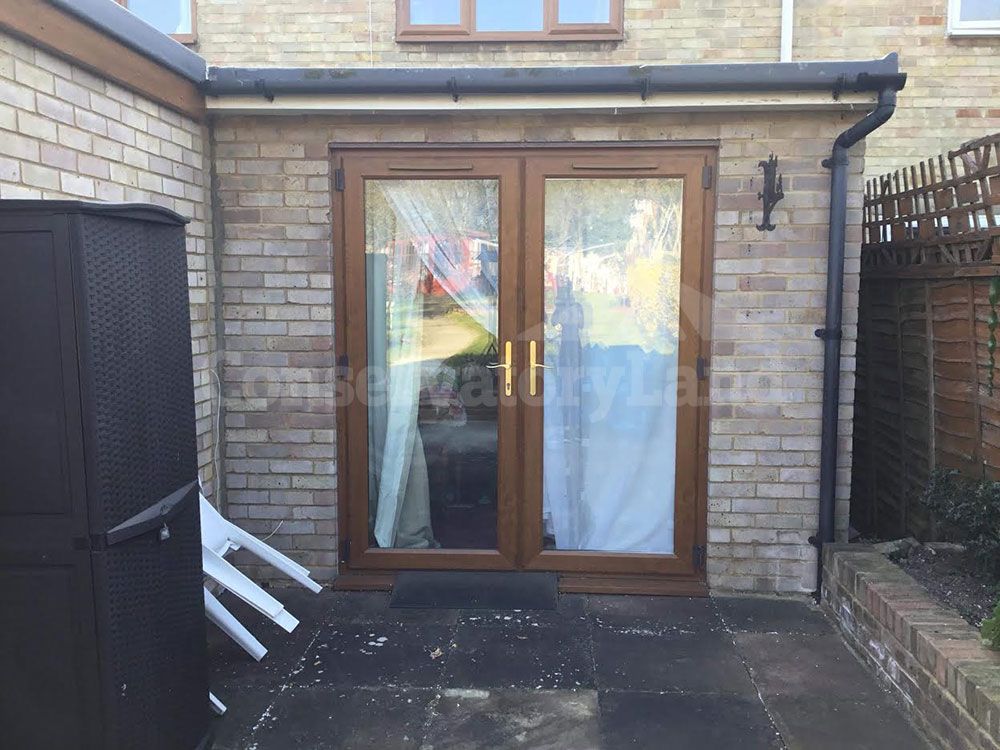 This would mean that the conservatory would need to be built to cater for the environment surrounding it. It would be built into the space, rather than built as a standalone extension. 
This meant that besides from the base and the roof, Mrs Archdeacon's new hipped back edwardian conservatory would only consist of two sides (facing the garden and facing the neighbouring fence).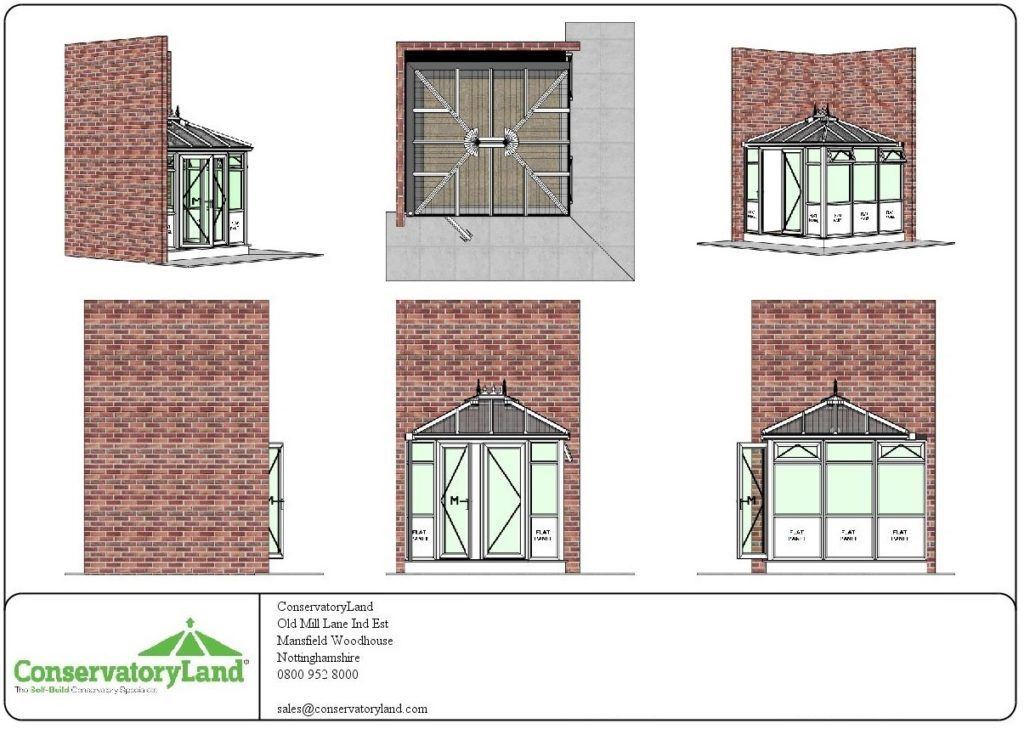 in terms of materials, Mrs Archdeacon ordered a reliable and sturdy ConservaBase to reinforce the structure – with a crisp, white UPVC frame to support the roof. 
The roof itself is made with our super-effective opal polycarbonate. This type of polycarbonate reduces heat build up and gives a nice clean white finish. 
The required dimensions were also an integral part of the design process. As this is a two-sided conservatory, we needed to ensure that there was a perfect fit onto the extension. 
This would make the approved installer's job as easy as it needed to be to ensure a successful assembly. 
Hipped Back Edwardian Conservatory Installation Proces
As always – our factory came up with the goods.
Which meant that the parts required for Mrs Archdeacon's conservatory were perfectly manufactured to the measurements required – and the approved installer could get stuck in without any worries.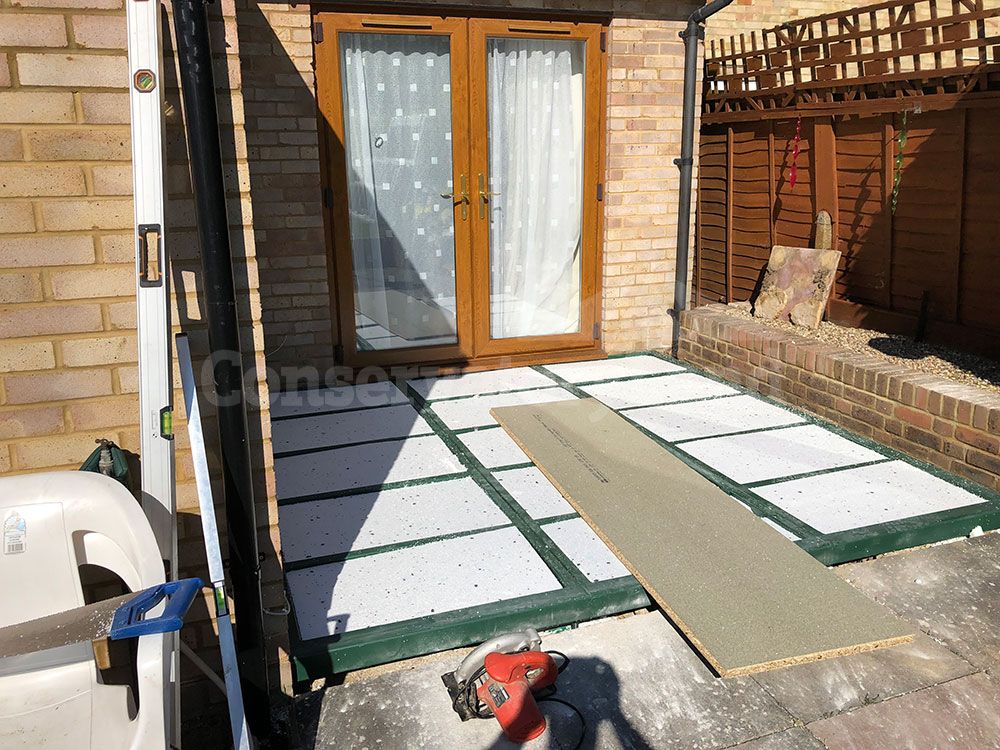 As expected, base fitted snugly into the required space – level with the adjoining extension. 
With the strong and reliable ConservaBase successfully installed, the next step was the fun part – watching the conservatory start to take shape. 
The two-sided frame could then be added with rafter bars to support the roof. 
Standard glass was added to the window and door frames before the roof itself could be assembled.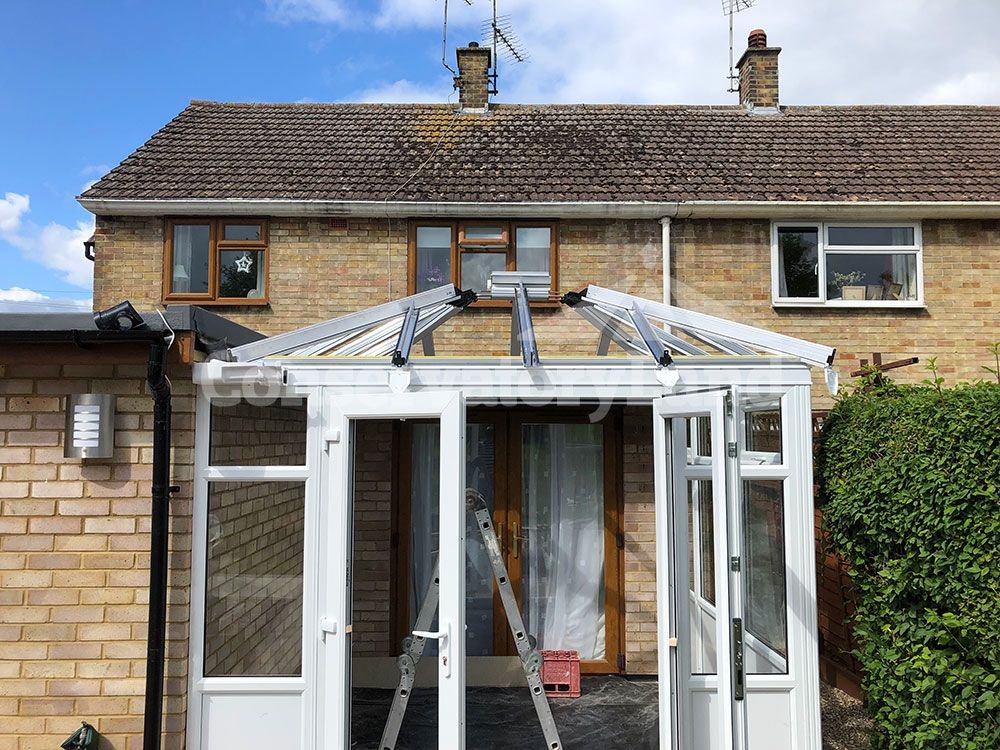 As mentioned this would include blue self-cleaning solar control glazing – so the glazing bars would need to be carefully assembled to accommodate the glass panels. 
Then, the various finishing touches were added by the approved installer.
Customer Testimonial
With the project completed with minimal disruption – it's fair to say that Mrs Archdeacon was thrilled with the planning and execution of the build.
The project was completed in no time thanks in no small part to the precise technical planning and careful installation carried out with pride. 
Upon completion, Mrs Archdeacon said:
"Very helpful and I was kept well informed of the goings on. Very efficient service both from ConservatoryLand and the approved installer. I have since gone on to to have a porch from ConservatoryLand as well – which I am also very pleased with!"
If you're not quite the DIY-type and would also like to explore our network of reliable approved installers – we'd love to hear your grand designs!
Feel free to browse through our other customer projects, or order a free brochure to get even more inspiration. 
If you're ready to go – why not get a free quote today?