A modern conservatory adds space and character to your home. And with the right flooring, you can create an appealing and comfortable room that you'll enjoy for years to come.
Conservatory flooring can be costly to buy and fit. So, it's important to choose suitable flooring for your space.
Whether you're looking to update a worn conservatory floor or design a brand new extension, read on for conservatory flooring ideas, from practical vinyl to rustic hardwood.
6 flooring ideas for your conservatory
If you're refreshing a tired space or installing a new conservatory, there are several factors to consider beyond flooring design and style.

To make the most of your light-filled space, choose a conservatory floor that complements your room and will withstand extreme temperatures — from scorching summers to frosty winters. You'll also need to think about how much natural light your room receives because sun exposure can cause fading and bleaching in some floor types.

There are plenty of conservatory floor ideas for you to explore that will stand up against the challenges. Here, we'll break down six of the best modern conservatory flooring options.
Water-resistant vinyl conservatory flooring
Vinyl flooring for your conservatory can have an elegant appeal if you choose the right type of pattern and design.
With just a wipe-down, you can clean vinyl flooring quickly. It's also very durable and highly water-resistant.

One of the best flooring types for conservatories, vinyl is reasonably priced, but the quality of the flooring determines the costs. Low-cost vinyl flooring may fade with sun exposure. Consider a luxury, high-quality vinyl for your conservatory with guaranteed resistance to discolouration.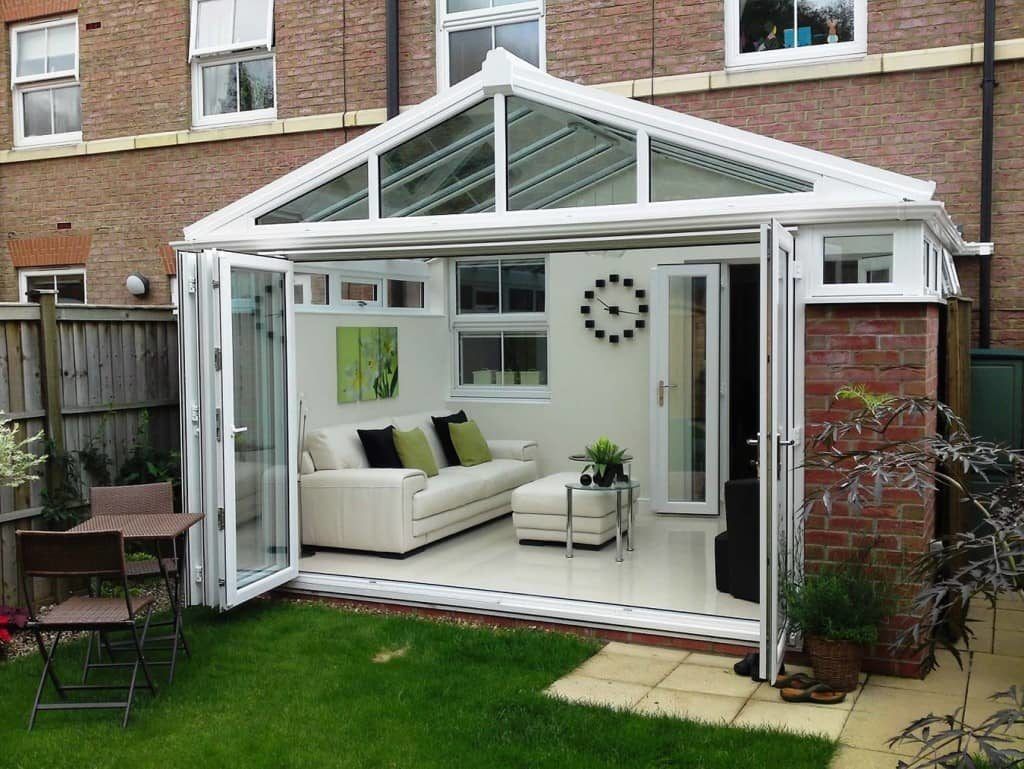 Luxury hardwood conservatory flooring
Versatile and durable, hardwood flooring is a stylish option for your conservatory.

We recommend engineered wood flooring because it's more resistant to temperature changes than solid wood flooring, which tends to lift, swell and warp as temperatures rise and fall. Rustic and contemporary engineered wood flooring is easy to install and maintain and adds a timeless style to any conservatory.
However, sun exposure can bleach wooden conservatory flooring. Moisture exposure can also cause swelling between the seams, leading to disastrous results. So, you should fix conservatory leaks before installing this flooring type. You'll also need to bear this in mind when cleaning. Instead of a wet mop and bucket, a damp cloth will usually suffice.

Another consideration is that the typical click and lock design of wood flooring can be difficult to join, which means you need precise measurements if you're planning to install it yourself.
Easy-to-clean laminate conservatory flooring
In some cases, laminate flooring in a conservatory is difficult and costly to install, but it's more than worth it if you get it right.

Cost-effective and simple to maintain, laminate flooring is an excellent choice for conservatories. High-quality options are often water-resistant and withstand temperature fluctuations.

You can even achieve a rustic or contemporary style with wood-effect laminate flooring. It has the same appearance as natural wood floors but is less susceptible to extreme temperatures and is less likely to fade when exposed to direct sunlight.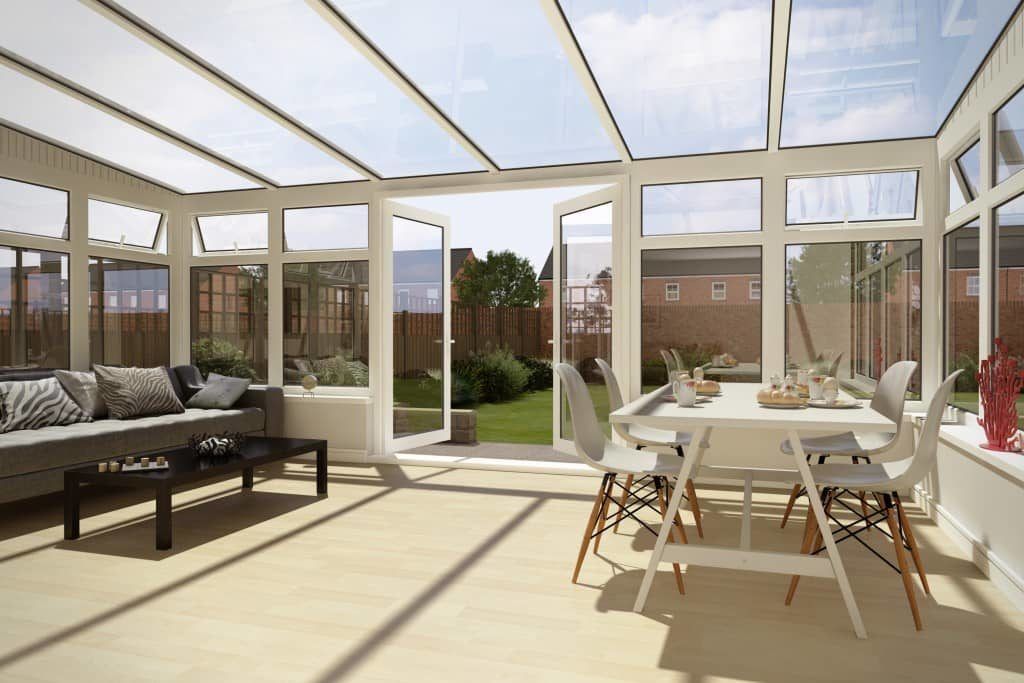 Cosy conservatory carpet flooring
Soft underfoot carpet in a conservatory is less common than vinyl or laminate. However, carpet is ideal if you're looking to create comfort. It's also arguably easier to install in comparison to other flooring types.
Bright colours work well in a conservatory, bringing vibrance and character to your light-filled room.
On the other hand, if you choose to install carpet in your conservatory, you should consider the pitfalls. With plush material underfoot, it can make your sunny garden room feel even hotter in the summer. Regular maintenance is also needed if you want to keep your carpet looking clean and dirt-free.
Modern conservatory floor tiles
Hardwearing floor tiles are perfect for conservatories because they're hardwearing and easy to clean.
Conservatories typically receive high amounts of foot traffic if used as an entry point to the garden, so tiles are ideal because of their durability.

Non-scratch tiles are practical and withstand wear and tear. There is also a wide range of materials to choose from, including ceramic, stone and slate. However, conservatory floor tiles are generally more expensive than laminate or vinyl flooring, and installation may also cost more.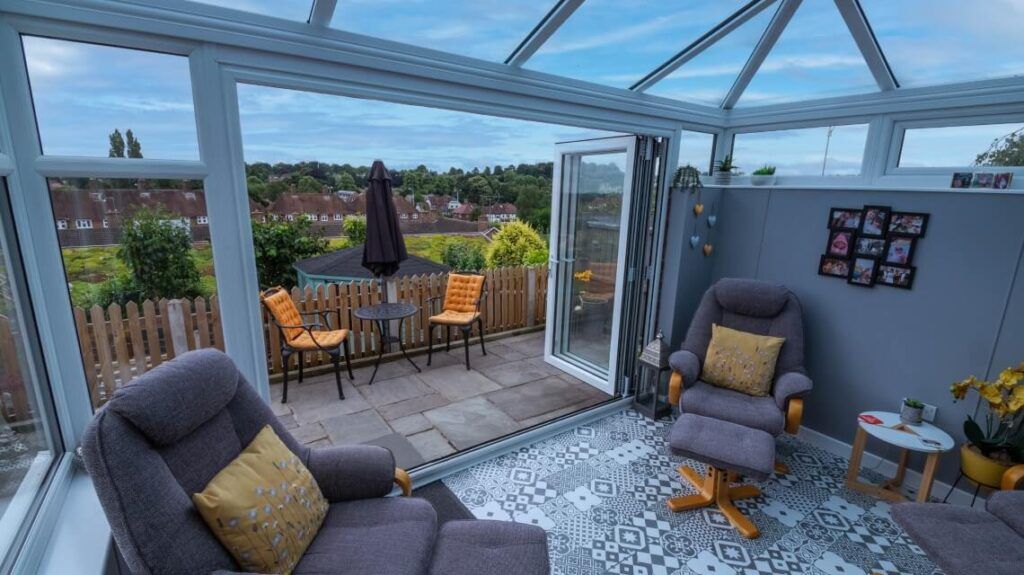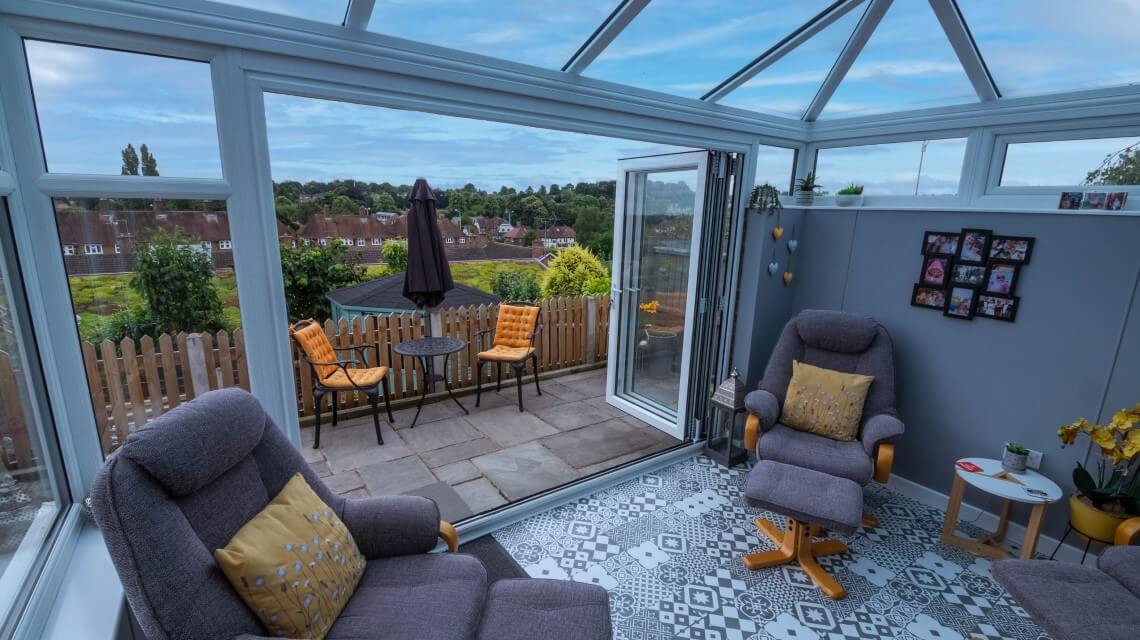 Add a rug to your conservatory floor
A stylish rug will complement carpet, laminate and vinyl flooring in your conservatory — provided you invest in the right one.
A rug works best as a focal point when you have plenty of open space. As the centrepiece of the room, a rug can reinvigorate old flooring.
Affordable rugs for conservatories are often UV-resistant and quick to clean. Plus, you can easily replace a well-used rug once wear and tear starts to show.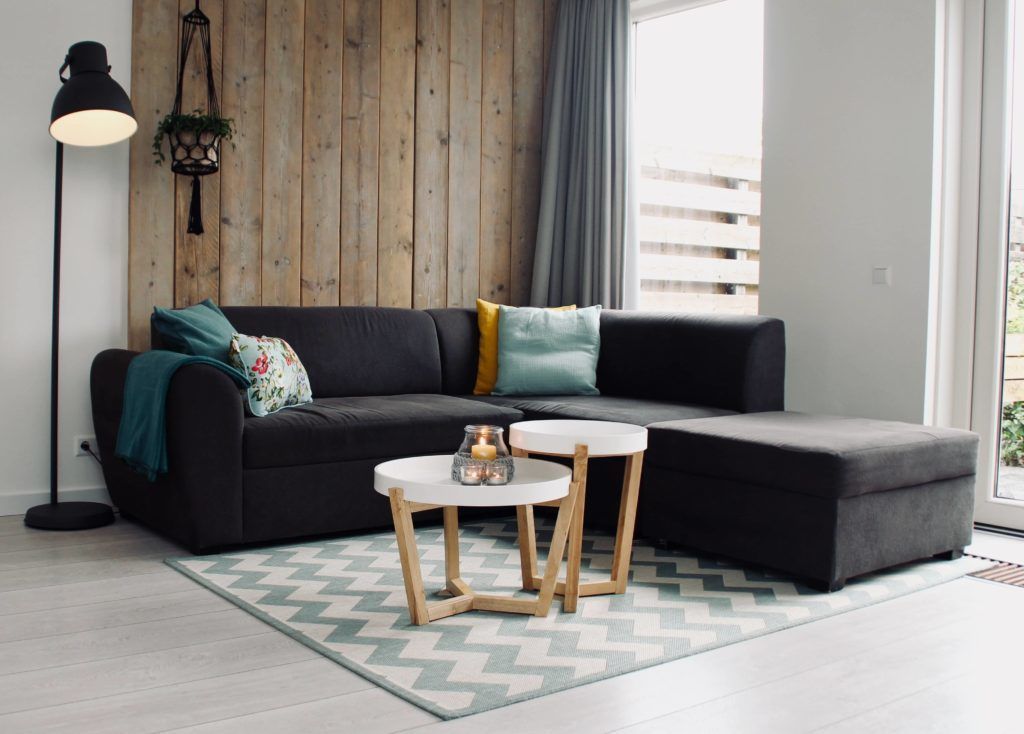 Keep your conservatory floor warm with underfloor heating
Before you decide which flooring type suits your space best, you might want to explore the possibility of conservatory underfloor heating.
If you're looking for warm conservatory flooring, then underfloor heating might provide the extra warmth you're looking for.
It's not expected that you'll lose heat through a conservatory floor. However, underfloor heating might provide that all-important boost of heat you need when the weather turns colder.
What to consider when choosing your conservatory flooring
Here are our top tips on what to consider when choosing the right flooring for your conservatory:
What's your budget?

How do you utilise your extension?

Is your conservatory an exit point to the garden, therefore, do you need durable and practical flooring?

Does your conservatory flooring need to stand up against sun exposure?

Will you require moisture-resistant flooring?
What is the best flooring for a conservatory?
When it comes to the best conservatory flooring, it all depends on your personal taste, conservatory's interior design and how you intend to use your space.

Some types of flooring will suit your living space better than others. As covered above, you're not likely to lose much heat through the floor, but conservatory carpet flooring can offer more comfort in the winter than a hard surface like stone tiles, for instance.
Carpet, while practical and often budget-friendly, is not ideal during the summer months when temperatures rise. Vinyl may be the best conservatory flooring for a hot conservatory because it handles temperature fluctuations better and is often UV-resistant. It's also cool on hot summer days.
Whereas you may find that engineered wood flooring is the best conservatory flooring for a luxury dining room. You could also consider laminate wood-effect flooring to achieve the same look — it's less expensive and holds up better against blistering summers and icy winter temperatures.
Design your dream conservatory
If you're looking to replace your conservatory flooring or interested in installing a new conservatory altogether, contact our friendly team for more information.

Want to find out about our range of conservatories? Download a free brochure and explore our range of styles and customisation options.