Back to list
When it comes to building a new conservatory, or even renovating an existing conservatory – the type of flooring you go for is a big deal.
Conservatory flooring, like any type of flooring – can be quite expensive to buy (depending on the type) and fit (depending on whether you choose to hire someone to do it for you).
So, it's important to get your choice just right. Because once you commit, it can be a costly thing to reverse if you find that you're not too keen on your initial decision.
If you're looking for inspiration, reading the rest of this guide is a good opportunity to get yourself in the right headspace to generate some conservatory flooring ideas for your new, or existing conservatory.
What is the best flooring for a conservatory?
This is obviously quite a subjective thing – and there is no right or wrong answer as such.
However, you might find that some types of flooring suit your conservatory better than others. One consideration is the interior design of your conservatory.
What style are you going for?
Cosy and traditional?
Modern and minimalistic?
You might be striving to achieve a  tropical theme that brings the outdoors inside?
These questions could all influence the type of conservatory flooring you ultimately decide to have.
The look and feel of your conservatory is important. But, besides interior design – there is another important factor to bear in mind when it comes to conservatory flooring – heat loss.
Although, you're not likely to lose much heat through the floor – a carpeted floor is arguably much more cosy and comfortable in the winter than a hard, cold surface, for instance.
On the flip side however, carpet isn't the most 'al fresco' option in the warm, summer months where you might keep your conservatory doors wide open – so, again, it's all down to personal preference.
Vinyl
conservatory flooring
Vinyl flooring can have a luxurious appeal if you select the right type of pattern and design of the tiling.
While wood and laminate flooring looks great – it's nowhere near as easy to maintain as vinyl. With a simple wipe down, you can clean vinyl flooring in minutes.
It's also very durable – and won't weather over time like wood and carpet. You'll also probably pay less per square metre for vinyl flooring in your conservatory, although the price is usually determined by the complexity and quality of the design, as well as its level of resilience.
It all depends on quality. High-end vinyl flooring benefits from all the advantages listed above, but the less premium stuff can be contradictory.
Although durable, cheaper types of vinyl flooring can often be susceptible to yellowing after a long period of time coming into contact with sunlight. Obviously, this is far from ideal when you consider the amount of sunlight you're likely to get in your conservatory.
Therefore, if you're going for vinyl – it might be worth pushing the boat out to get a more quality type of flooring with guaranteed resistance to discoloration.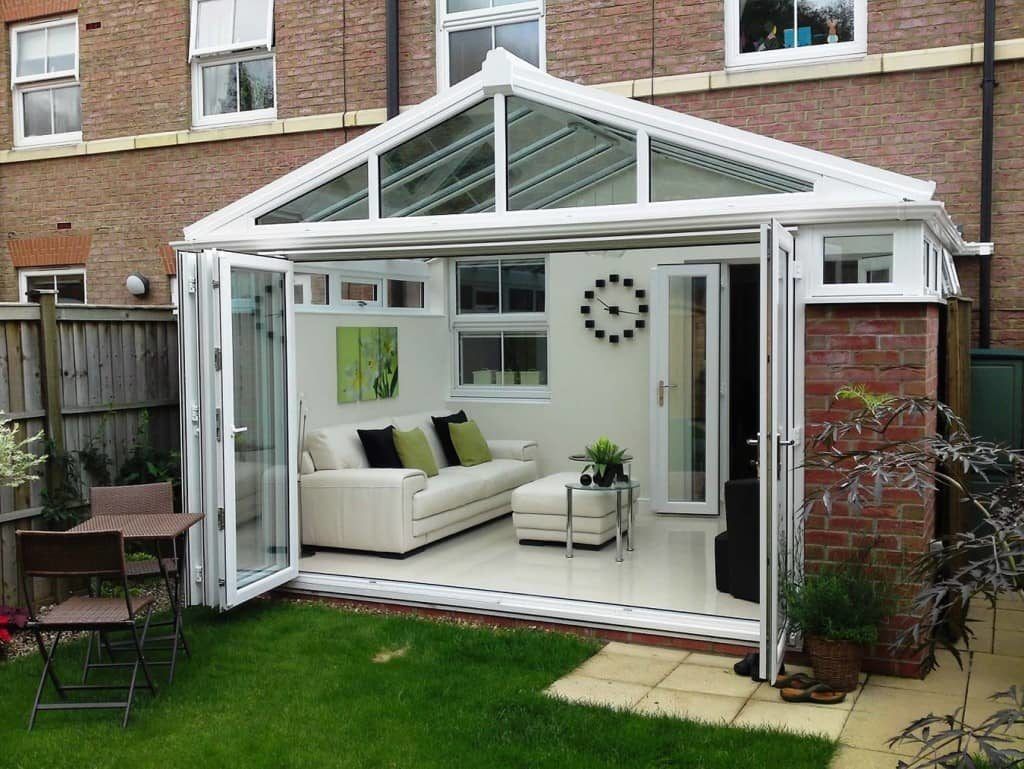 Laminate and hardwood
conservatory flooring
Laminate or real wood conservatory flooring is always a good neutral choice in terms of design. It will work well in most conservatories – from contemporary designs to the more modern look.
If you're considering a DIY installation, fitting laminate flooring in a conservatory can be quite a tricky, technical and costly process. But, it's more than worth it if you get it right.
When you weigh up laminate versus hardwood – laminate is less likely to chip and scratch.
Laminate installation is also easier. The click/lock or fold/lock design of wood flooring can be difficult to join – which means you need to get your measurements exactly right to the millimetre. There's nothing worse than splashing the cash on expensive wood flooring to find that it doesn't even fit the surface area.
One of the most important things you need to ensure before you buy wood or laminate flooring is the state of your conservatory in general. Arguably, the component that's most damaging to laminate or wooden material is water.
So, if your conservatory roof is leaking – you'll need to get that fixed before you even consider laying down laminate or wooden conservatory flooring. Excessive moisture can cause swelling between the seams – which can lead to disastrous results.
You'll also need to bear this in mind when cleaning this type of flooring. Don't use a sloppy mop and bucket. A damp mop or cloth will suffice – and should eliminate dust and dirt in a matter of minutes.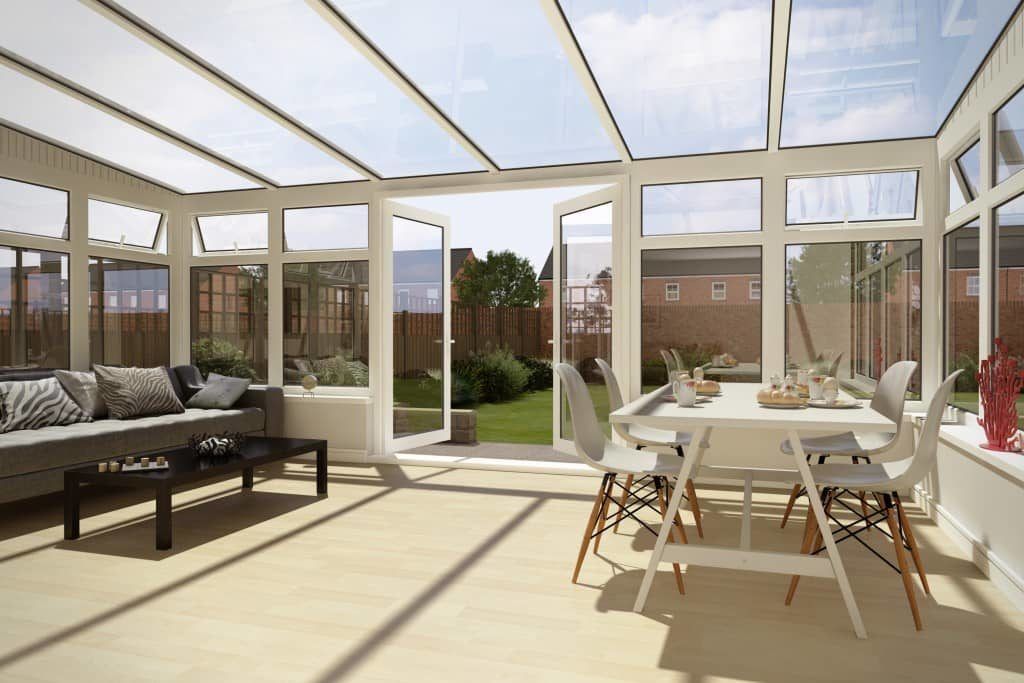 Conservatory carpet ideas
Carpet is probably a less popular choice for conservatory flooring than vinyl or laminate – but as mentioned above, it can often represent a more warm, comfortable and cosy option for many people. It's also arguably easier to install yourself in comparison to other types.
The type of carpet you go for is entirely your choice – but you might find that brighter colours tend to work better in a conservatory. At the end of the day, there are thousands of styles, colours, designs and textures to choose from – so you have plenty of choice.
However, when you install carpeted flooring – you have to be prepared for the pitfalls, of which there are a couple to be aware of.
Maintenance is required regularly and often if you want to keep it looking spick and span. Don't forget that carpet can also attract dust and dirt – which isn't great if you like to keep you conservatory doors wide open in the summer.
Conservatory rug ideas
The great thing about having a rug in your conservatory – is that it doesn't matter what type of flooring you have. A rug will compliment carpet, laminate and vinyl flooring provided you invest in the right one.
Generally a rug works best as a feature when you have quite a lot of open space in the middle of your conservatory. As the centrepiece of your conservatory, a nice rug provides a good contrast between the colour of the flooring and will stand out regardless of whether it's bright or even dark outside.
The type of rug you choose is likely to be influenced entirely by the design of your conservatory. Everything from the type of material to the actual colour will all have a small but significant impact on the look and feel of your conservatory – but you can easily discard a rug and swap it for a new one if you get bored of it.
Unfortunately, the same can't be said for a carpet!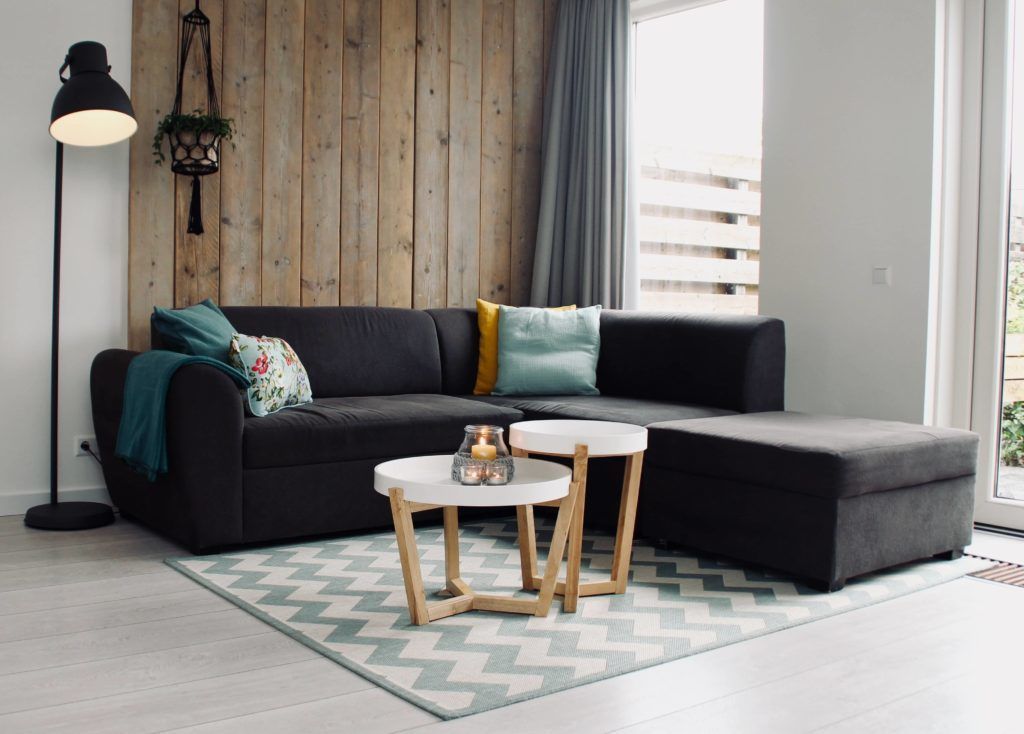 Conservatory underfloor heating
Now you're aware of the main types, hopefully you'll have a few conservatory flooring ideas to get you started.
But, before you decide which type of flooring to get – you might want to explore the possibility of conservatory underfloor heating.
As mentioned above, you're not likely to lose much heat through your floor in comparison to what you might lose through the roof, but underfloor heating might just give you that all important boost of heat you need on those cold winter evenings.
It also makes walking on hard surfaces much more comfortable underfoot.