Modern conservatories are designed to withstand the hottest days, coldest seasons and windiest conditions.
However, conservatories are made of multiple sections connected by rubber or silicone, making them susceptible to wear and tear as well as leaks over time.
In this guide, we cover:
Why is your conservatory leaking?
Old conservatories can deteriorate over time, and some older-style roofs made of less durable materials may leak.
If you detect a leak, no matter how small, it's best to address it as quickly as possible to prevent the leak from worsening.
A leaking conservatory can be costly to repair as well as pose a risk to health and safety in the home. The damage can range from ruined interior furnishings, resulting in carpets and furniture having to be professionally cleaned or replaced, to electrical faults, which could lead to fires.
A leaking conservatory also creates the ideal conditions for mould to grow and thrive, which can contribute to respiratory problems if left untreated.  
When you first discover a leak, take practical measures such as using a bucket to catch drips and towels to absorb spills.
If you opt to do the repair yourself, it's best to wait for a dry weather spell if possible. You should also clean and dry the area before you reseal a join.
It's worth checking if your leaking conservatory has a guarantee. At ConservatoryLand, we provide a 10-year guarantee on every conservatory, which covers the base, roof, glass, guttering and frames against discolouration, warping and cracking. If cracking leads to a leak, we will offer advice, recommend repairs or discuss replacing damaged components free of charge.
Leaking conservatory roof
Conservatory roofs are commonly made up of connected panels, frames and vents. Because there are many joins that could potentially develop a fault, the roof is often the most common source of leaks.
You may find a conservatory roof leaking where it joins the house, otherwise known as the finial point. Here, the conservatory frame and the brickwork of the property are connected by flashing. If you have leaking conservatory roof flashing, you may need it reinstalled or to arrange a roof replacement.
A conservatory roof leaking in the centre could be caused by a slipped or incorrectly fitted roof panel, a cracked glazing unit or a perished seal.
Slipped or cracked conservatory panels can be repositioned, resealed or replaced to eliminate leaks.
To prevent leaks, you must ensure good maintenance of the conservatory. Different types of conservatory roofs can also reduce the chance of leaks occurring as the conservatory ages.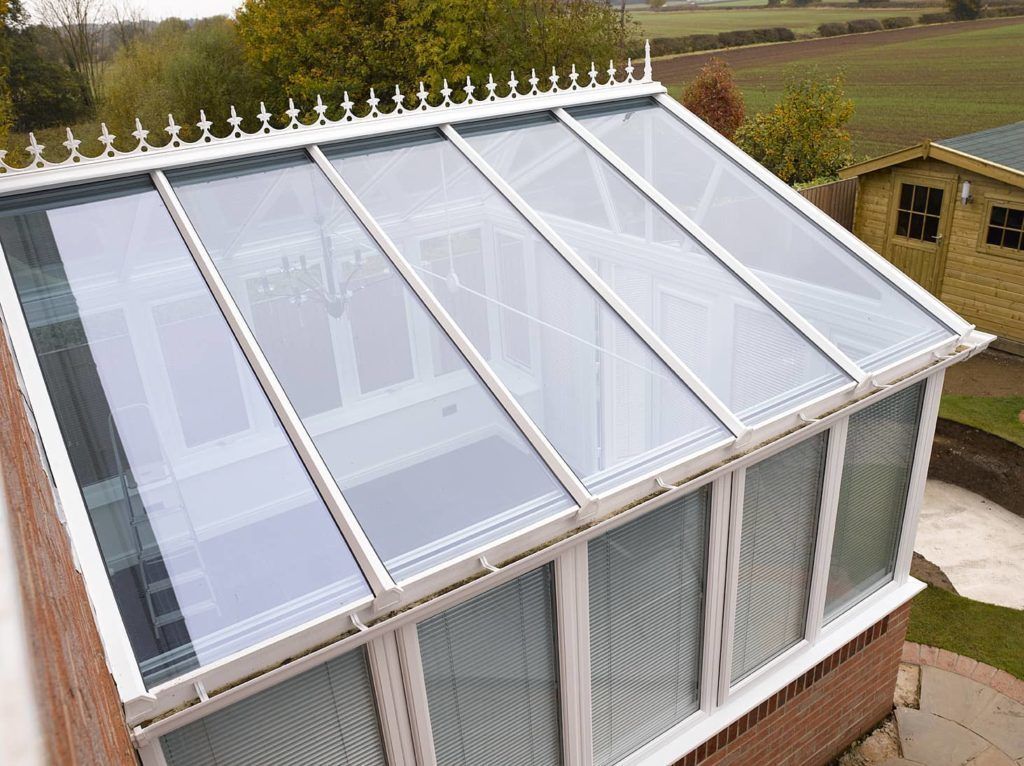 Leaking conservatory gutter
A leaking conservatory box gutter can be problematic for homeowners. Blocked gutters are a common source of leaks if rainwater starts to build up and has nowhere else to go.
If water overflows the gutter, it could flood your garden below or even enter your conservatory if the seals around the adjoining parts are damaged.
You need to ensure your gutters are checked and cleared annually to prevent blockages. To find out more, read our guide on how to tackle conservatory guttering problems. 
Incorrect installation can also lead to your conservatory guttering leaking. In this instance, the gutter may need to be repositioned or refitted to ensure it drains properly.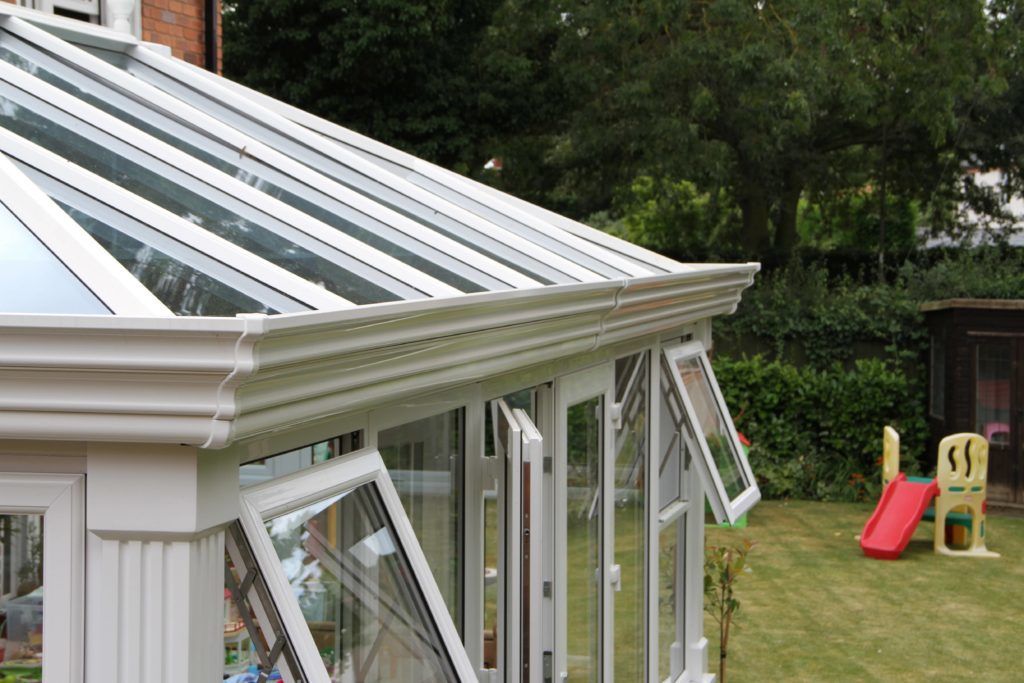 Leaking conservatory door
If your uPVC conservatory doors are leaking, inspect the base of the frame to see if water is accumulating there. You should also check for cracks on the rubber seals around the door and glazing.
Your doors should be fitted with adequate drainage to prevent any water that enters through the seal from collecting in the frame.
If the drainage is insufficient, blocked or fitted incorrectly, you could be at risk of leaks.
If the rubber seal around your door is broken it will also need replacing to stop water from entering through the sides of the door and causing leaks.
Leaking conservatory walls
If the walls in your conservatory appear wet or have water visibly leaking from them, the problem is most likely with the section of conservatory to which they are connected.
Check the seals around the wall and reseal them if you find any gaps or cracks.
Leaking conservatory windows
If your conservatory windows appear to be leaking it could be condensation rather than an actual leak caused by damage to the structure of the conservatory.
There are many ways to prevent condensation in your conservatory. Open windows to ventilate the space or use a heater to help keep moisture to a minimum.
If you can rule out condensation, the window leak could be due to a deteriorated glass seal or a damaged window sealant.
It's best to check seals for perished rubber or cracked sealant and reseal them to see if that improves the problem.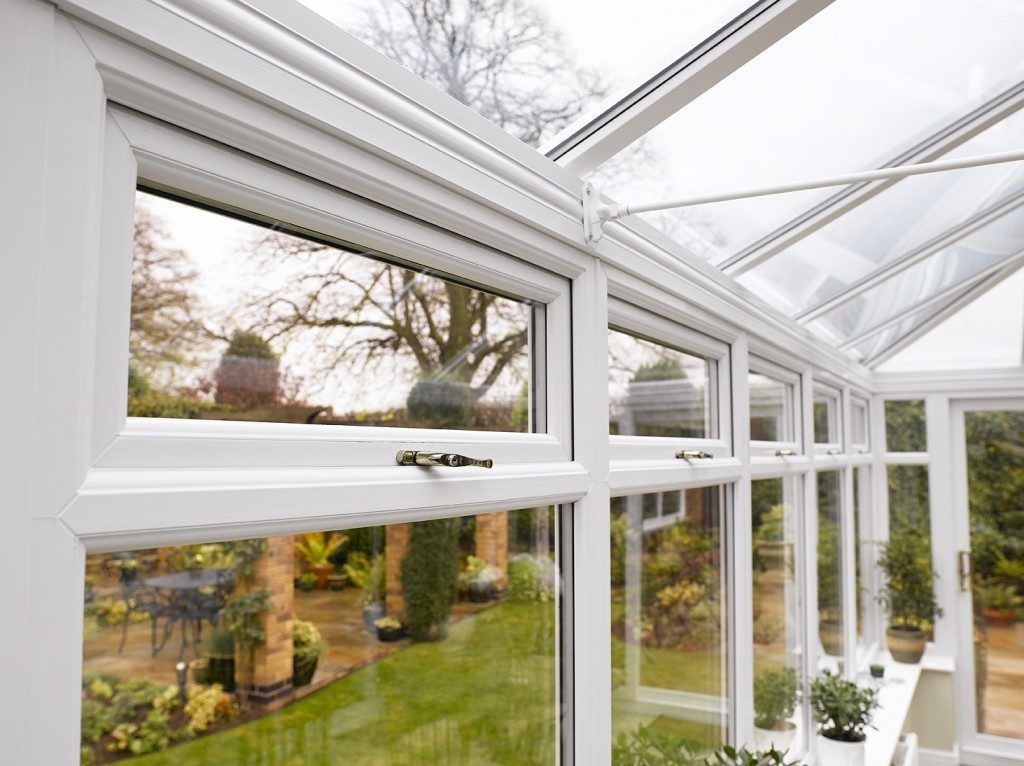 Professional conservatory leak repairs
If you've attempted repairs and resealed cracks in joints but your conservatory is still leaking, then it's time to consider other solutions, including contacting a professional to inspect the issue.

Have a question about your leaking conservatory? Give us a call. Our team is on hand to offer advice on how best to repair your problem.

You could also consider a replacement project if your tired but beloved conservatory is beyond repair. For more information, order a free brochure today to explore our range of conservatory styles and customisation options.