If you're considering expanding your living space, you may be wondering whether a conservatory or a conventional extension is the better choice.

Both types of extensions have pros and cons; your preferences, budget and lifestyle ultimately determine which suits you best.

Here, we'll compare conservatories and traditional extensions, discussing their benefits, costs and suitability for different purposes.
What is the difference between a conservatory and an extension?
One of the main distinctions between a conservatory and an extension is how they are built.
A conservatory is usually a predominantly glass structure attached to the side of the home, with a glass or polycarbonate roof. Conservatories create a light and airy space that can be used for various purposes, such as a dining room, kitchen or home office.
An extension is typically constructed of similar materials as the existing building to create a seamless appearance, including a solid roof and walls. Materials are usually chosen based on structural and insulation needs, as well as your budget and design preferences. An extension, like a conservatory, can be used for many purposes, such as expanding your dining room and kitchen or adding an extra bedroom.
Although a conservatory and traditional extension differ in their construction and design, they both serve to expand your living area, providing a comfortable and enjoyable space for you to enjoy.
When does a conservatory officially become an extension?
Conservatories are permitted developments if they meet the applicable limits and conditions, such as taking up only 50% of the total area of the property.

If a conservatory exceeds the limits and conditions, planning approval may be needed and the structure will be considered an extension.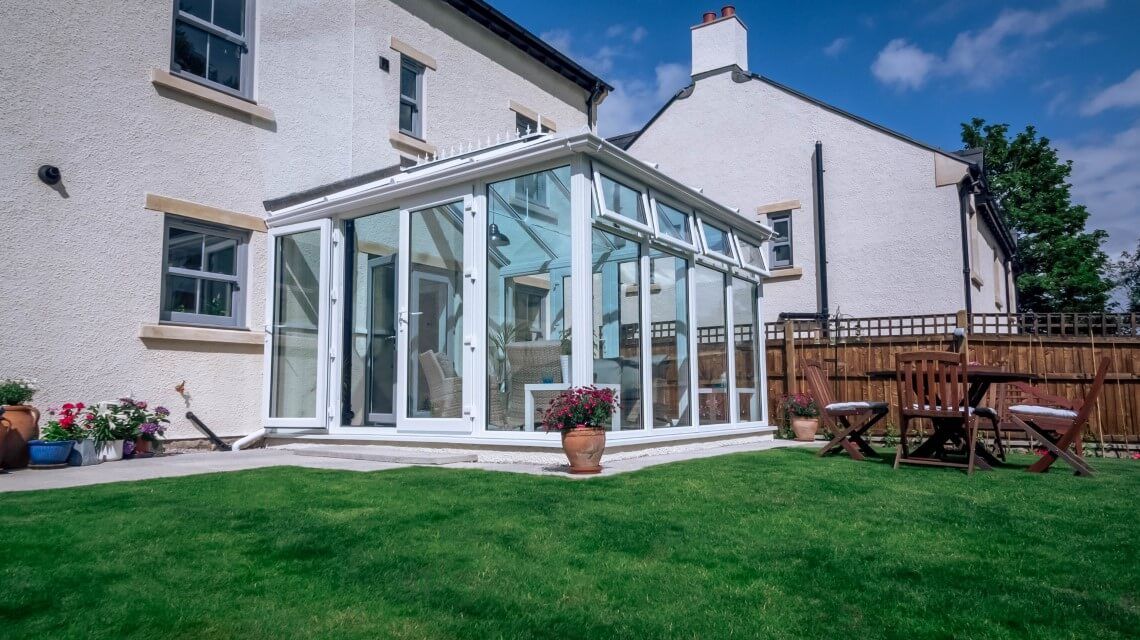 Is it cheaper to have a traditional extension or a conservatory?
Traditional extensions vary in price depending on several factors, like their size and construction materials. They are typically more expensive than conservatories because they can involve architecture fees, skip hire and the costs of adding a new opening in your home. The labour may also be more expensive, as extensions usually take longer to build than conservatories.
The pros and cons of a traditional extension
Traditional extensions offer several advantages, including:
Add more living space to your home — if you want to add an extra bedroom or extend your kitchen.
Create a new room in any size, whether it's a one-storey or two-storey extension.
Stay just as warm as the rest of the home in any weather.
Increase the value of your home.
There are some disadvantages of a traditional extension, such as:
More expensive to build.
More disruptive due to the lengthy construction process.
Provide less natural light than a conservatory because of the solid roof and walls.
Planning permission may be required, depending on the dimensions.
The pros and cons of a conservatory extension
There are plenty of advantages to choosing a conservatory:
Easier to install than a traditional extension — modular sections are ideal for both professional and DIY assembly.
Quick and clean — a modular base means the building work is less disruptive and messy than a conventional extension.
A cost-effective way to increase your living space and natural light in your home.
Custom-made based on your preferences and specifications — you can choose the size and shape that complements your home.
Planning permission is not required, provided the build meets the applicable conditions.
Adds value to your home.
Here are some disadvantages to consider:
Some styles and sizes are more expensive to heat than an extension.
Usually won't add as much value as a traditional extension.
Not suitable for some purposes, like a bathroom.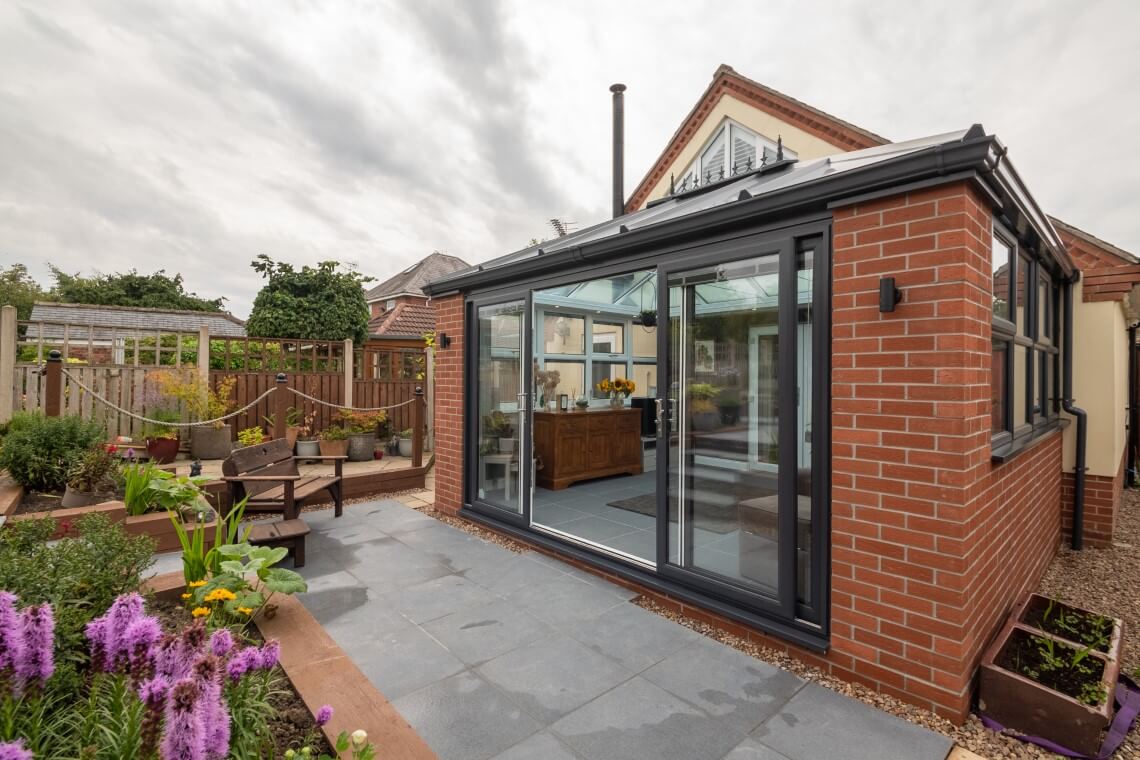 Add a conservatory extension to your home
While a conservatory extension differs from a traditional extension in many ways, you can design it to look like a natural extension of your home — just like a conventional extension.
Let's look at ways you can seamlessly integrate your conservatory with your home:
Privacy panels add an aesthetic appeal while increasing privacy.
Full-Height and Dwarf Walls with a brick finish that closely matches your property provide extra insulation.
Modern sliding doors or bi-fold doors increase ventilation and maximise natural light entering the space.
A solar control glass roof helps maintain comfortable temperatures all year round.

Ready to create your extension? Build your dream conservatory with our quote engine, and view your digital design in just a few minutes. 
FAQs
Explore house extension ideas with ConservatoryLand
An extension is a significant home improvement, so you should invest in a build that suits your budget and needs.

With our quote engine, you can easily visualise your conservatory project online. Experiment with different styles and customisation options, like privacy walls and dwarf walls, to create a custom design that perfectly matches your vision.

This can help you make informed decisions about your conservatory's style, size and customisation features, ensuring that it matches your preferences.
Disclaimer
Please note that the information provided on this page is not legal advice. It is given as a guide only, based on the information outlined at planningportal.co.uk.

The guidance described on this page applies to houses, not flats, maisonettes or other buildings. Other consents may also be required if your home is listed or in a designated area.

The information was correct at the time of publication, but it is subject to change as a result of legislative changes. Before beginning any work, always seek advice from local planning authorities.