With the increasing demand for conservatories in various designs and sizes, some of the most common questions we're asked is 'What is an Orangery?' and 'What is the difference between an Orangery and a conservatory?'.
To help you decide which style is right for you, we've put together this guide on the differences between a conservatory and an Orangery.
Contents: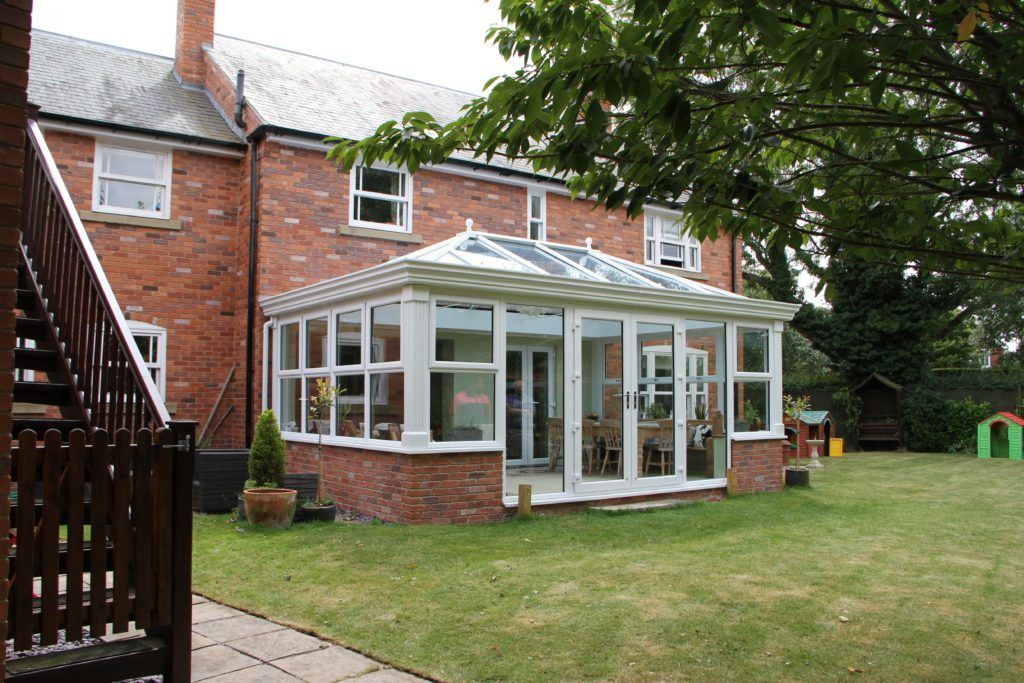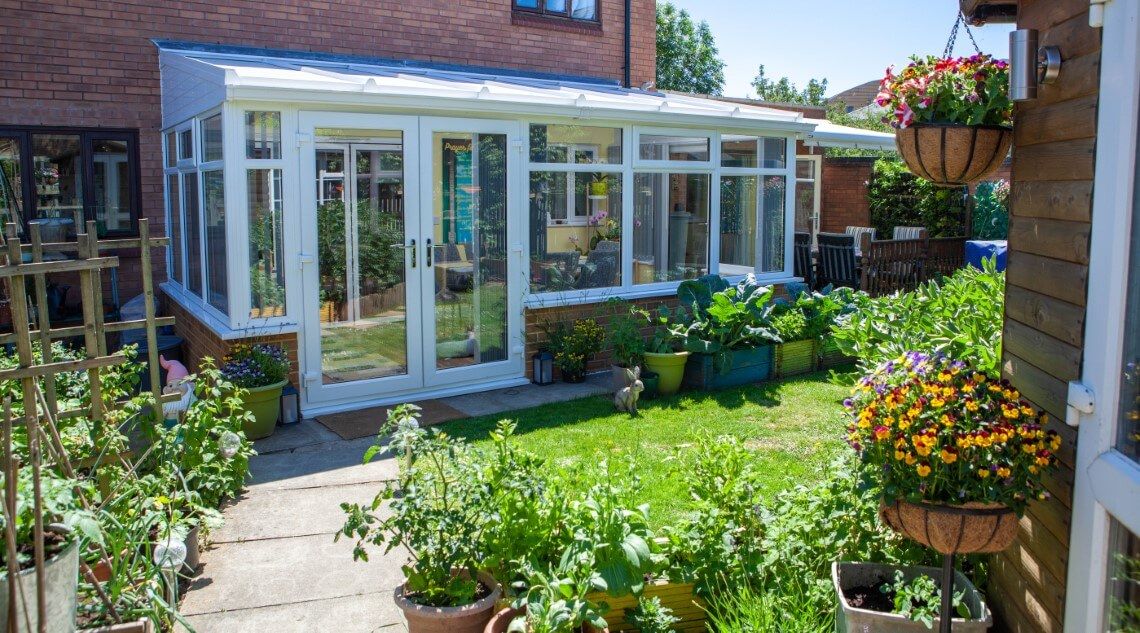 What is an Orangery?
Unlike a fully glazed structure, an Orangery is a home extension that is primarily a brick structure with large glass windows. While it shares some similarities to a standard conservatory, the materials used and the design differ.
Orangeries were historically used for growing citrus trees and exotic plants during the colder months, making them a symbol of luxury and sophistication. Today, they serve as versatile living spaces, often used for dining and entertaining, or as garden rooms or kitchens, providing a blend of indoor comfort and outdoor views.
At ConservatoryLand, we also offer Hipped-Back Orangeries. They are a distinctive variation of the traditional Orangery design. What sets them apart is their sloping hipped roof, which adds an elegant architectural touch and maximises natural light entry.
The Hipped-Back Orangery, with its box gutter and sloping pitched roof that connects to your property's wall, is an excellent alternative if you have height restrictions.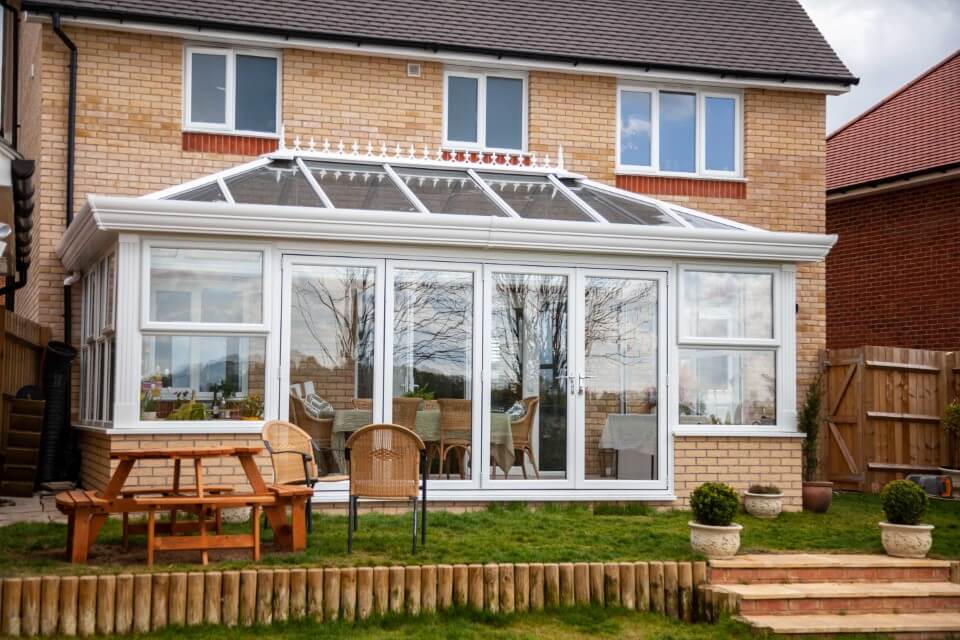 What is a conservatory?
A conservatory is a home extension with a fully glazed structure, with the option to customise based on your needs and preferences. Since conservatories are predominantly made of glass, they are susceptible to temperature changes as the seasons change. But thanks to our Solar Control glazing, you can benefit from consistent temperatures throughout the year.
Conservatories are characterised by their extensive use of glass frames and roofs, creating a bright and airy atmosphere. They serve as versatile living spaces, often used as sunrooms, social rooms or dining areas, offering both outdoor and indoor living.
Like the Orangery, conservatories can be used as a practical extension to your home for any reason you wish. With several different types of conservatories available, it's now easier than ever to find a design and shape to suit your needs.

Some of the most popular varieties include: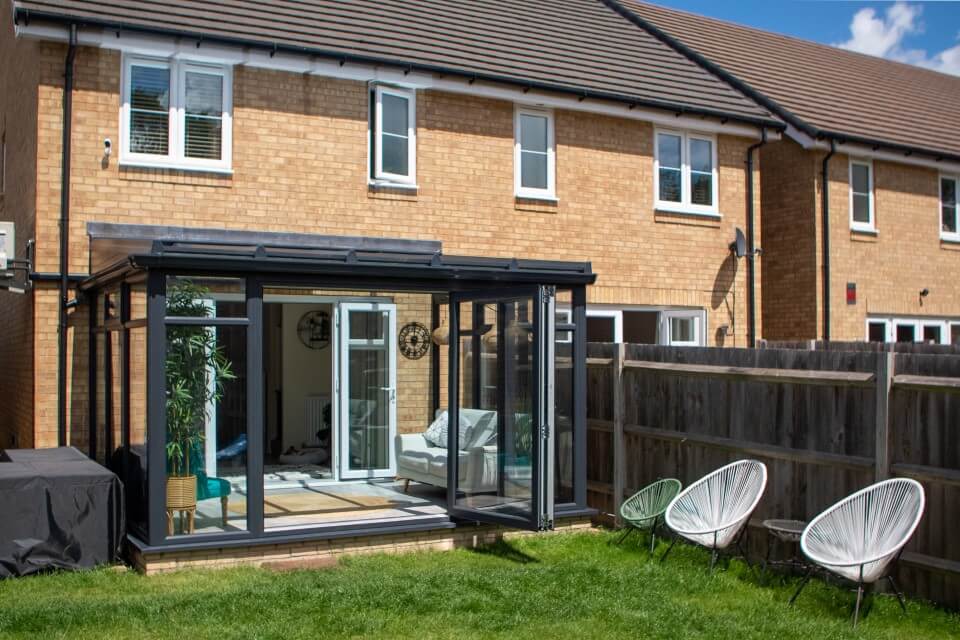 The difference between a conservatory and an Orangery?
A traditional conservatory has a glass roof, whereas an Orangery has a solid flat roof perimeter with a glazed area in the centre.
The interiors are a little different, too. In an Orangery, the roof is partially supported by a deep pelmet instead of your average fitting. This allows you to install spotlights, which can greatly benefit you in the evenings or if your extension doesn't get a lot of sunlight.
In contrast, conservatories let in more natural light thanks to the glass sides and roof, perfect for admiring sunny blue skies from the comfort of your home.
The following table will help you to understand the differences between a conservatory and an Orangery.
| | | |
| --- | --- | --- |
| Aspect | Conservatory | Orangery |
| Roof | Typically a polycarbonate or glass roof. | Features mostly glass and solid materials. |
| Walls | Mostly constructed with glass frames. | Partly brick or stone structure with fewer glass panels. |
| Natural Light | Abundant natural light due to extensive glass. | Offers natural light but with a more balanced mix of glass and solid materials. |
| Temperature Control | Prone to temperature fluctuations but counteracted by our Solar Control glass. | Better temperature control, suitable for year-round use. |
| Aesthetics | Modern and open design with a spacious feel. | A more substantial and traditional appearance. |
| Use | Suited for living spaces and dining areas. | Often used as kitchens, lounges, dining areas and garden rooms. |
| Privacy | May require blinds or shades for privacy. | Offers more privacy due to solid walls. |
| Cost | Generally more cost-effective. | Tends to be higher in cost due to materials and construction. |
Orangery vs conservatory FAQS
Do you need planning permission for an Orangery?
Like conservatories, it is doubtful that you will need planning permission because an Orangery isn't likely to be so big as to need it.
However, it's always best to check with your local authority first, especially if your property is in view of others or in a highly sought-after plot of land.

We've compiled a useful guide on Orangery planning permission, so you can see whether you need it or not.
Is an Orangery warmer than a conservatory?
Due to the slight differences in structure and roofing used on an Orangery, it's able to retain more heat than the average conservatory. However, with efficient uPVC frames and triple-glazed glass, conservatories can be just as warm.
When does a conservatory become an Orangery?
A conservatory typically becomes an Orangery when it incorporates more brick or stone walls rather than being primarily made of glass. An Orangery is often defined by its hybrid design, combining the light and openness of a conservatory with solid walls, giving it a more substantial, room-like appearance.
Is an Orangery cheaper than a conservatory?
An Orangery is typically a little more expensive than a regular conservatory because of how they're built and the materials used. Similar to a conservatory, an Orangery acts as an extension to a property. It's a great addition to any home, adding light, extra room and value to its overall worth.
Find out the cost of an Orangery or conservatory best suited to you using our conservatory price guide or Orangery price guide.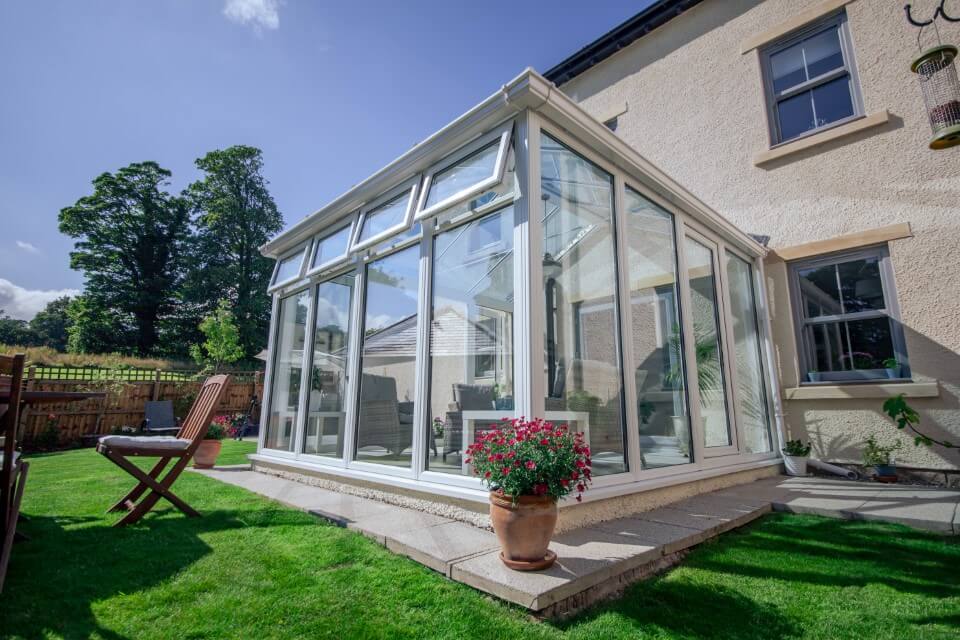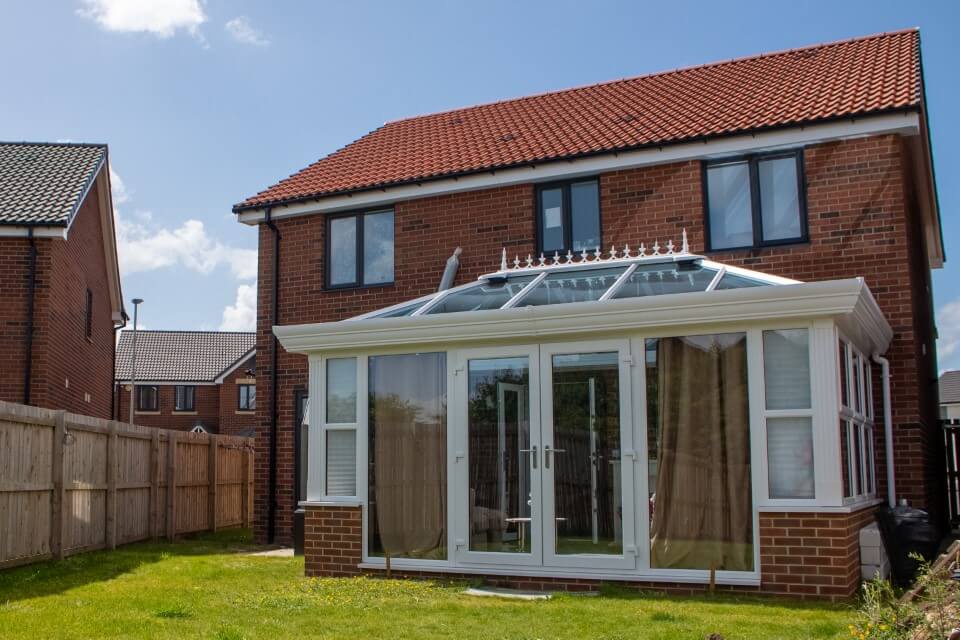 At ConservatoryLand, we offer high-quality Orangeries tailored to your exact specifications. You can learn more about the costs of your dream build by speaking to our sales team.
Conservatory vs Orangery: Which should I choose?
Before making the decision, it's important to consider why you want the extra space and how it will improve your lifestyle. Do you want a bright, sunlit room with views of your garden? Or are you looking to install a home gym or cosy lounge? It's also important to evaluate the cost difference between an Orangery and a conservatory. That way, you can choose a home extension right for you and your budget. It may also help to consider whether you want to add maximum value to your property or a comfortable and spacious room to enjoy.
While there are many things to consider, conservatories and Orangeries are the perfect additions to any home needing extra space. With various styles available, it can be difficult to know where to start. With our online quote engine, you can get an idea of how much your Orangery or conservatory will cost, which could help you decide which one you choose.