When you build a new conservatory, the last thing you want is rainwater trickling through the roof and soaking everything inside.
The best way to guarantee that your conservatory will remain a comfortable spot for you and your family to enjoy for years to come is to protect it from the elements. That's where conservatory lead flashing comes in.
In this guide, we'll cover everything you need to know about conservatory lead flashing, including how to install it.
What is lead flashing
?
Flashing is a weather-resistant material applied to a structural joint to prevent water from passing between the seams.
It plays a valuable role in many parts of a building — vents, chimneys, walls, windows and door frames. It protects these areas from leaks and acts as a deterrent to indoor mould problems.
Lead is the most commonly used material for flashing, which is durable and resistant to corrosion. Other materials, including zinc, stainless steel and copper, can also be used.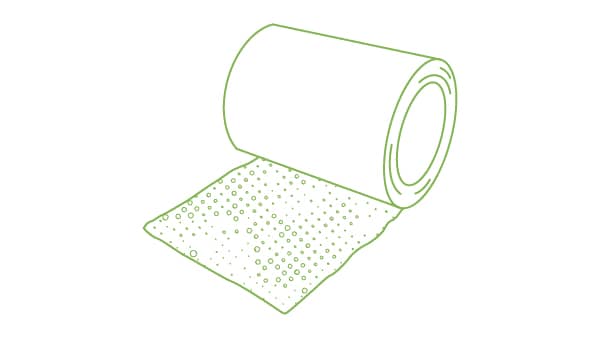 Where can I buy lead flashing
?
Lead flashing is available at reasonable prices from a variety of retailers. Typically, flashing comes in rolls between 3 and 10 metres long.

Measure the area before purchasing lead flashing, as you may only need one roll.
You should also consider the width and density of the flashing. The thicker the material, the more likely it is to be durable and protective. In particular, consider the thickest option for protection in flat areas prone to collecting rainwater.
A sealant will bond the leading to the required areas. Consider using super-strong adhesive to ensure the longevity of your lead flashing.
Conservatory lead flashing
To help keep conservatories watertight and mould-free, lead flashing is essential.
Typically, lead flashing is installed between seams where conservatories attach to exterior walls. It covers the edge of the conservatory roof where it meets the outer wall to prevent water from passing through. When installed correctly, lead flashing provides a water-resistant seal.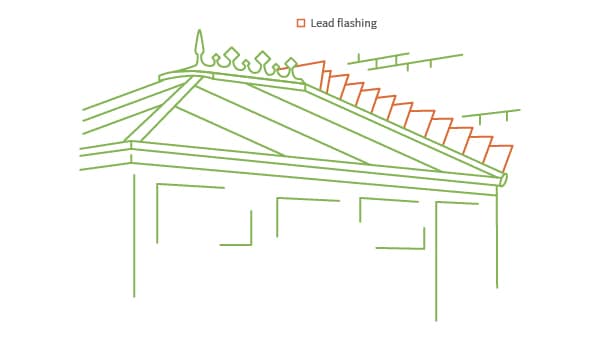 Fitting lead flashing on a conservatory roof
Before fitting lead flashing on your conservatory, make sure you have suitable tools and materials.

The first thing you'll need is a sturdy ladder. It's also a good idea to have someone steadying the ladder while you install the conservatory lead flashing.

Whether you have a polycarbonate or glass roof, conservatory roof panels are not designed to support any weight. Consider using crawling boards if you need to move across the roof to install lead flashing. These can help hold your weight while you apply the flashing safely.

If in any doubt, contact a local specialist or roofer to install the flashing on your conservatory.
How to install lead flashing
1. Prep the brickwork
Remove a line of mortar across the external brickwork of your home to accommodate the flashing.

For Lean-to conservatories, you can chisel or grind a line of mortar between two rows of bricks to a depth of approximately 25mm. Ensure this line isn't too high above the roofing bars and there's enough room to fit the lead flashing sheet.
2. Fit the lead flashing
Roll the sheet across the top of the roof frame while sliding the flashing into place.

If you're happy with the positioning, refill the lines of mortar to set the top of the flashing into the brickwork securely. Seal it down across the edge of the roof frame. It's best to do this on a dry day, so it sets.
Use stepped flashing when installing lead flashing on a conservatory roof that slopes parallel to your property's exterior wall (rather than outward as seen on a Lean-to). It takes more time, but this method ensures that the roof is fully protected and watertight.
For sloping roofs like Edwardian or Victorian conservatories, you won't be able to isolate one line of mortar between two layers of brick. Instead, chisel the mortar out in a stepped pattern along the edge of the roof frame where it meets the wall on either side.
Cut the lead flashing sheet into 'steps' that follow the edge of the roof frame as it slopes down. Install the flashing in the same way as described above — refill the mortar accordingly and apply the sealant.
Professional conservatory leak repair advice
Conservatory lead flashing is highly effective in preventing roof leaks and keeping your conservatory free of damp and mould.

Even with lead flashing in place, you may experience conservatory leaks in some cases. If you have any questions about conservatory leaks, give us a call and we'll be happy to help.

Own a conservatory from ConservatoryLand? We protect our conservatories with a 10-year guarantee. You'll have peace of mind knowing that if you were ever to experience a leak that occurs due to faulty materials, we've got you covered.