Back to list
Heating a conservatory in winter is perfectly possible – especially when you consider the range of conservatory heating solutions you could try.
If you're finding it too uncomfortable to sit in your conservatory at this time of year, then it's probably time to start looking into ways to combat the cold.
This guide is the perfect place to start. We've listed some conservatory heating options below, but first – you'll probably want to understand why the winter can make it hard for you to enjoy your conservatory as you should.
Why is my conservatory so cold?
Besides the time of year – there are loads of different reasons as to why your conservatory's temperature can suffer.
One thing people should always consider prior to purchasing is conservatory positioning. 
Where is your conservatory likely to get the most sunlight?
South facing conservatories get more sunlight in the afternoon and early evening, whereas north facing conservatories get most of their natural light in the morning.
East and west facing conservatories will also get more sunlight earlier in the day and therefore get cooler at night.
Ultimately, it depends what time of day you tend to spend the most time in your conservatory. Either way, it's worth monitoring the temperature yourself with thermometers if you can. This will help you identify the best times to heat the conservatory to fit in with your everyday routine.
There are also other things to bear in mind, however – like insulation.
Given that conservatories are built mostly from glass; they don't retain heat very well.
This can become a problem in the winter especially – which is why it's well worth exploring conservatory insulation options.
You might also want to consider how the spec of conservatory roof you have might influence the inside temperature. Some roofing systems are better at keeping out the cold than others – so it's important to ensure you're not losing too much heat through the roof before you spend your money on a new heating system.
Conservatory glazing also has a part to play – so you might want to start thinking about that, too.
Conservatory heating regulations
If you're conservatory is chilly enough for you to consider extending your central heating, then you might need to bear in mind certain building regulations.
Extending your existing central heating pipework can be fairly disruptive – so it's no surprise that these regulations are likely to come into effect in this instance.
In fact, Planning Portal suggests that conservatories are only normally exempt from building regulations if there is an independent heating system with its own on/off controls.
Therefore, it's obviously less hassle to invest in other heating options.
How to make a conservatory warmer
There are a number of different types of conservatory heating you could try.
Some are more effective than others, and each have their own pros and cons – but have a thorough read through each of the options we've listed below to get an idea of which might work best for you.
Electric radiators (and low level convection heaters)
Electric radiators for conservatories are perfect in areas that plumbing can't reach.
All you need is a plug socket and you're good to go. Like normal radiators, most modern electric radiators have their own heat setting which you can change at any time.
There also very responsive – and don't take long to work their magic once switched on. However, they do use up quite a lot of electricity – so you might need to be mindful about how long you keep it switched on for.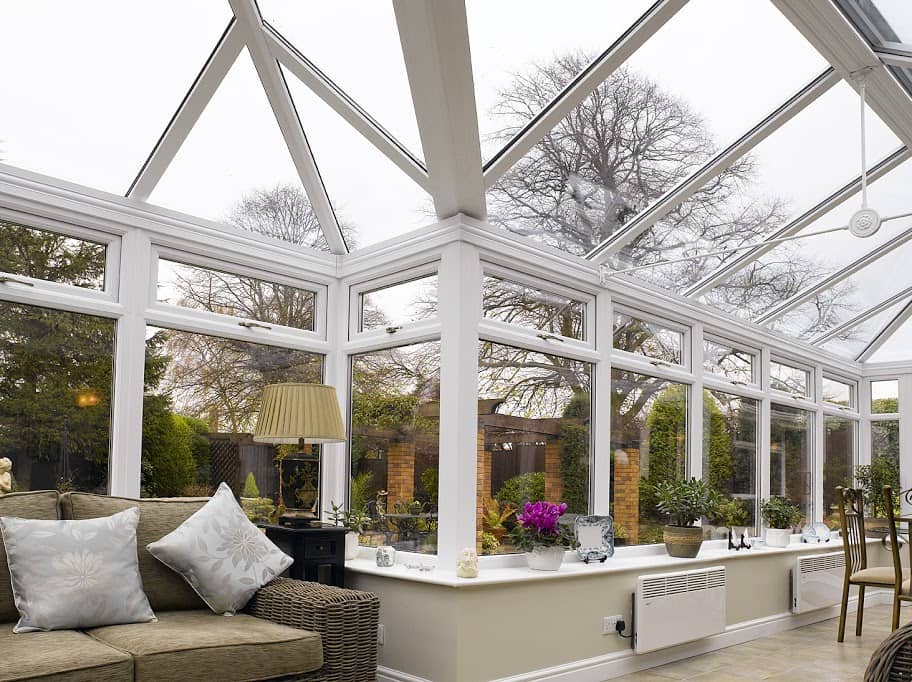 Infrared heating
Infrared, or convection heaters work by transmitting warmth and light into your conservatory.
They can be powered by gas or electricity – circulating warm air rapidly and creating a comfortable and cosy environment.
Since they're only radiating light, there's no 'noise pollution' and the heaters get to work pretty much instantly. However, the main disadvantage to infrared heating is that the heaters themselves can become dangerously hot if left on for too long.
If you have pets and children it's important to take this into careful consideration.
Trench heating
Although it can be fairly costly to install, trench heating can be a very effective way to keep your conservatory warm.
Essentially, ventilated trenches are fitted beneath the floor (usually around the perimeter of the room) circulating warm air which subsequently rises as it is blown out through a convection unit.
For asthma sufferers, it's a much healthier alternative to other forms of conservatory heating – as it creates less air turbulence.
Underfloor heating
Again, underfloor heating can be expensive to implement within a conservatory. However, there's no denying the fact that it usually makes a room much cosier and pleasant to lounge around in.
The beauty of underfloor heating is that it works with whatever type of surface you have in your conservatory – whether that's laminate, tiles, vinyl – or even carpet.  
You can also alter the thermostat accordingly to make it as warm as you need it to be.
Central heating with standard radiators
As discussed above, it's likely that you'll need to adhere to certain building regulations if you're thinking about extending plumbing through to your conservatory.
It's important to remember that conservatories do tend to have limited wall space for large standard radiators – which can limit the heat output.
However, provided the work to install the central heating doesn't take too much time or money, it can be very cost effective in terms of energy usage and heat benefit.
Final thoughts on conservatory heating solutions
Now that you're familiar with the different types of conservatory heating, you're now in a much better position to manage conservatory temperature more effectively.
Or, if you're now more comfortable with the idea of getting a new DIY conservatory ahead of the winter months – why not get a free conservatory quote today?