Modern conservatories are built with insulated materials, so you can enjoy a pleasant space all year round. However, without any heating, even the most energy-efficient extensions will feel the temperature drop during the chilly winter months.
Heating a conservatory is often needed if you're looking to enjoy a cosy snug in colder weather. In this guide, we've listed a range of conservatory heating solutions to help you find an option that suits your space and budget.
Why is my conservatory so cold?
As the seasons change, so will the temperature in your conservatory. If you don't have effective insulation or a powerful heating source, it can be hard to enjoy your space in winter.

Aside from the time of year, there are other factors that affect your conservatory's temperature, including:
Conservatory position – south-facing conservatories receive more natural light in the afternoon and early evening, whereas north-facing conservatories receive most of their natural light in the morning. East and west-facing conservatories receive more sunlight earlier in the day, so they tend to be cooler at night.
Conservatory insulation – insulation can help to keep a conservatory comfortable. There are multiple ways you can insulate your space to help combat cold temperatures, including conservatory blinds and sealing draughts.
Conservatory glazing – your conservatory roof glazing can impact the temperature. Some roofing systems are better at keeping out the cold than others. For example, our glass roof glazing provides optimal insulation and consistent temperatures throughout the year. Plus, our optional energy-efficient glazing can help maintain comfortable temperatures during the summer months too.
Heating solutions for a conservatory
If you're wondering how to heat a conservatory, there are plenty of options available that can suit every space and budget.
Here are several conservatory heating solutions to consider:
1. Central heating with standard radiators
Radiators are a worthwhile heating option if your budget allows for central heating.
Central heating is both energy efficient and cost effective. But conservatories do tend to have limited wall space, so you might not have the room to accommodate a large standard radiator.
If you extend plumbing into your conservatory, you'll need to adhere to the applicable building regulations. Planning Portal confirms that conservatories are exempt from building regulations if there is an independent heating system with separate temperature and on/off controls in place.
If you're considering building a new conservatory with a central heating system, visit our guide on the planning permission required for a conservatory with a radiator.
2. Electric radiators (and low level convection heaters)
Heating a conservatory with electric radiators is a great option when plumbing isn't possible — all you need is a plug socket.
Most modern electric radiators have their own heat settings, which you can change at any time. Choosing an electric oil-filled radiator is often a low-cost solution, and they provide heat fast.
Electric radiators are quick and easy to use. However, because they consume a lot of electricity, you should be cautious about how long you leave them on.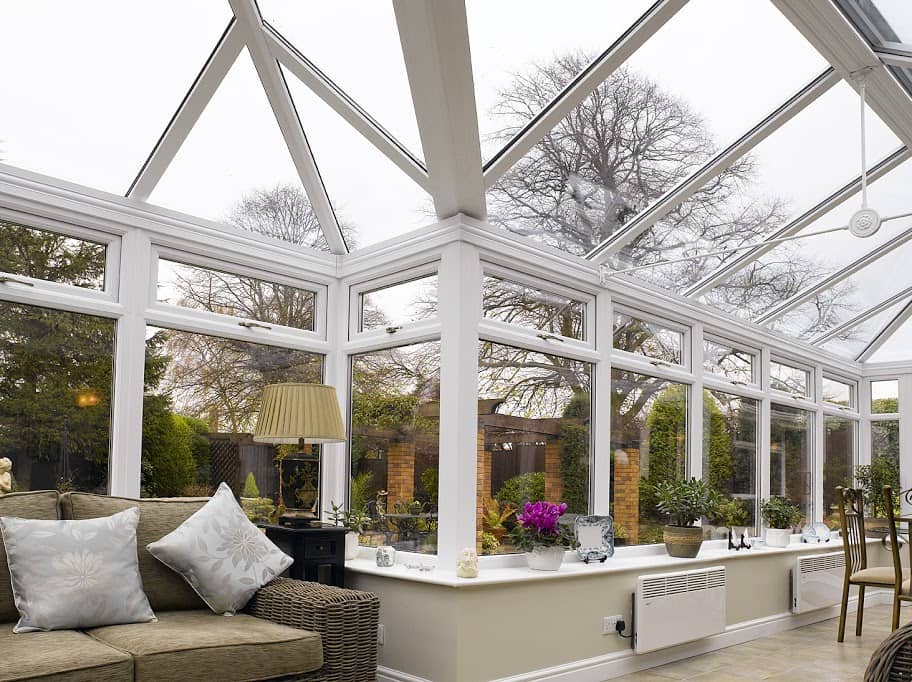 3. Infrared heating
Infrared heaters work by transmitting light into your conservatory. They are usually powered by gas or electricity and circulate warm air in your space to create comfortable temperatures.
These types of conservatory heaters are a convenient option to quickly warm a cold room. They're cost effective, too. And, since they're only radiating light, they emit less noise than other types of heaters. However, one of the disadvantages of this heating solution is they become extremely hot if left on for too long, which could be a danger to pets and children. They also emit an intense light that some might find uncomfortable.
4. Trench heating
Trench heating is an effective solution to heat your conservatory, but it might take a long time to warm up a space, making it less efficient than a radiator.
You can install ventilated trenches beneath the floor (often around the room's perimeter), which blow hot air into the space. For asthma sufferers in particular, it's an appealing option over other types of conservatory heating because it causes less air turbulence.
The installation costs can vary significantly, making the initial investment and ongoing costs fairly high.
5. Log burner
A log burner can be a powerful heat source and adds a stylish touch to your conservatory.
This heating option is energy efficient, so you could enjoy lower energy bills. It can also be a low-cost solution.

In most cases, planning permission is not needed when you add a log burner to your conservatory. For more information, visit our guide on the regulations and planning permission for log burners.
6. Underfloor heating
Underfloor heating is energy efficient but is often expensive to install. This modern type of heating offers plenty of warmth, provides a steady flow of heat and is discreet — so there's no need to find a place in your conservatory for a large heater.

This heating solution is suitable for a number of floor types, including laminate, tile and carpet. You can also alter the temperature with a thermostat.
Final thoughts on conservatory heating solutions
It's worth investing in a heating solution, so that you can use your space all year round — even during the colder months.
The right heating solution for your needs might depend on your budget. But there are a range of conservatory heating options available, so you can enjoy a pleasant room — no matter what the weather.
For more information on keeping your extension comfortable throughout every season, take a look at our guide on how to manage your conservatory's temperature.