Whether you're shopping for a new conservatory or modernising your current one, you'll need to take a few things into consideration to help you find the best conservatory roof type to suit your needs.
To get the most out of your money and the conservatory itself, it's worth taking the time to think about how different types of conservatory roofs will affect how much you'll need to budget for, and how often you'll use the room once the roof is installed.
Here, we'll guide you through the advantages and disadvantages of each conservatory roof type to help you decide which one is best for your project.
Conservatory roof styles
When looking to add extra living space with a conservatory, it's essential to consider the best conservatory roof for your specific requirements.
Whether you want an abundance of light through a glass roof or an affordable and efficient polycarbonate roof, there are plenty of conservatory roof styles and shapes for you to consider. Here are some of the most common conservatory types to choose from:
Lean-to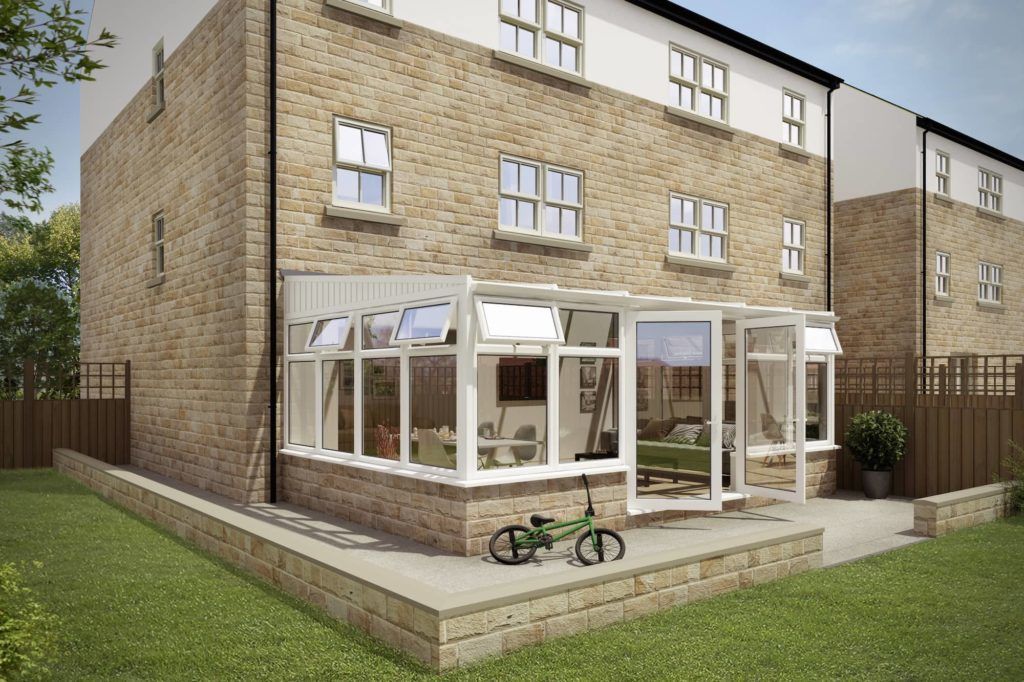 With a simple, sloping roof and clean straight lines, the lean-to conservatory is an excellent choice for those wanting to upgrade their home with a stylish and modern space. A lean-to conservatory creates a spacious and sun-filled extension to your home.
Hipped back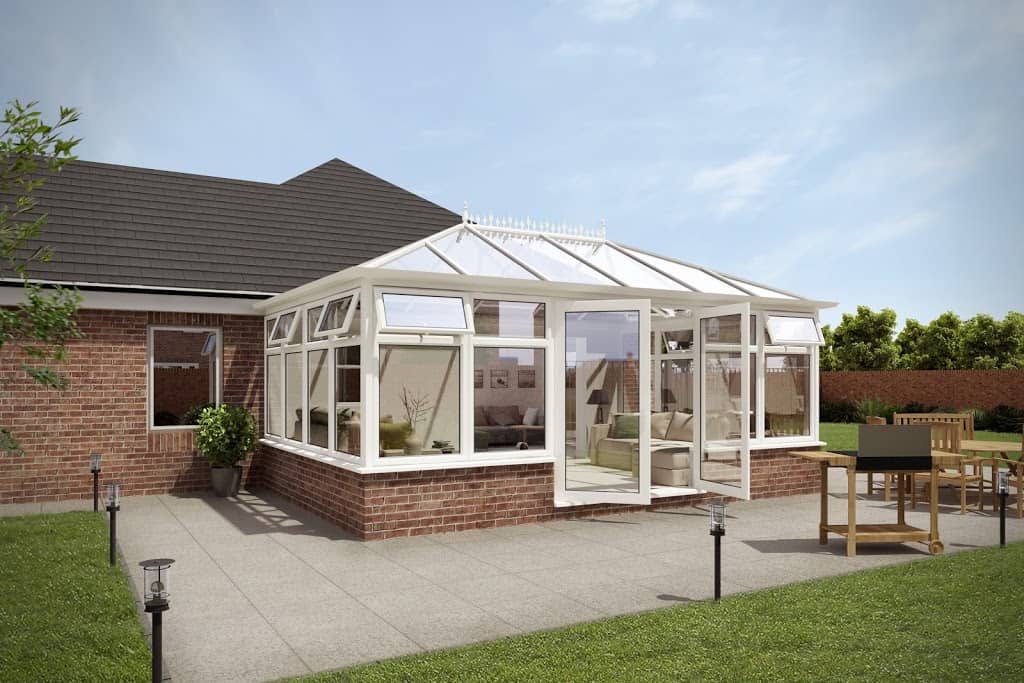 The hipped back conservatory — also known as a double hipped conservatory — comes with a box gutter and a sloping pitched roof that connects to your home's wall. Designed to suit properties limited by height restrictions, you can customise an entirely bespoke project — choose your preferred roof, doors and window frames.
Edwardian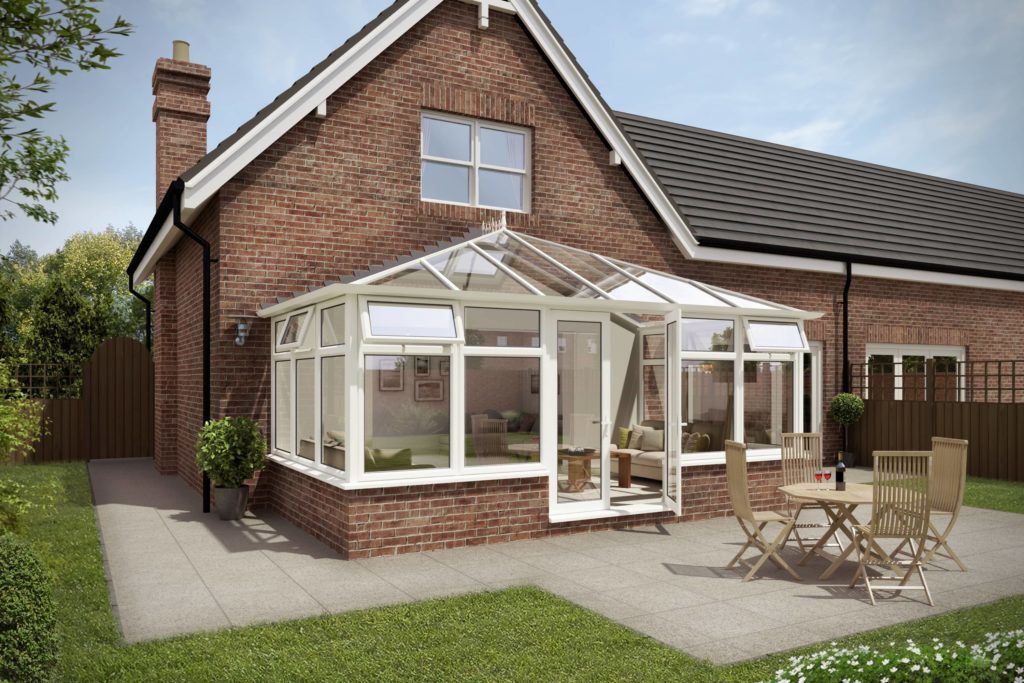 With sleek lines and a pitched roof, this style offers a spacious, sun-filled extension to your property. Perfectly suited to all house styles including bungalows, Edwardian conservatories are a great way to add value, space and comfort to your home.
Victorian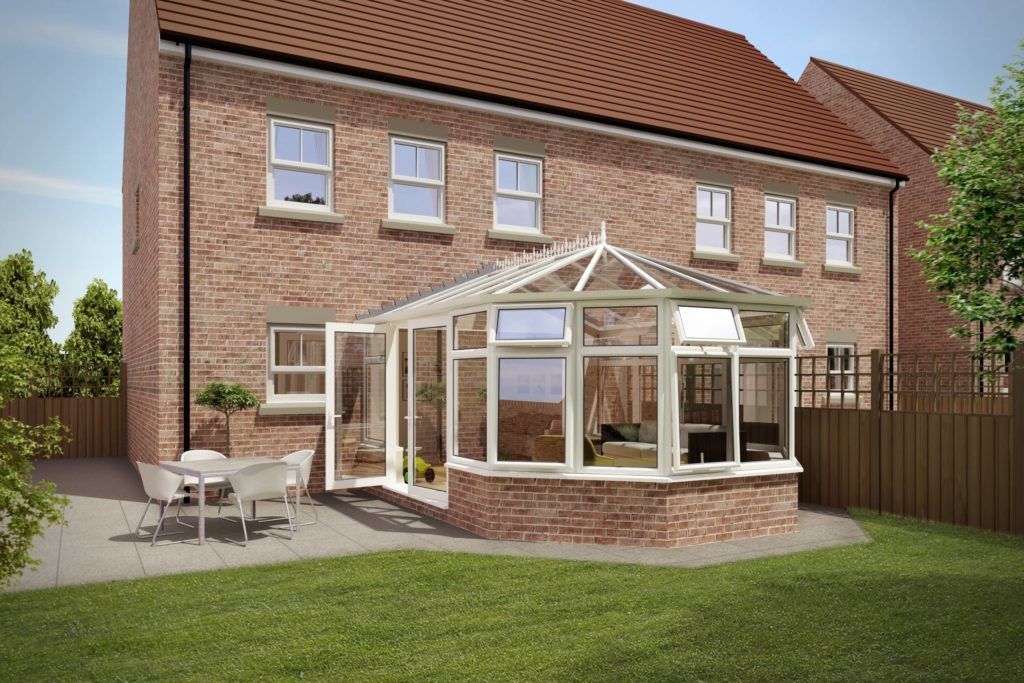 Victorian conservatories combine a bay front with a steeply pitched roof, cresting and finials, which works equally well for expanding period homes or modernising new properties.
Types of conservatory roofs
There are various conservatory roof options available, including tiled, glass and polycarbonate. Each conservatory roof type plays a role in regulating the temperature of the room and the amount of natural light entering the space. Therefore, it's important to choose the right roofing option for you so that your conservatory stays functional, comfortable and enjoyable all year round.
At ConservatoryLand, our roofing products are designed to suit a wide range of budgets and individual requirements. They come in two tried and tested options, the polycarbonate conservatory roof and the glass conservatory roof.
The polycarbonate conservatory roof
Polycarbonate conservatory roofs are made from thin layered sheets of clear or tinted plastic. The thicker, the better, as this way of manufacturing the roofing material helps to insulate the conservatory. The gaps between the layered sheets trap warm air, keeping heat inside the room.
At ConservatoryLand, you'll have the chance to upgrade your polycarbonate roof to a thickness of up to 32mm for extra energy saving insulation.
This is especially useful in chillier months, as a thicker polycarbonate roof will reduce the amount of heat escaping and will keep the warmth produced by internal heating devices in.
Keeping the space a little warmer during winter means you can continue to use your conservatory without the worry of it being too cold.
Advantages of a polycarbonate conservatory roof
Lightweight yet strong: Polycarbonate plastic roofing sheets are a hardwearing alternative to a glass conservatory roof. They are designed to withstand extreme hot and cold temperatures without cracking or breaking, so you know it can handle whatever each season can throw at it. And thanks to the lightweight feel, they are easier to transport and quicker to install compared to a glass roof.
On a budget: A polycarbonate conservatory roof is a popular option for many homeowners looking to build a conservatory on a budget. Choosing a polycarbonate conservatory roof instead of a glass roof could save you several hundred pounds.
Keep it cool: If you're concerned about your conservatory becoming too hot, choosing a UV blocking tinted polycarbonate roof can prevent heat entering the conservatory on hot days, helping to regulate the temperature inside the conservatory during summer and keep it cool.
The glass conservatory roof
One of the best types of roofing options available, double glazed panels make fantastic conservatory roofs when compared to their polycarbonate counterparts. Glass roof conservatories are one of the most popular styles, thanks to their ability to let in plenty of natural light.
Modern glass conservatory roofs have a lot to offer thanks to contemporary manufacturing methods, making them a more affordable, warmer, safer, quieter and more convenient option for many households with a conservatory.
Advantages of a glass conservatory roof
Long-lasting: For a few hundred pounds more you can buy a long-lasting glass conservatory roof that can not only withstand the elements but will also stay looking good for years to come with the right maintenance and care.
Designed to be tough and durable, should the glass become damaged or faulty over time, individual panels can be replaced quickly and easily with as little disruption to your household as possible.
A clear view: In contrast to the polycarbonate roof, you receive transparent glazing when you choose a glass conservatory roof.
Giving you a glare-free clear view of the sky above, you can watch clouds float by and the stars come out from the comfort of your cosy conservatory.
Extra insulation: Keeping your conservatory cool in summer and warm in winter, choose a glass conservatory roof filled with argon gas to help keep your home-to-garden space insulated and usable all year round.
Limiting the amount of heat leaving the conservatory, our insulated glass roofs will also help to keep your energy bills low too.
Sound minimiser: With a standard polycarbonate roof you might confuse a light downpour for a hailstorm.
A glass conservatory roof offers a quieter alternative when it rains, so you can enjoy the gentle pitter-patter of raindrops and feel closer to nature as you snuggle up in your favourite conservatory chair.
Using the latest developments in technology, there are plenty of user-friendly glazing options for homeowners.
Depending on the type of glass you choose for your conservatory roof, you could also benefit from:
Self-cleaning: Enjoy clean conservatory glazing without the hassle of washing the roof yourself. Self-cleaning glass is especially convenient in hard to reach places.
Sun protection: There are also options for adding UV protection to your glass conservatory roof, keeping you safe from the harmful effects of the sun's rays.
Choosing the best conservatory roof types
From adding a comfortable room to your property to saving money on energy bills, there are advantages to using both conservatory roofing options.
But, with a more comprehensive list of benefits, it's the glass conservatory roof that's likely to offer the most to individuals.
If you're still undecided when it comes to choosing the best conservatory roof for you, download a free brochure for some conservatory design inspiration. We also have a useful guide on conservatory roofs. If you have any questions, you can speak to a member of our team who can provide a free quote to help you make up your mind on the right type of conservatory roof for your needs.