Whether you're shopping for a new conservatory or modernising an existing one, there are a few factors to consider to determine the most suitable conservatory roof type for your needs.
Here, we'll guide you through the advantages and disadvantages of each conservatory roof type to help you decide which is best for your project.
Contents:
Conservatory roof styles
Types of conservatory roofs
The polycarbonate conservatory roof
The glass conservatory roof
FAQs
What's the best roof for a conservatory?
Conservatory roof styles
When looking to add extra living space with a conservatory, it's essential to think about the best conservatory roof for your needs.
Whether you want abundant light through a glass roof or an affordable and efficient polycarbonate roof, there are plenty of conservatory roof shapes to consider.
| | | | |
| --- | --- | --- | --- |
| Conservatory roof type | Roof style & design | Benefits | Suited to |
| Lean-to | Modern slanted roof | The large glazing area means your room will receive plenty of natural light. | All properties, including small spaces |
| Edwardian | Pitched roof and decorative finials | Flat-fronted style with sleek lines adds character and maximises floor space. | All properties, especially traditional homes |
| Gable | High-vaulted roof | The high-pitched ceiling gives this light and spacious space a touch of majesty. | All properties, including period and modern homes |
| Victorian | Pitched roof, and decorative finials | A bay front and steeply pitched roof adds a classic aesthetic and offers panoramic views. | All properties, particularly traditional homes |
| Hipped-Back | Sloping pitched roof that 'hips' back to the property wall provided with a box gutter | With a roof that slopes back to your home's wall, you can enjoy sky views and plenty of natural light. | All properties, notably height-restricted homes like bungalows |
| Glass | Transparent roof panels | Glare-reducing, energy-efficient, and provides unobstructed sky views. | All properties |
| Polycarbonate | Lightweight polycarbonate sheets | Strong and cost-effective. | All properties |
Let's dive into some conservatory roof designs in more detail: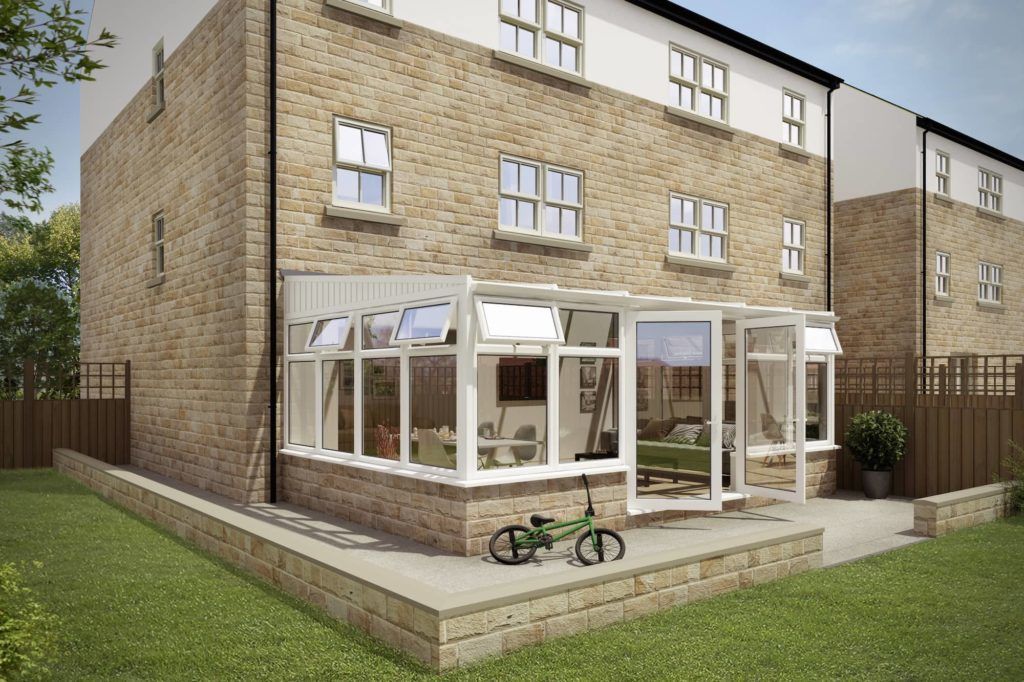 With a simple, sloping roof and clean straight lines, this style is an excellent choice for those wanting to upgrade their home with a stylish and modern space.
Lean-to conservatories create a spacious, sun-filled extension and are ideal for any property. The low pitch often complements small spaces.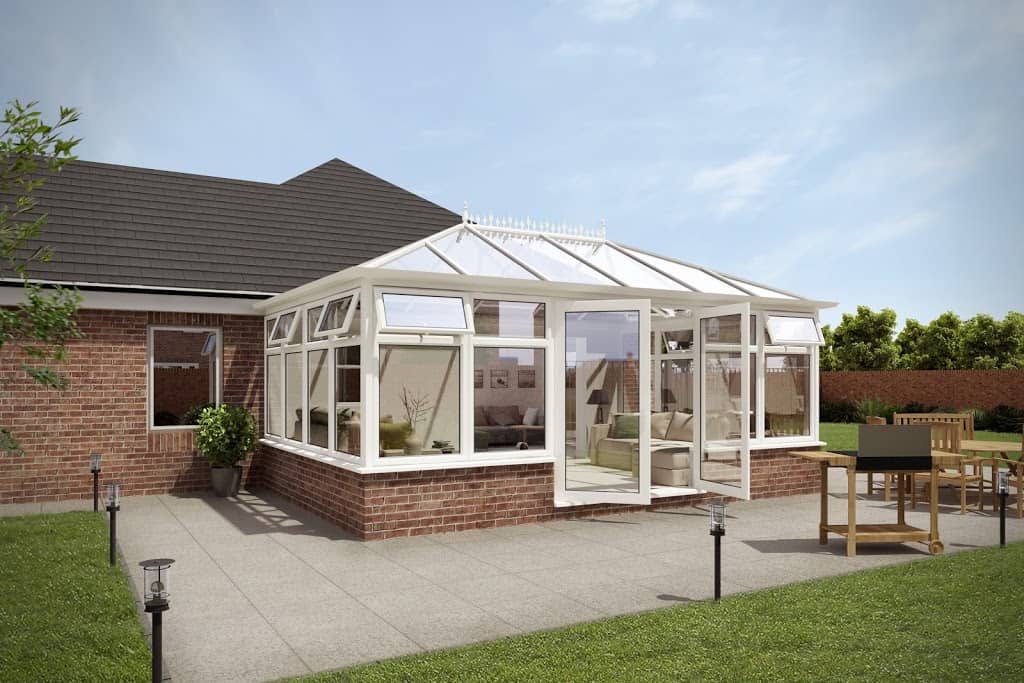 The Hipped-Back conservatory — also known as a Double-Hipped conservatory — comes with a box gutter and a sloping pitched roof that connects to your home's wall.

These conservatories are versatile and well-suited to properties limited by height restrictions.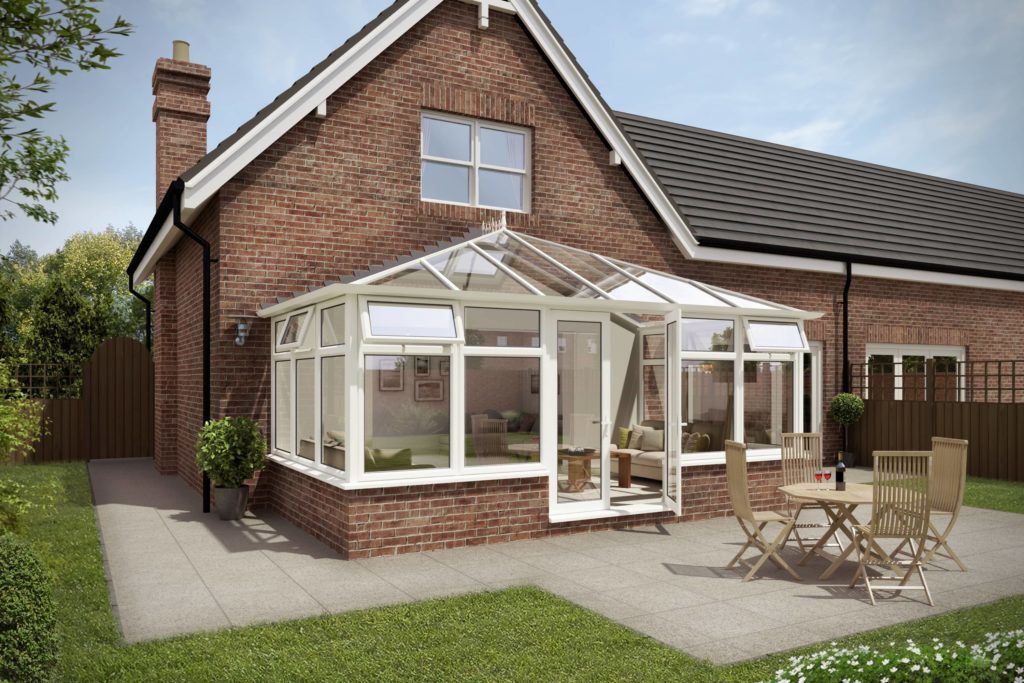 With sleek lines and a pitched roof, this style offers a spacious, sun-filled extension.
Edwardian conservatories are a great way to add value, space and comfort to your home, suited to all property styles, including bungalows and traditional houses.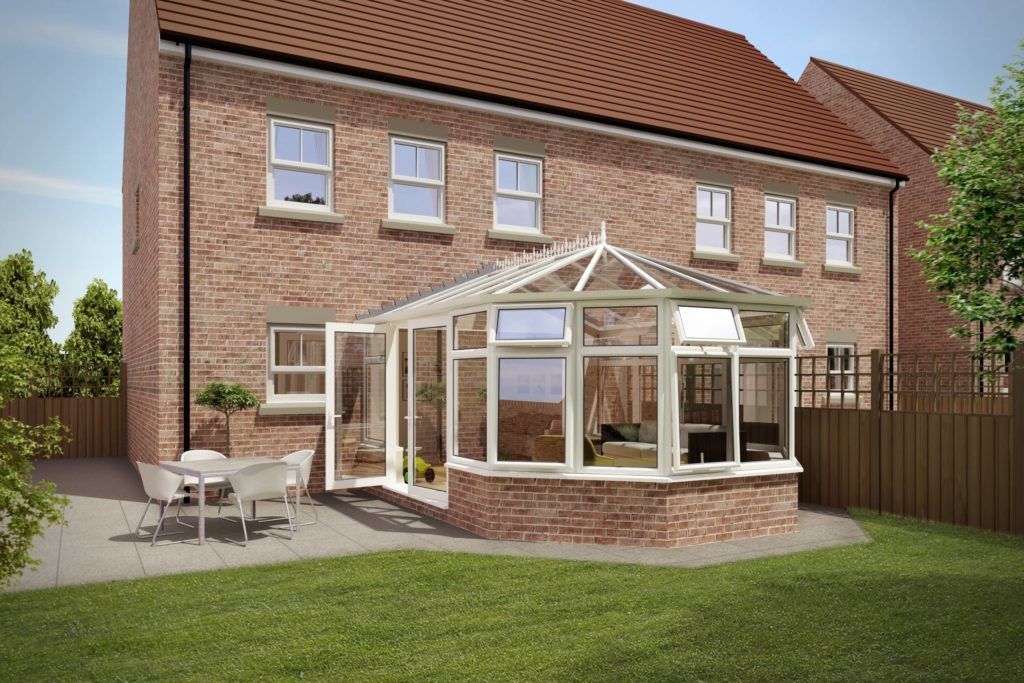 Victorian conservatories combine a bay front with a steeply pitched roof, cresting and finials, which works equally well for expanding period homes or modernising new properties.
Types of conservatory roofs
A range of options are available, including tiled, glass and polycarbonate roofs.

Each conservatory roof type plays a role in regulating the temperature of the room and the amount of natural light entering the space. Therefore, it's important to choose the right roofing option for you so that your conservatory stays functional, comfortable and enjoyable all year round.

At ConservatoryLand, our roofing products are designed to suit various budgets and individual requirements. They come in two tried-and-tested options, the polycarbonate conservatory roof and the glass conservatory roof.
The polycarbonate conservatory roof
Polycarbonate conservatory roofs are constructed from thin layered sheets of transparent or coloured plastic. The thicker, the better because this method of manufacturing the roofing material aids in conservatory insulation. The gaps between the layered sheets trap warm air, allowing heat to remain within the room.
At ConservatoryLand, you'll have the chance to upgrade your polycarbonate roof to a thickness of up to 32mm for extra energy-saving insulation.
This is especially advantageous during winter when a thicker polycarbonate roof reduces heat loss and keeps the warmth within. As a result, you can continue using your conservatory — no matter the season.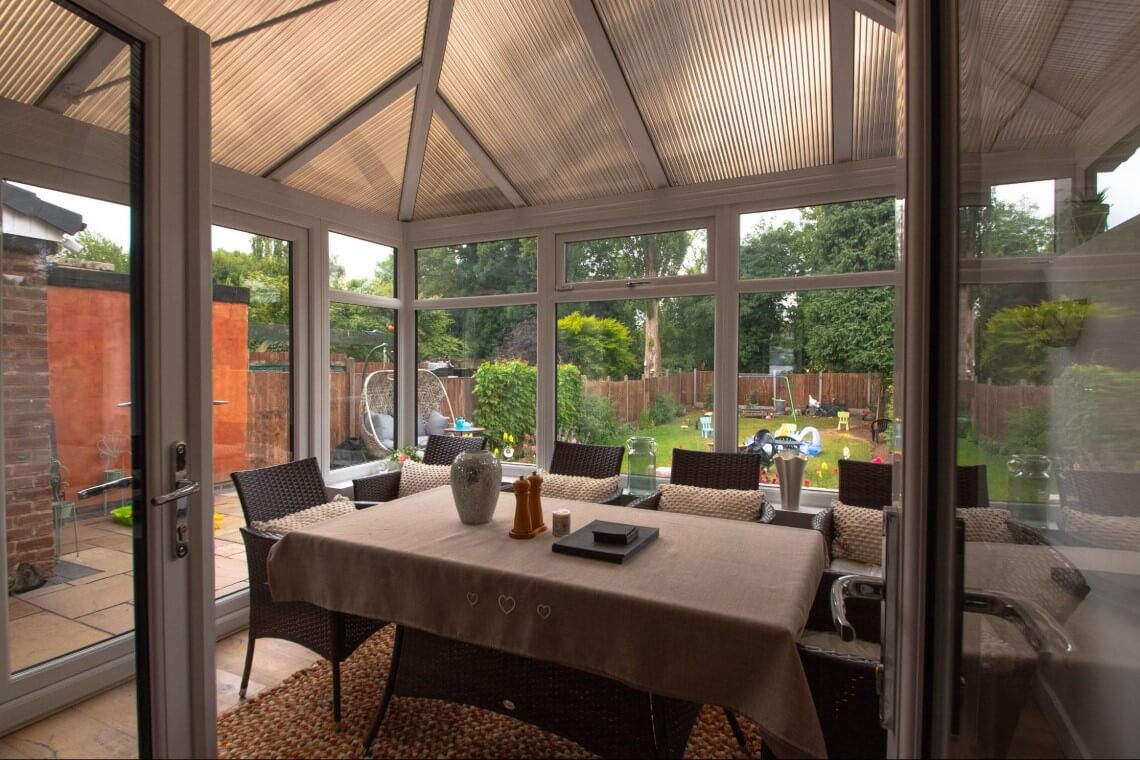 Advantages of a polycarbonate conservatory roof
Lightweight yet strong: Polycarbonate plastic roofing sheets are a hardwearing alternative to a glass conservatory roof. They are designed to handle whatever each season can throw at them — withstanding extreme hot and cold temperatures without cracking or breaking. And thanks to the lightweight material, they are easier to transport and quicker to install than glass roofs.
On a budget: They're popular options for many homeowners looking to build a conservatory on a budget. Choosing a polycarbonate conservatory roof instead of a glass roof could help you save on overall conservatory costs.
Keep it cool: If you're worried about your conservatory being too hot, a UV-blocking tinted polycarbonate roof can help reduce heat from entering on hot days, helping to keep it cooler during the summer when compared to clear polycarbonate roofs.
The glass conservatory roof
One of the best options available, double-glazed panels make fantastic conservatory roofs compared to their polycarbonate counterparts.

Glass roof conservatories are one of the most popular styles, thanks to their ability to let in plenty of natural light.
Modern glass conservatory roofs have much to offer thanks to contemporary manufacturing methods, making them a more affordable, warmer, quieter and more convenient option for many households with a conservatory.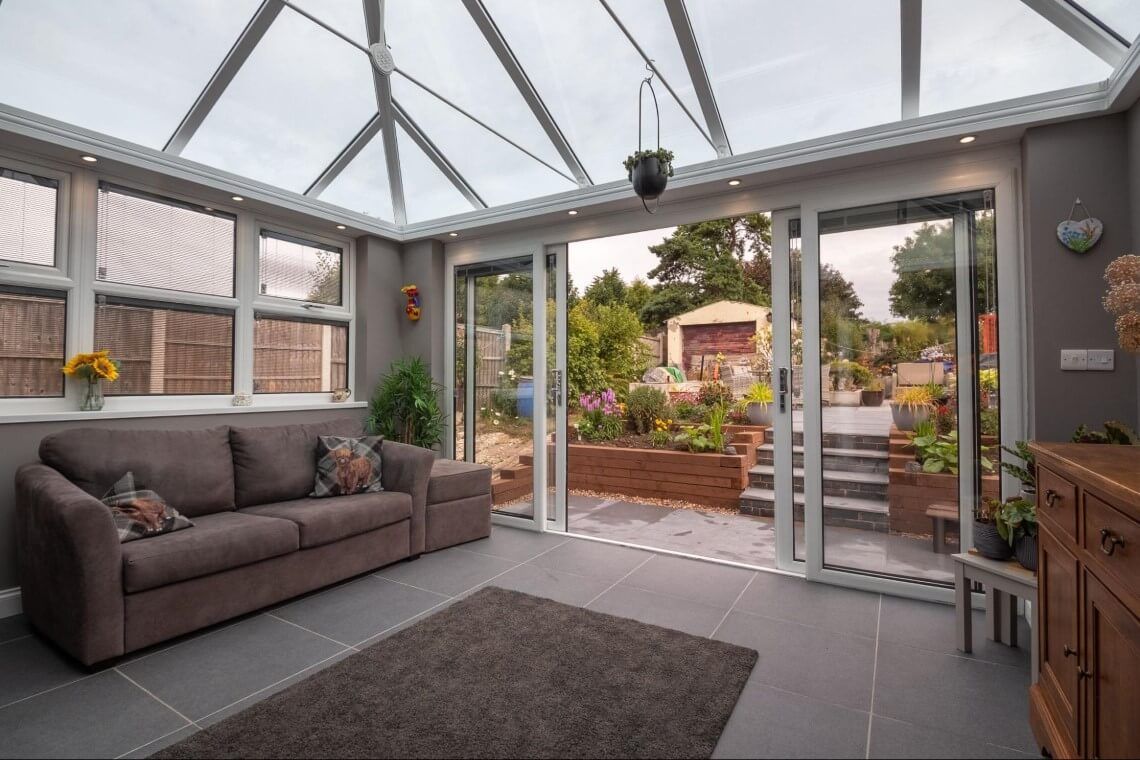 Advantages of a glass conservatory roof
Long-lasting: A durable glass conservatory roof can withstand extreme weather and maintain its attractive appearance for a longer period with the right upkeep and maintenance.

A clear view: Unlike the polycarbonate roof, you receive transparent glazing when choosing a glass conservatory roof. This can create a bright, open living space that feels connected to the outdoors.

Easy to repair: In the irregular case of glass damage or faults over time, individual panels can be replaced quickly and easily with minimal disruption to your home.

Extra insulation: To keep your conservatory cool in summer and warm in winter, a glass conservatory roof filled with argon gas helps keep the space insulated and usable all year round. Insulated glass roofs will also help keep your energy bills low by limiting the heat leaving the conservatory.

Sound minimiser: With a standard polycarbonate roof, you might confuse a light downpour for a hailstorm. On the other hand, a glass conservatory roof is far quieter, even during harsh weather.

Self-cleaning: There are various types of conservatory roof materials on the market, and ConservatoryLand's self-cleaning glazing is a popular choice among our customers. It can help to maintain a cleaner conservatory without the hassle of washing the roof yourself.
FAQs
Why are conservatory roofs important?
Conservatory roofs can become dirty and stained over time because of exposure to elements such as rain, dust and debris from nearby trees. This might make the conservatory appear unattractive and reduce its aesthetic value.

Can I change the shape of my conservatory roof?
With a provider who supplies replacement parts, you may be able to change the design of your conservatory roof. However, considerable changes to the existing structure may be required, making the process complex and costly.
What is the cheapest roof type for my conservatory?
One of the most affordable roof types for a conservatory will depend on several factors, including the size of the conservatory, its shape and your budget.

One option you may consider is a polycarbonate roof, which is lightweight and durable. It's a popular choice because it's relatively inexpensive compared to other roofing materials, like glass conservatory roofs. At ConservatoryLand, polycarbonate is available in a range of thickness sizes and colours, so you can choose a style that suits your preferences.
What's the best roof for a conservatory?
There are various options to consider when deciding on the ideal roof for a conservatory. Glass roofs are popular because they provide good insulation and let in lots of natural light. Polycarbonate roofs are an excellent choice if you want a cost-effective option that's durable and lightweight.
If you're still undecided about choosing the best conservatory roof, download a free brochure. You can browse our range of conservatories, including styles, glazing and customisation options.
If you've got a shape and design in mind, you can build your dream conservatory using our quote engine. You can try out different conservatory roof ideas and receive an accurate quote for your build. And if you've got any questions, our team is on hand to help.