Our February customer of the month writes to us from Mansfield, Nottinghamshire about his brand new gable-front conservatory. Having approached four different conservatory companies and been left uninspired by all of them, Mr Leonard was looking for a provider who could help make his conservatory dreams come true — and at an affordable price.
Unsure of exactly what he wanted, he was keen to get some expert advice from a friendly and experienced conservatory company. And after reading some of our fantastic reviews and successful customer stories, Mr Leonard decided to get in touch with ConservatoryLand.
Mr Leonard wanted to build a large conservatory on the back of his semi-detached home to give him and his family more space. He wanted a light and airy room that was big enough to house a sofa and a television or a dining table and chairs; giving him the freedom to change the use of the room as required. Without knowing exactly what he wanted his conservatory to look like, he needed a trusted company who could guide him through the process.
ConservatoryLand was the perfect option. With plenty of years' experience and hundreds of conservatory builds across the UK, our expert team was on hand to guide Mr Leonard every step of the way. Sharing useful insights and design ideas, plus helpful information on expected time frames and installation costs, Mr Leonard was confident that ConservatoryLand was the perfect partner to help build his brand new space.
Having discussed the various options available — such as Edwardian and lean-to conservatories, plus white and grey PVCu and a range of different roof styles and finishings — Mr Leonard was delighted to find out he could mix and match his favourite styles and colours to create an entirely bespoke conservatory. Our team was on hand to guide him through each decision, using years of experience and attention to detail to ensure Mr Leonard's vision was brought to life.
With the design and customisations agreed upon, our expert team of designers set about creating a mockup of Mr Leonard's new space, taking into account his specific requirements and design preferences. Keen to make the most of his available space, Mr Leonard opted for a gable-front conservatory which typically offers more living space than any other type of build. He was delighted with the designs; his conservatory idea was really starting to come alive and he was excited to get his project underway!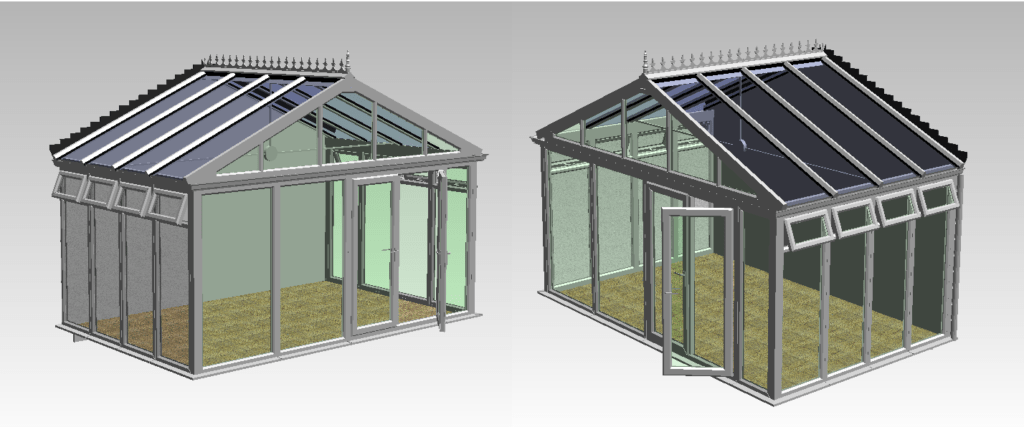 The Specifications
| Name | Mr Leonard |
| --- | --- |
| Location | Mansfield, Nottinghamshire |
| Conservatory style | Gable Front Conservatory |
| Dimensions | 4700mm x 3000mm (made to measure to customers requirements) |
| Glazing | Standard glass in the windows. Blue Self Cleaning, Solar Control Glass Roof |
| Base type | ConservaBase with PVCu Skirt |
| Colour | White PVCu, 24mm Blue Self Cleaning, Solar Control Glass for the roof, White handles. |
Building Mr Leonard's Gable-Front Conservatory
Mr Leonard opted to use our approved installer network to assist with the construction of his conservatory. We allocated a local installer from our network to manage the build and with each installer thoroughly vetted by ConservatoryLand, he was confident that the job would be completed quickly and to the highest standard. It was time to get started!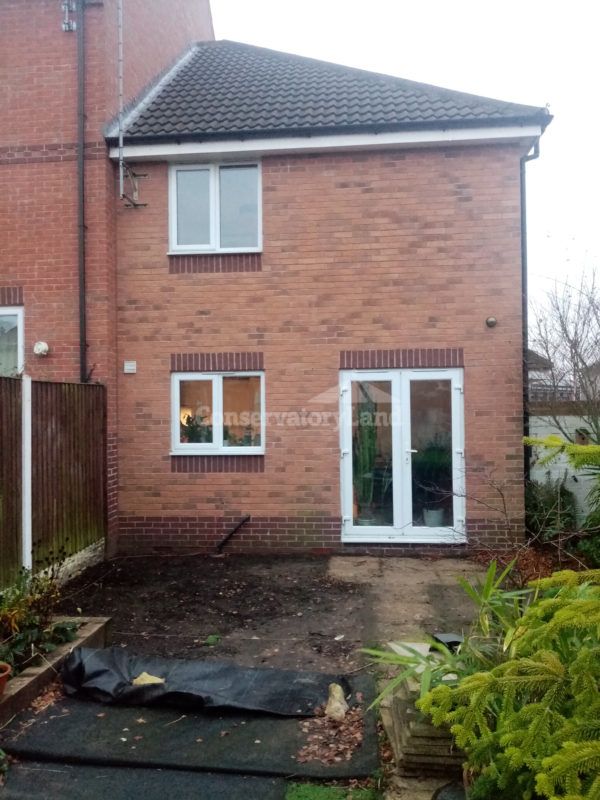 The first step was preparing the area where the conservatory would sit. Mr Leonard chose to use our ConservaBase system for a seamless and quick installation. Ideal for both professional and DIY assembly, each ConservaBase is manufactured to the exact size and shape of the conservatory, promising a perfect fit every time. Thanks to its easy-to-install concrete pads which piece together effortlessly, there was no need to spend hours assembling fiddly parts! In just two days, the base was completed — much quicker than a conventional build yet with the same incredibly high-quality and long-lasting finish.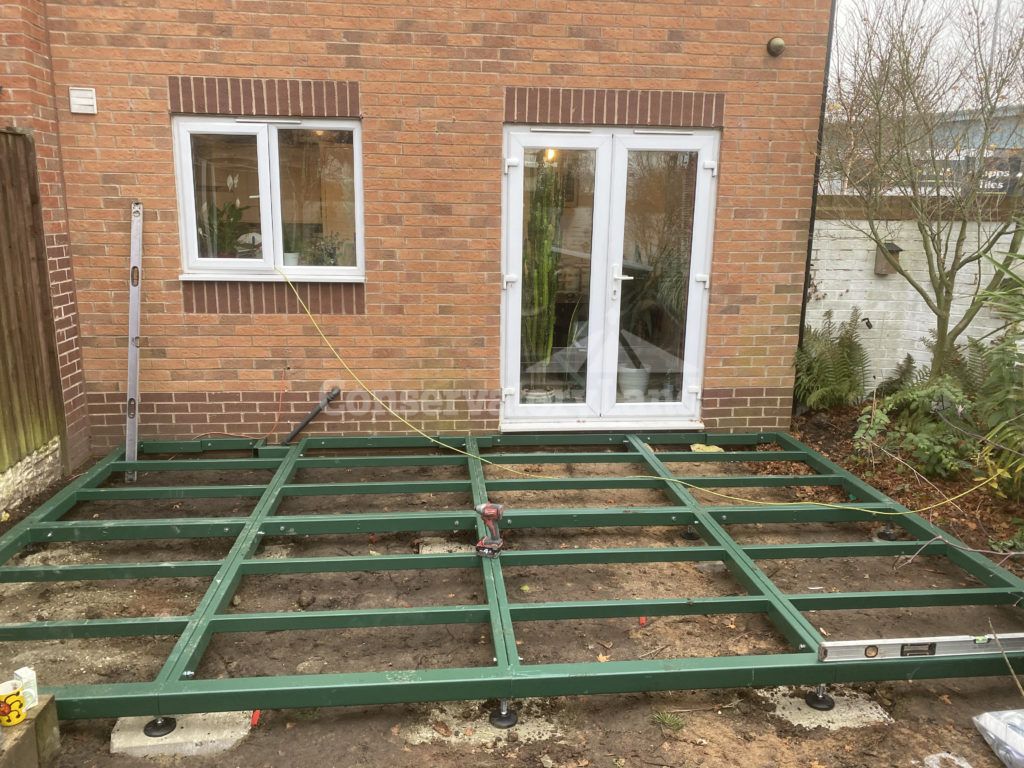 Next up, it was time to build the walls of the gable-front conservatory. Keen to create a room that was beautifully light and airy, Mr Leonard opted for floor-to-ceiling windows. Giving him a panoramic view of his garden that could be enjoyed in all weathers, the floor-to-ceiling windows would maximise light and give the conservatory an open, spacious feel.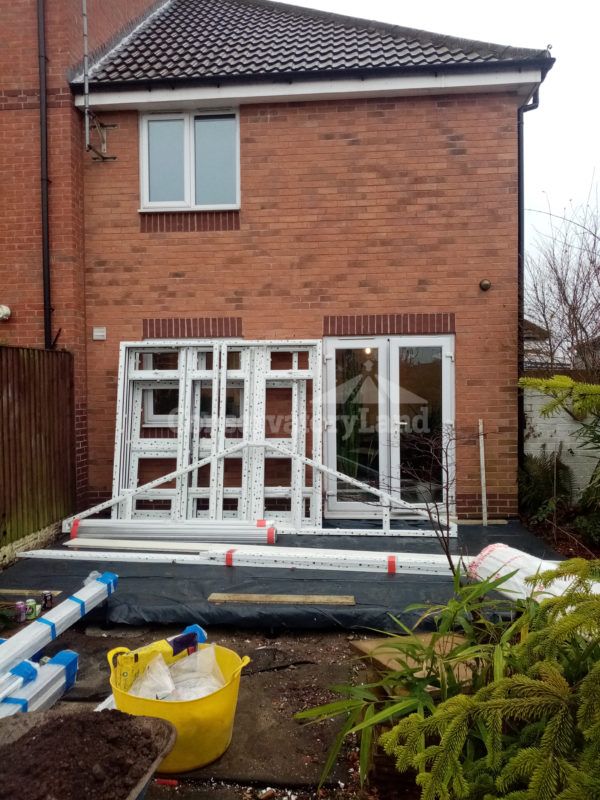 In keeping with the style of his current home, he opted to have his windows cut in white PVCu with stylish white handles to match. At ConservatoryLand, we manufacture all of our frames from the latest, fully-sculptured PVCu profiles. Thanks to high-quality materials and expert manufacturing techniques, our frames are designed to last a lifetime and built specifically for a speedy, hassle-free assembly. So in no time at all, Mr Leonard's conservatory was starting to take shape; he was delighted to see how premium-looking and aesthetically pleasing the floor-to-ceilings windows looked, they were even better than he'd imagined!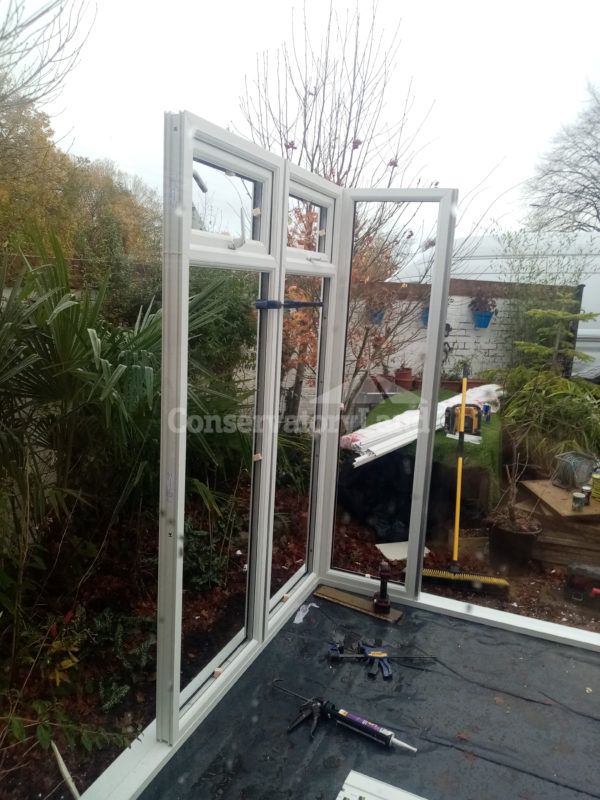 For the front of his conservatory, Mr Leonard opted for double doors. Not only did this design choice allow for maximum natural light to filter into the conservatory, but it also helped make the structure appear open and roomier. During the summer months, Mr Leonard would be able to open the double doors onto the garden to give him a spacious, outdoor-feel even when inside. Equally perfect for entertaining — just think of warm, sunny days and BBQs! — Mr Leonard was over the moon at how his conservatory project was looking. And the end was in sight.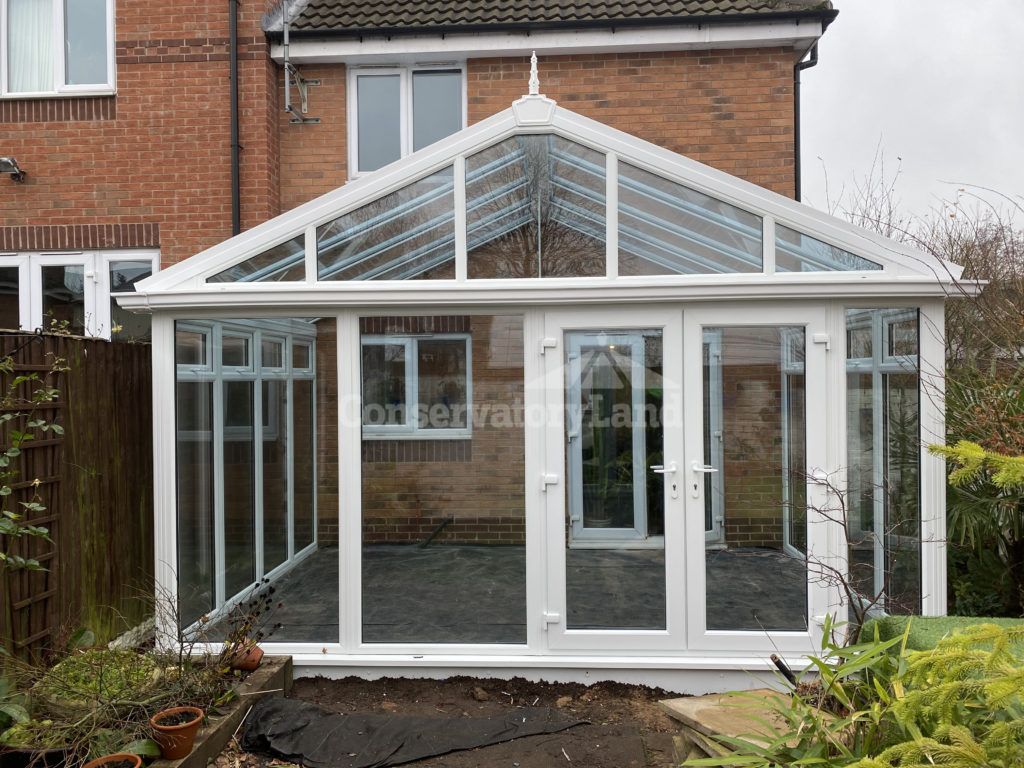 Finally, to top off his gable-front conservatory, Mr Leonard chose Blue Self Cleaning, Solar Control Glass for the roof. As this stops heat from building up, this popular roof option ensured a space that Mr Leonard could enjoy all year round. What's more, solar glass is much quieter than polycarbonate roofs in rain or hail so his brand new conservatory would be a place of relaxation and tranquility no matter the weather.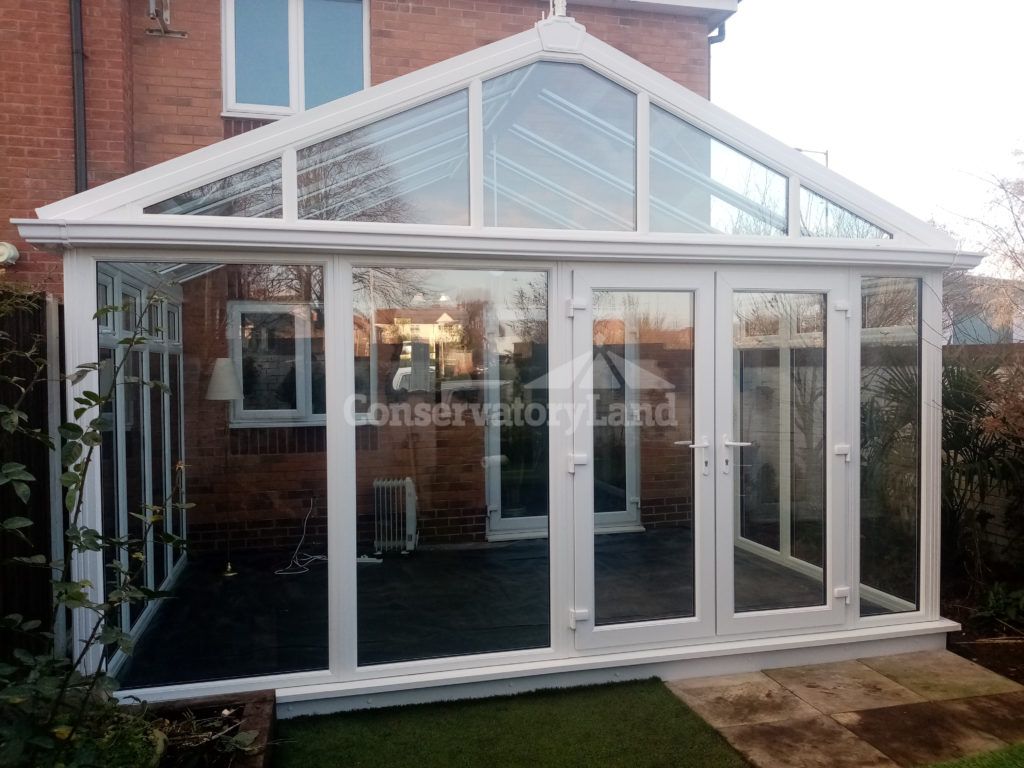 Another Happy Customer!
In just a few short days, Mr Leonard's conservatory was finished. He could now begin the exciting process of turning his brand new space into a charming, cosy room for his family to enjoy. By adding a colourful sofa and a small coffee table, he was confident that he and his family had created something special; a place where they could enjoy creating memories for years to come. What's more, their home instantly felt much roomier, with lots more space to enjoy and grow. And all at an affordable price!
Client Testimonial
Rating our service as "excellent", Mr Leonard was delighted with his ConservatoryLand experience.
'ConservatoryLand was the fourth company I approached regarding my conservatory. They were excellent from start to finish; offering ideas and suggestions throughout to build something I truly wanted. And seeing the plans and pictures of my conservatory brought the whole idea alive! I didn't get this service with the previous three companies I dealt with. The quality of the finished conservatory is excellent and I've been extremely happy with the service from day one right through to the final finished product. Well done ConservatoryLand!'
And he's not the only one who is delighted with ConservatoryLand's service and expertise — check out more of our customer case studies and see for yourself!
Are You Feeling Inspired?
If you'd like to join our growing list of customer projects as we progress into 2021, then why not order a free brochure to find out more about what's available? And if you have any questions, we're here to help guide you along the way.
Finally, if you're concerned about social distancing, we completely understand. That's why our network of expert UK installers are vetted and approved by us. Your conservatory will be surveyed, fitted, and built by professionals who will strictly observe the most up-to-date lockdown guidelines at all times. We are a contactless company and, in most cases, we won't even need to enter your home to build your conservatory. So you can enjoy the process without needing to worry.