Glass roof conservatories are widely popular thanks to their ability to let in plenty of natural light. However, traditional conservatories can be too hot in the summer and too cold in the winter, limiting their functionality.

We offer a Blue Self-Cleaning, Solar Control Glass, a roof glazing that helps regulate the temperature in your conservatory, preventing it from overheating during summer. It minimises glare, allowing you to enjoy your space comfortably no matter the season.
Why choose Blue Self-Cleaning, Solar Control Glass for your conservatory roof?
Our blue-tinted conservatory roof glass combines the revolutionary benefits of a self-cleaning coating with high solar performance.

It's a great choice for a conservatory roof, offering aesthetic appeal, low maintenance and energy efficiency.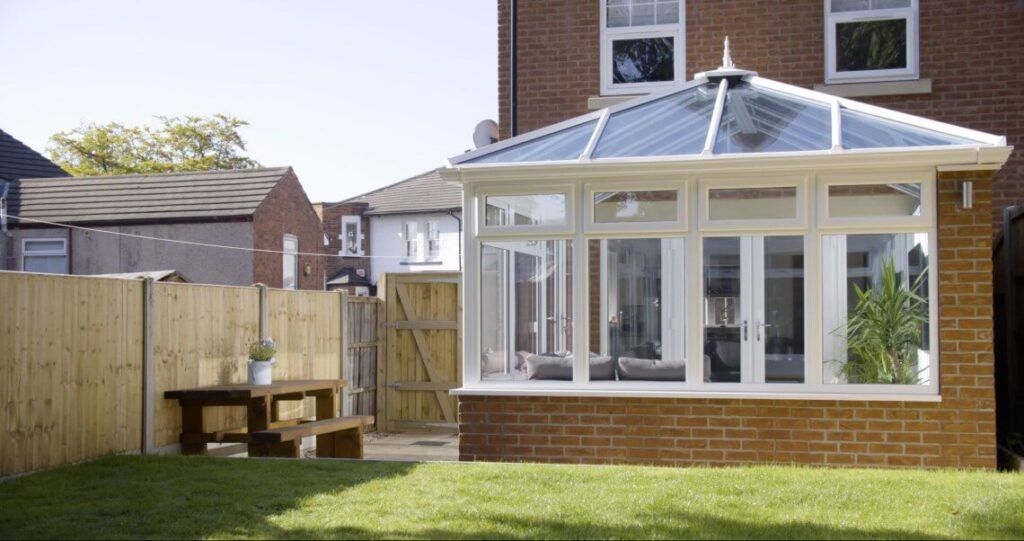 How does the self-cleaning conservatory roof glass work?
The self-cleaning coating lasts the lifetime of the glazing. Once exposed to UV radiation — which happens even on cloudy days — the coating breaks down organic matter, allowing rainwater to 'sheet' down the glass and wash the dirt away. Cleaning will be less frequent and, if necessary, much easier than other roof types — saving you time and money.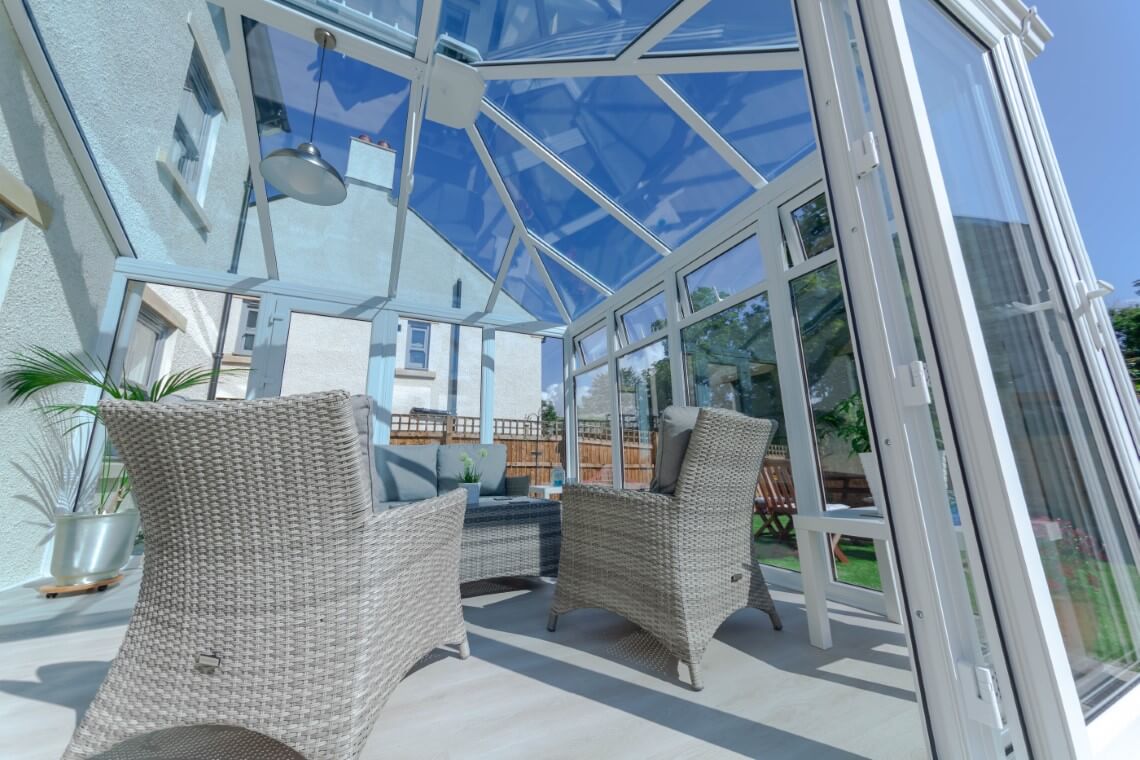 The benefits of self-cleaning, solar control glass roofs
Sleek and stylish, glass roof conservatories add a contemporary touch to traditional homes and complement modern properties.

Our Blue Self-Cleaning, Solar Control Glass has plenty more advantages:
Subtle, attractive blue tinting
Quieter than non-glass roofs (e.g. polycarbonate panels) in hail and downpours
Requires little maintenance to keep it looking its best, thanks to the self-cleaning coating
Reduces the glare and intensity of sunlight, helping to protect your furniture from sun damage
Reflects heat to help maintain a comfortable temperature all year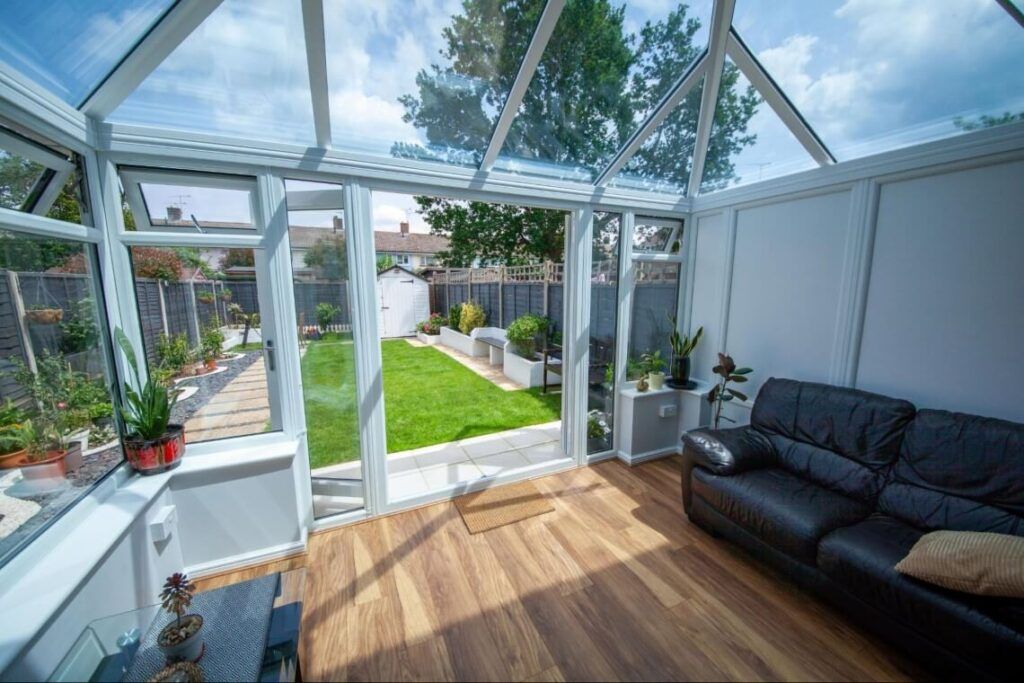 The costs of glass conservatory roofs
Glass conservatory roof costs vary depending on many factors, including the style and size of the roof.

Lean-to conservatories with glass roofs, for example, are often cost-effective ways to expand your space with an airy, light-filled room.
Looking for something a little larger? Orangeries with solar control glass roofs are the ideal way to create a bright, spacious area you can enjoy — come rain or shine.
For more information about the costs of a blue-tinted conservatory glass roof, visit the online quote engine. Our free conservatory cost calculator is easy — simply enter your project details to get a price.
FAQs
How long does a glass conservatory roof last?
Our solar-control glass conservatory roofs can last around 25 years if installed correctly and maintained.

It's important to keep up with maintenance so your tinted glass roof always looks its best. For more information, read our guide to cleaning a conservatory roof.
Is a glass conservatory roof efficient?
Our solar control conservatory glass roofs reduce glare and heat buildup, making them an energy-efficient option. The solar control properties help to keep your conservatory from getting too hot in the summer and too cold in the winter, lowering your energy costs in the long run.
Are glass roof conservatories cold in winter?
Conservatories are usually cold in the winter because they often have large glass panels and less insulation than the rest of your home, resulting in heat loss.
The amount of heat loss depends on various factors, including the size of your conservatory, the roofing material and the type of flooring.
However, there are ways to improve the efficiency of your conservatory, such as installing energy-efficient roof glazing, such as our Blue Self-Cleaning, Solar Control Glass, which helps to maintain comfortable temperatures throughout the year.
Glass roof glazing from ConservatoryLand
Our Blue Self-Cleaning, Solar Control Glass is ideal for conservatories, providing unobstructed sky views, advanced solar performance and low maintenance — whether you want to create a cosy dining area or office space.

If you have any questions, get in touch today to discuss our blue-tinted conservatory roof glazing in more detail.
Looking for more information about our conservatories? Download a free brochure to explore our range of conservatory styles and customisation options.