Our latest exemplary DIY customer project can be found in the beautiful Herefordshire market town of Ross-on-Wye.
The customers in question – Mr and Mrs Catten, opted to take the project on themselves. A small yet splendid lean to conservatory assembled just in time for them to enjoy the long summer evenings ahead.
The job was completed quickly and successfully – with a well-built lean to conservatory made to their exact specifications.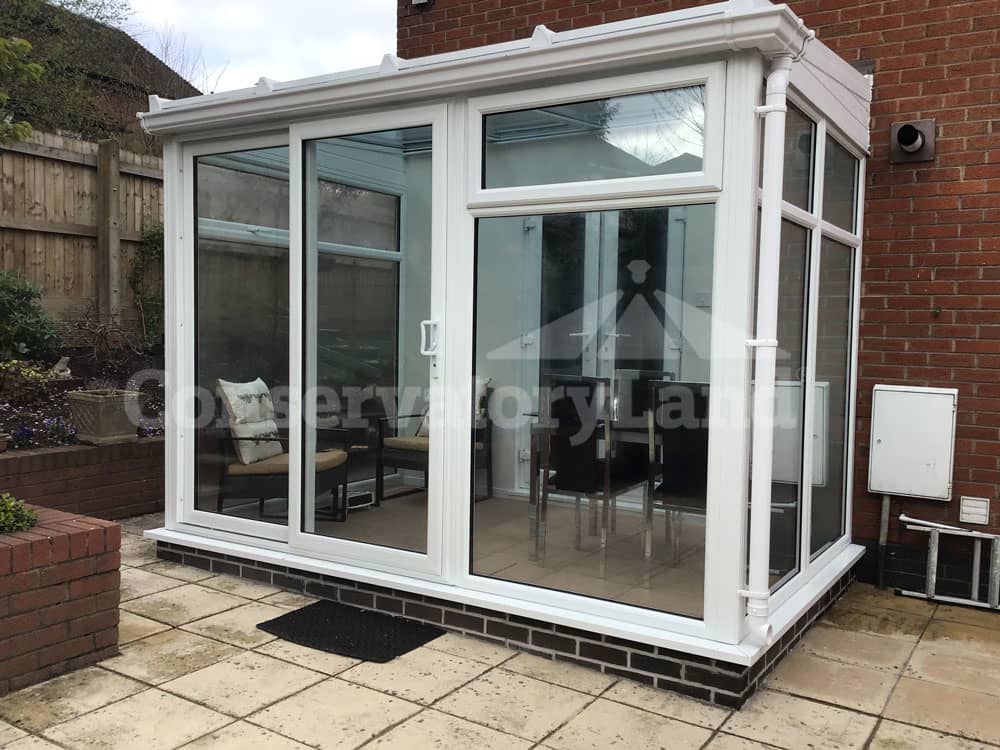 As you can see, the Cattens' already have a nice outside patio area to work with. Rather than detracting from what they already have – adding the conservatory has enhanced the area, providing a comfortable indoor space that can be used all year round.
With low brickwork and wide PVCu frames, this conservatory will flood with natural light – making it a pleasant place to spend time.
Mr and Mrs Catten specified that they wanted a small conservatory to fit a small table and chairs with a couple of other chairs to sit and relax in either side of the conservatory.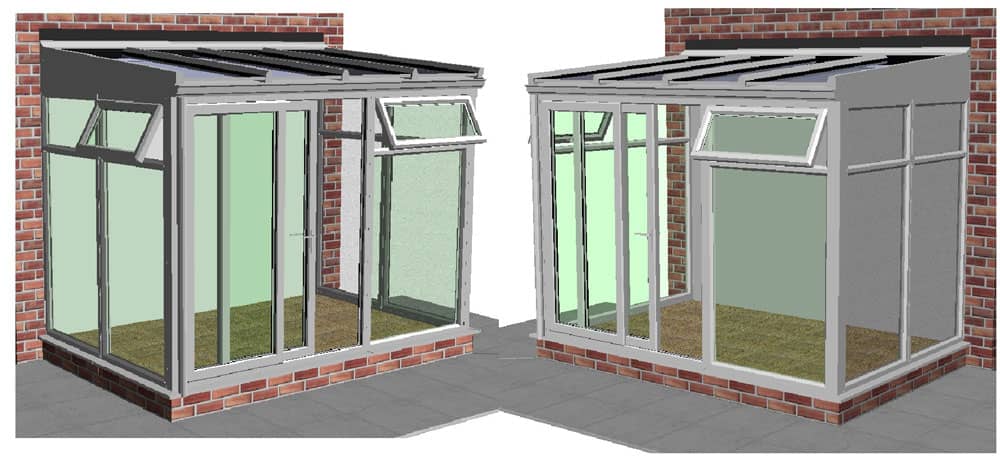 The Project Technical Specifications
| | |
| --- | --- |
| Name | Mr and Mrs Catten |
| Location | Ross-on-Wye, Herefordshire |
| Conservatory type | Lean to |
| Dimensions | 3300mm x 2100mm (made to measure to customers requirements) |
| Glazing | Standard glass in the windows. Blue Self Cleaning, Solar Control Glass Roof |
| Base type | ConservaBase with Rustic Charcoal Brick and Light Grey Mortar |
| Colour | White PVCu, 24mm Blue Self Cleaning, Solar Control Glass for the roof, White handles. |
Given the nature of the outside area – the dimensions of the conservatory had to be just right.
Not just because of the surrounding patio area but also because there is a gas flue emerging from the exterior side of the wall to the right of the conservatory.
Mr and Mrs Catten opted for our blue self cleaning, solar control glass roof panels which will prevent the conservatory from becoming too bright or overheating on sunny days.
The self cleaning nature of this glass is always well-received by all of our customers – as cleaning a conservatory roof manually can sometimes be a challenge.
Lean to Conservatory Installation Process
Taking on a DIY project for yourself has to be admired.
Although the process is relatively simple with us, it still requires time, effort, and sometimes a little bit of good old fashioned teamwork to get the project finished.
Mr and Mrs Catten's conservatory arrived in bespoke parts ready for them to start assembling as soon as they were ready.
The extension itself would be built at the back of the detached house – leaving enough space for access to the side walkway.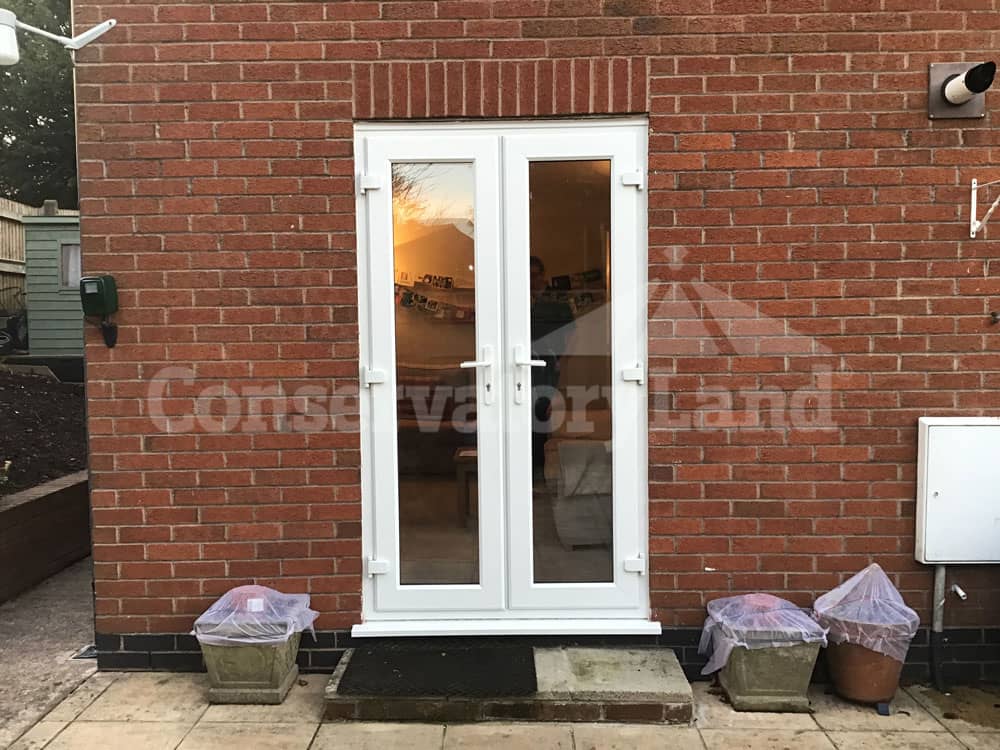 The first step of any conservatory installation is the base.
ConservaBase consists of welded sections that ensure structural solidity – and in order to install the base correctly, a section of patio tiles needed to be removed in order to make way for the foundations.
Since the majority of patio tiles remained, it was important for the Cattens' to choose external brickwork to complement the look and feel of the existing patio area.
They opted for a rustic charcoal grey brick to add contrast – and it certainly doesn't disappoint!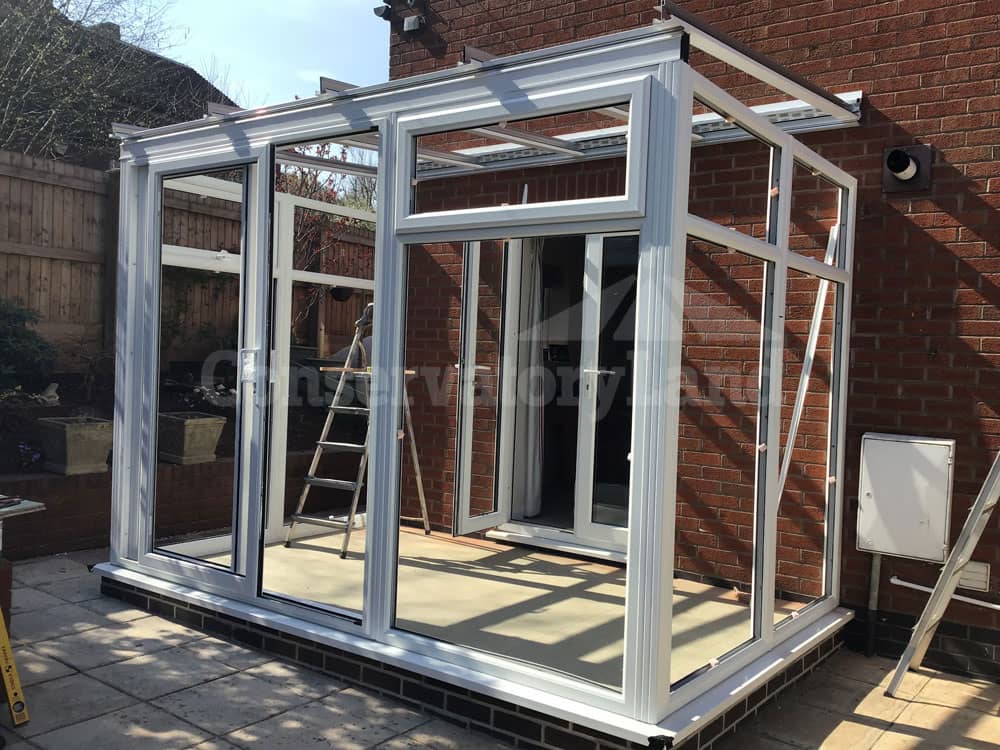 ith a structurally sound base to work with – the next step was to get the frames and glazing ready.
One of the main obstacles with the build concerned the gas flue. This would need to be carefully avoided throughout the course of the build – and as you can see, a safe distance has been left between the conservatory's outer frame.
The glazing bars for the roof were also carefully measured and fitted to ensure they catered appropriately for the blue self cleaning, solar control glazing panels.
With everything assembled correctly – the hard work was done. The only thing for Mr and Mrs Catten to do now was to choose their furniture and add any finishing touches.
Customer Testimonial
All in all, the project to 7 days to complete from start to finish.
The customer said:
"Very pleased with the finished conservatory, built to my specifications exactly. Very courteous staff from sales to delivery. Technical advice was excellent."
Mr and Mrs Catten also benefited from contacting us during the build whenever they needed some guidance on the instructions – and we're more than willing to offer advice to anyone when it comes to DIY conservatories.
It doesn't matter whether you're DIY conservatory has already arrived, or you're yet to buy. We're on hand to help you at every stage of the process. So, why not get started and request a brochure today and explore your options?