Our October Customers of the Month are Mrs Linda Williams and Mr Peter Williams from Ulverston, Cumbria, who installed a modern Edwardian conservatory.

Keen to upgrade their new home, the couple wanted a sun-filled extension that provided more living space and comfort.

In search of a reliable provider that offered an end-to-end solution, they came across ConservatoryLand. After reading our reviews and customer stories, they decided to get in touch.

Our experts' advice and ideas gave the couple confidence that we could help build their dream space. Watch Mrs Linda Williams' testimonial below to learn more about their experience with ConservatoryLand.
Mr and Mrs Williams chose to use our network of Approved Installers to handle the installation. Although our conservatories are DIY-friendly, the couple preferred that professionals managed their project.

The installer carried out an on-site survey before sending us the precise specifications so we could build Mr and Mrs Williams' conservatory. Once we manufactured and delivered the parts directly, it was time to install the project.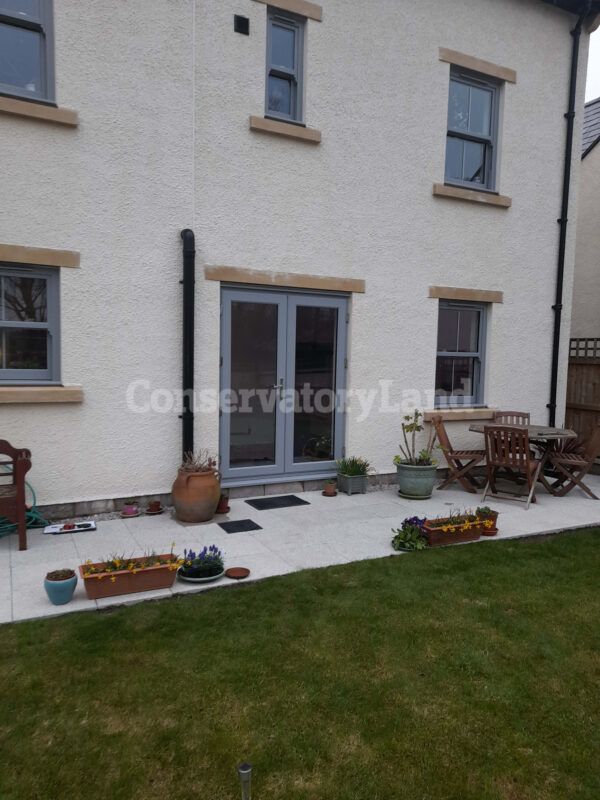 The specifications
| | |
| --- | --- |
| Name | Mr & Mrs Williams |
| Location | Ulverston, Cumbria |
| Conservatory style | Edwardian Conservatory |
| Dimensions | 3800mm x 4000mm (made-to-measure to customer's requirements) |
| Glazing | Standard Glass Windows, Blue Self Cleaning, Solar Control Glass Roof |
| Base type | ConservaBase with Ready-to-Render Skirt |
| Colour | White uPVC, 24mm Blue Self Cleaning, Solar Control Glass Roof, White Handles |
Building Mr and Mrs Williams' Edwardian conservatory
Mr and Mrs Williams opted for our unique ConservaBase system. This all-in-one base, floor and wall system is suitable for both do-it-yourself and professional installations. And thanks to our modern manufacturing methods, there's no need to spend hours assembling complex parts.

Each conservatory we manufacture is made-to-measure, so we offered the ideal solution to accommodate a soil stack and drain cover. We added a bespoke access panel to the conservatory base. This way, Mr and Mrs Williams can access the drain whenever needed.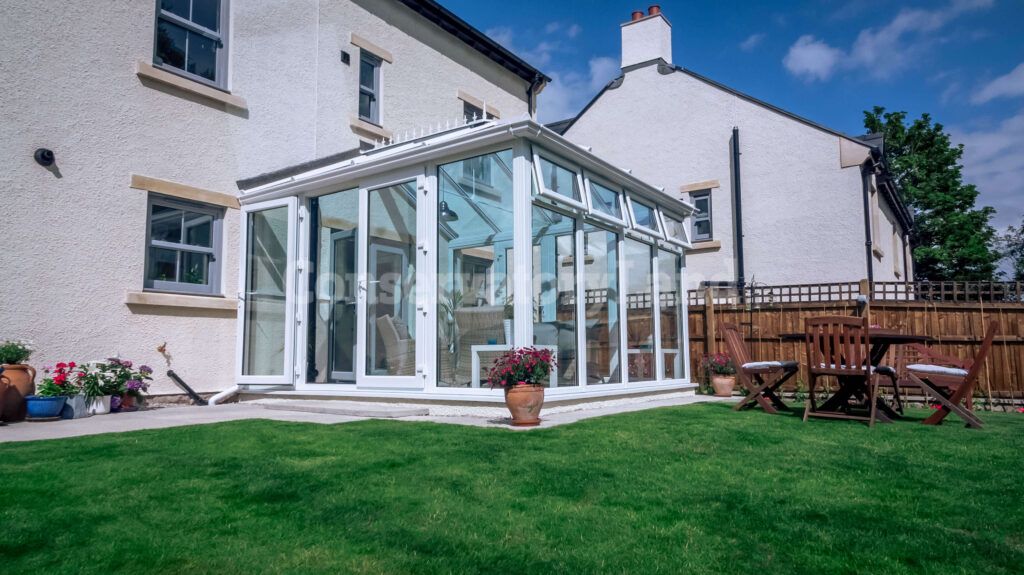 After clearing the area, the installer fitted concrete pads and constructed the steel base. Next, they installed insulation sheets to ensure the foundations would remain secure and moisture-resistant. The installation process is much faster than that of a traditional conservatory because every part fits together seamlessly. Once the base was in place, it was time to build the white uPVC frames.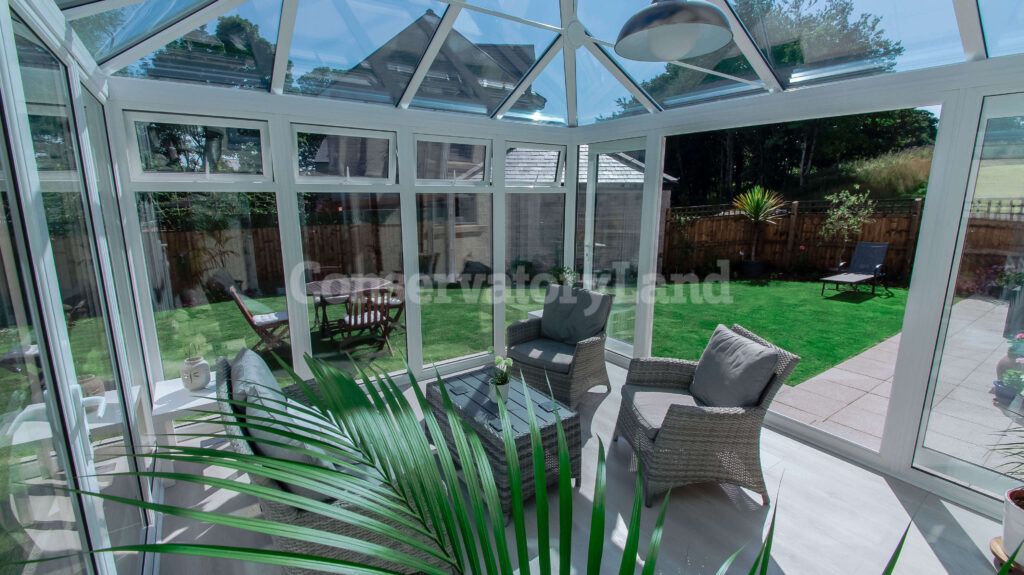 Our durable conservatory frames are made from the latest fully-sculpted profiles. They are designed to withstand the elements thanks to our expert manufacturing techniques and high-quality materials.

The couple opted for double doors on the right-hand side of their conservatory to open up their space and step out into their garden whenever they like. By opting for high windows in the front of their conservatory, they can also control ventilation in their new space.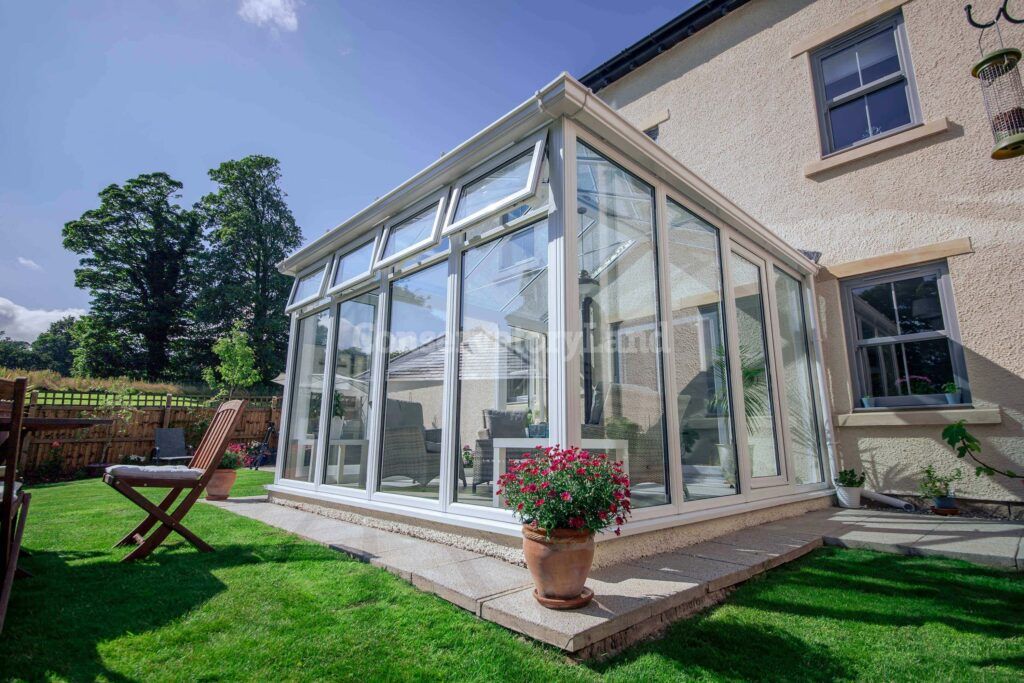 Mr and Mrs Williams chose blue self-cleaning, solar control glass for the roof that offers lower noise levels than polycarbonate. Plus, it reduces heat build-up during the summer, so the couple can enjoy comfortable temperatures whatever the weather. And with the convenient self-cleaning properties, dirt is broken down, so they'll enjoy low maintenance on their conservatory roof.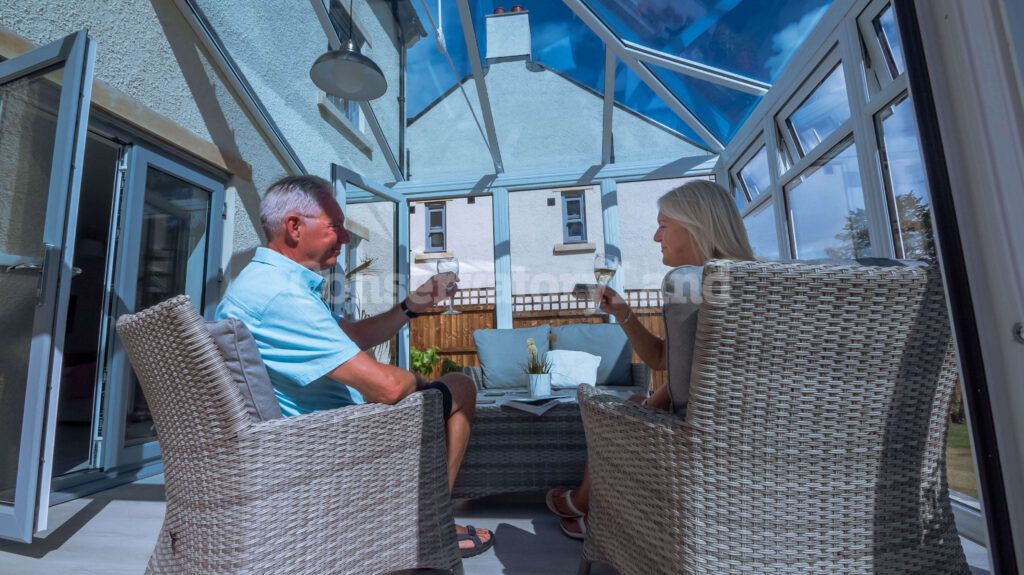 They were delighted with their elegant conservatory, which provided extra living space and comfort. With a sleek pitched roof, the couple's new Edwardian conservatory will benefit from plenty of natural light. Finally, they added some finishing touches, including furniture, lighting and some plants, and the space was ready to use — come rain or shine, all year round.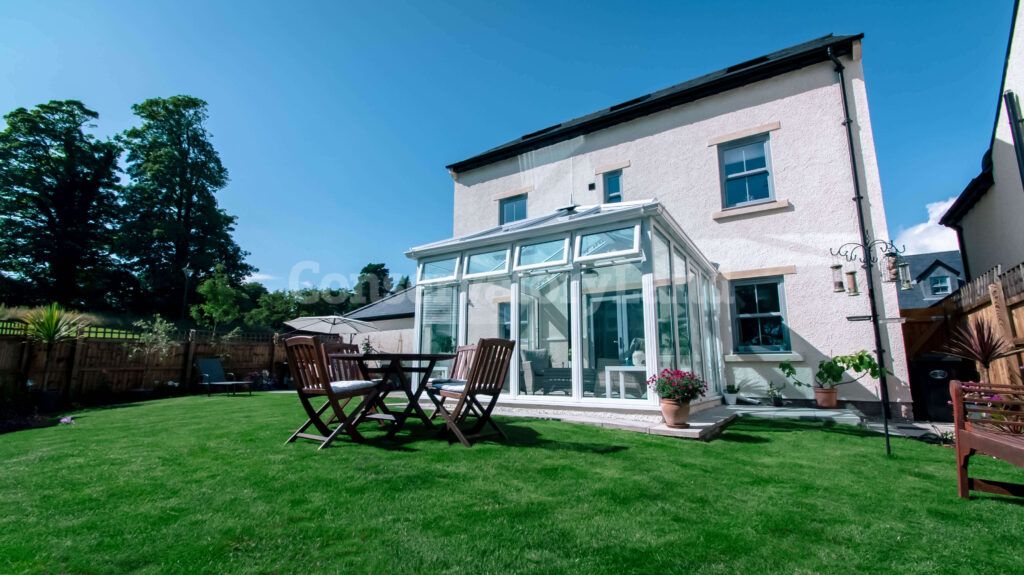 Are you feeling inspired?
Want to turn your dream conservatory into reality and join our growing list of happy customers? Download a free brochure to explore our wide range of conservatory styles and customisation options. If you have any questions, our experts are on hand every step of the way.

If you choose to use our UK network of Approved Installers, your conservatory will be surveyed, fitted and built by professionals that are vetted and approved by us. We are a contactless company, and in most cases, we won't need to enter your property during the build. You can feel confident your conservatory project will be installed quickly and safely, without any worry.