Why you should build a conservatory? Conservatories are a delightful way to add light, space and value to your home. But the cost can often be a stumbling block. However, innovative DIY conservatories can be erected in as little as four days and cost half the price. That's impressive! In today's post, gardening writer and DIY enthusiast Clive Harris shares 9 compelling reasons to build your own conservatory this year.
1 – They let in light
Health experts say that sunlight is good for us as it produces vitamin D and prevents seasonal affective disorder, so a conservatory can improve your health by letting in more light, particularly in the gloomy winter months.
Whilst going outside for walk can often do the trick, heading out in the wind, rain and freezing cold isn't so appealing.
A conservatory allows you to take advantage of the light all year round without having to brace the elements!
2 – An extra room for your home
Who doesn't want more space at home? Perhaps your family is growing and you need a play room or you want a separate space to relax because your teenagers have taken over the television.
Whatever the reason a conservatory provides this extra space. It's possible to turn a conservatory into any type of room you please such as a dining area, a study space or an entertaining room.
They are not just somewhere to store wellies and dry the washing, conservatories can be made into whatever type of space you need.
3 – Extra value for your home
The housing market is competitive and buyers are always looking for extra value so if your home has a comfortable, well-insulated conservatory that puts you ahead of the competition.
Buyers would much rather purchase a home that has all the improvements completed so they don't have to do it themselves.
A great conservatory can push you to the top of the selling pile and you're more likely to get your asking price.
4 – It's cheaper than moving to a new house
If you need more space or you're bored with your home decor, extending it with a conservatory is considerably cheaper than moving.
With stamp duty levies and rising house prices, many people are choosing to remain in their current homes and extend it instead of moving.
There's the option of loft conversions or traditional extensions, but a conservatory can provide the extra space and interest you want at a fraction of the cost.
5 – Good use of the garden
If you have a patio or outside space that you don't really use putting a conservatory there is a good use of the garden.
Many of us don't use the garden to its full potential and you're more likely to spend time there if you can see what's going on.
Conservatories are a bridge between the house and the garden so you'll appreciate making use of your outdoor area all year round.
6 – They look smart
There's no arguing that a conservatory looks good. The extra light fills your home and the glass gives a feeling of space and light.
If you keep the panels and roof clean your conservatory is a real pleasure.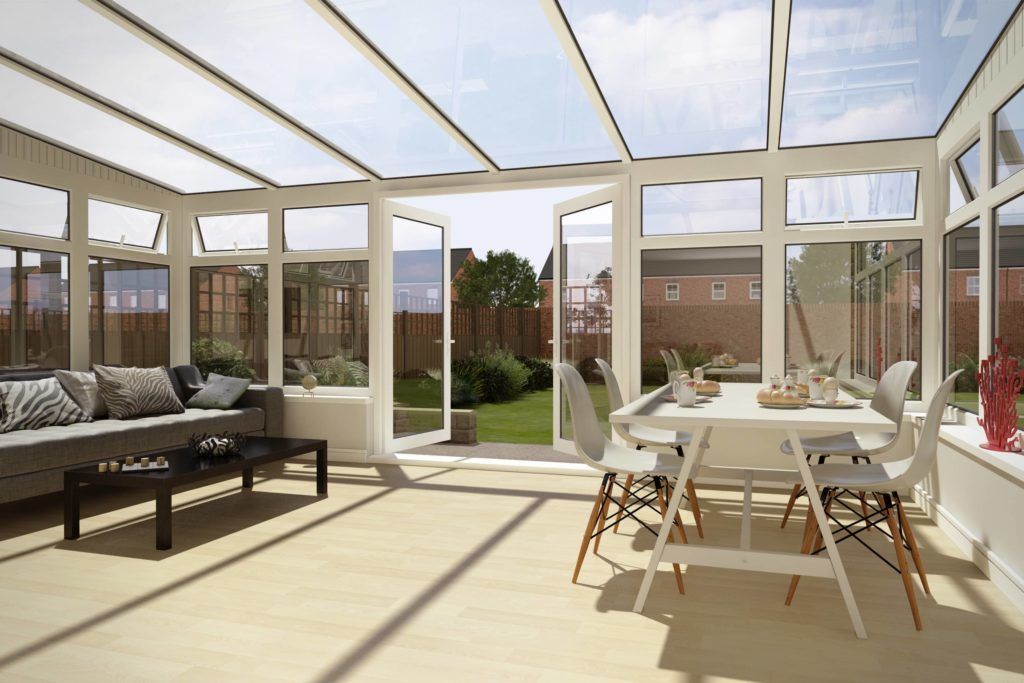 7 – Use it all year round
In past years a conservatory could often be unusable in winter because of the cold weather and far too hot in the summer.
Thankfully times have moved on and it's possible to heat your conservatory through under-floor heating or standard radiators and erect blinds that keep the sun out.
If you are worried a conservatory won't get used because of temperate fluctuations you can address the reasons why and prevent them from happening.
8 – Choose a conservatory to suit your home
Conservatories come in all shapes and sizes and there's more choice than ever before. You can choose a style to suit your house such as Victorian, Edwardian, gable, P-shaped or a square.
There are plenty of personal touches you can add to make a conservatory your own too such as the materials used to build it.
You could have a small brick wall with a glass top or chose a polycarbonate roof because polycarbonate is the best insulating material available and can be installed with a tinted heat-reflecting roof.
It's even possible to install a cat flap in your conservatory if you want to.
9 – It doubles up as a greenhouse
Conservatories were originally designed to house tropical plants in a home environment so if you're a keen gardener or simply like plants such as ginger lily or bougainvillea you can fill your conservatory with them.
In the early spring when it's too cold outside to sow seeds you can fill the windowsills of your conservatory with early sowings and get ahead of the growing season.
A conservatory cuts out the need for a greenhouse because you can even grow vegetables like tomatoes or peppers in there. Your own kitchen garden in the house is very convenient and smells glorious.
People who build a conservatory often end up thinking of it as the best room in the house because it's so light and versatile. If you think a conservatory will suit you, take a look around at the conservatory styles and options available; you'll be surprised at just how many there are!