Conservatories add light and extra living space to any home. But when the temperature drops, you may discover that your room is slightly different from the all-weather conservatory you envisioned.

The arrival of cold weather shouldn't result in the loss of that extra living space. With a few changes, you could have an all-year-round conservatory.

Let's look at some top tips and ideas for making your conservatory work for you — whatever the season.
How to make a conservatory usable all year round
There are several things you can do to make your living space more pleasant, including managing your conservatory's temperature. We'll cover some handy tips below so you can enjoy a comfortable conservatory all year round.
Conservatory roof
By insulating your conservatory roof, you can create an all-year-round conservatory. This will help keep heat in during winter. There are many ways to do this, including adding multi-foil insulation or another polycarbonate layer.

For more information, check out our guide to insulating a conservatory.

Some people may also consider replacing the conservatory roof with a more modern, better-insulated roof.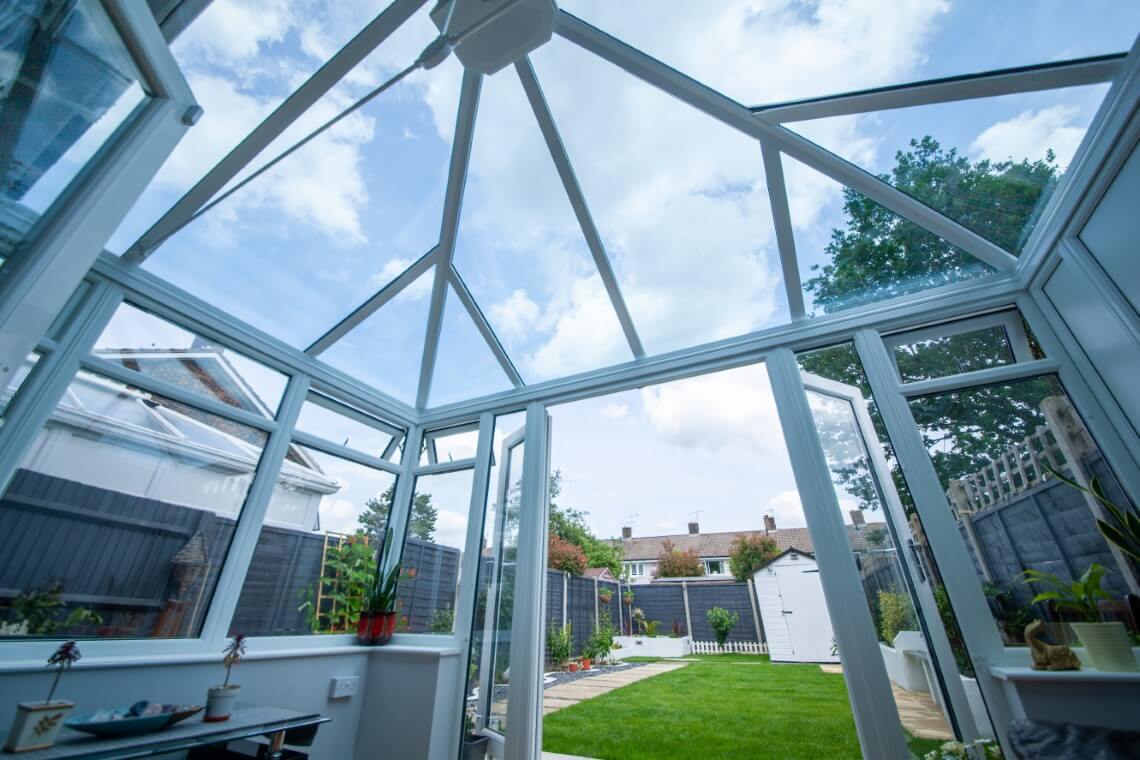 Conservatory glazing
Older conservatories could lose heat through single-glazed panels.

Updating your conservatory glazing with modern double-glazed insulated panels may help improve the energy efficiency of your living space.
Conservatory windows and doors
Maintaining your conservatory's windows and doors is vital and will help to reduce the risk of draughts and leaks.
To prevent heat from escaping and cold air entering, consider installing draught excluders around doorways and draught excluding tape around window seals.
Your conservatory interior
Give your conservatory some character with furniture and furnishings that add to its appeal. Consider colours, fabrics and furniture that work well all year round. Soft furnishings, especially in cool weather, can help improve the comfort of your conservatory.

Another option is insulated flooring, which is an ideal way to maintain the temperature in your conservatory, while decorative rugs can help make the space cosy. Keep soft blankets and throws on hand for cold nights and frosty mornings.

To create the perfect all-weather conservatory, consider adding blinds or curtains to keep the sun out during hot summer days and the warmth inside during winter. 
For more inspiration, read our conservatory interior guide.
Heating your conservatory
A well-insulated conservatory will help to reduce the amount of heat lost through the roof and windows.
Conservatories are mostly made of glass, so connecting them to your home's central heating system is not recommended due to the amount of heat that could be lost.
Consider investing in a wall-mounted or free-standing electric heater that's operated manually. Electric heaters are efficient options that produce heat on demand and will help you keep your energy costs under control.
Read more about conservatory heating solutions.
Designing an all-weather conservatory
What about brand new conservatories? Is it possible to have a modern, all-weather extension? Here are some things to consider when adding a new conservatory to your home:
The roof type
Glass conservatory roofs with solar control functionality are typically more effective at temperature regulation than polycarbonate roofs.

At ConservatoryLand, we offer several roofing options, including Blue Self-Cleaning, Solar Control Glass. For more information, explore our conservatory roofing options.

Double-glazed glass roofs filled with insulating argon gas are cost-effective and energy-efficient.

A cheaper alternative to consider is 32mm polycarbonate conservatory roofs, which also help to prevent heat loss.
Check out our blog on the best conservatory roof types for more information.
Conservatory location
The position of your conservatory can affect how well it retains heat throughout the day. Conservatories facing south and west will heat up during the day, keeping your space warm and comfortable. They may need more ventilation during the summer, so consider including vents, multiple doors, and windows in your conservatory design.
Conservatories facing north and east are more susceptible to colder weather because they receive less direct sunlight and are exposed to cooler easterly air. These conservatories can benefit from practical flooring and heating solutions to help keep them warm when the weather turns cold.
Conservatory walls
To be classified as a conservatory and to avoid being subject to building regulations, a conservatory's walls must be at least 50% glass.
However, glass is often a poor insulator, adding to the difficulty of controlling the temperature of a conservatory.
Consider adding a brick dwarf wall at the conservatory base to limit the exposed glass. Any brickwork can then be insulated to help further regulate the temperature of the conservatory all year round.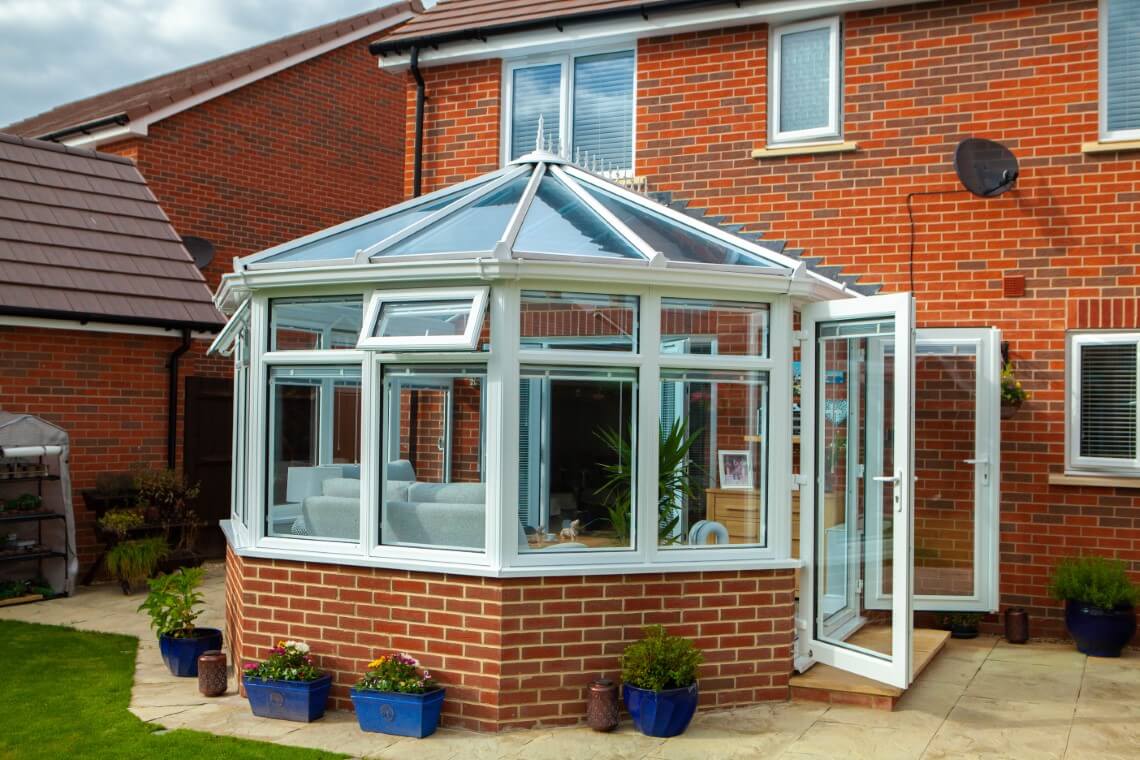 Conservatory installation
Any gaps could cause draughts and leaks, so proper installation is critical. 
Using a professional conservatory installer to build your conservatory will help to ensure correct installation and minimise the risk of gaps between joints and seals.
Conservatory glass and glazing
The type of glass and glazing can influence your conservatory's temperature.
At ConservatoryLand, we have a range of glazing types to suit different needs and budgets.

Our glass roof glazing helps to reduce heat buildup and offers durability and lower noise levels. On the other hand, a more affordable option is a polycarbonate roof, which is robust, cost-effective and lightweight.

For more information, explore our conservatory glazing options.
Get started on your all-year-round conservatory
There are many ways to make your conservatory more usable all year round, ranging from simple to large-scale upgrades.

Creating a room that complements your home and lifestyle is essential to making it a spot you can enjoy all year. It's also important to make changes that ensure the space (and temperature) remains comfortable — no matter the season.
If you plan to replace your old but much-loved extension with a new all-year-round conservatory, get a free quote online.