If you're considering building a conservatory or an orangery, you should plan carefully before you buy to avoid issues later down the line. We want people to love their conservatories, but choosing poorly can end up being an expensive mistake.
If a conservatory isn't planned properly, you may experience problems such as:
Too small – Conservatories are an effective way of adding space to your house, but sometimes it's not enough space. Choosing too small can make your conservatory redundant.
Doesn't match the house – If you choose your conservatory on its own without your house in mind, it may not work with the rest of the building.
Leaking roof – Poor quality roofs are unlikely to last the test of time. Leaks are often caused by issues such as faulty roof vents or perished seals. Another culprit is incorrectly installed, damaged or poorly maintained box guttering. Whatever the cause, it's a problem you don't want to have.
Faulty doors – Sliding doors are a simple way of joining your conservatory to your home, but some are more likely to become jammed than bi-fold options. Cheaper doors can require more frequent repairs. Whichever door you choose, you need to make sure it's properly installed.
Too cold or too hot – Getting the temperature right can be difficult. With poor insulation, your conservatory can easily become too cold. And, if you're without ventilation, your conservatory will probably be too hot in the summer months. If you're buying your conservatory in summer, it's very easy to forget about how it will function in winter (and vice versa).
Doesn't meet planning permission guidelines or building regulations – Because most conservatories do not need planning permission, many people assume that all builds are exempt from this. However, this is incorrect. There are certain reasons why you need planning permission for a conservatory that you should be aware of. You also need to obey building regulations so that your conservatory is a legal and safe build.
We have put together the following tips to ensure you avoid these common conservatory pitfalls…
Plan the size of your conservatory
It's harder, more stressful, more expensive and sometimes impossible to go bigger later on in your conservatory journey.
Choosing the right conservatory size is very important. Consider what you want the space for, who'll be using it, and how that might change over the years. When you're investing in a high quality conservatory, you want it to suit your life for the rest of the time you live in your home so you may want to leave room for your family to grow.
Choose your conservatory style and shape carefully
It's important that the conservatories and orangeries match the properties they are part of. You'll want to consider a conservatory that's sympathetic to its surroundings. It's all too easy to choose a beautiful conservatory that simply doesn't work with the adjoining building.
If you don't choose carefully, you could end up with an eyesore. Or even a shape that doesn't connect with your property. But don't worry, we can help you to find, buy and build the conservatory style that's perfectly suited to your home.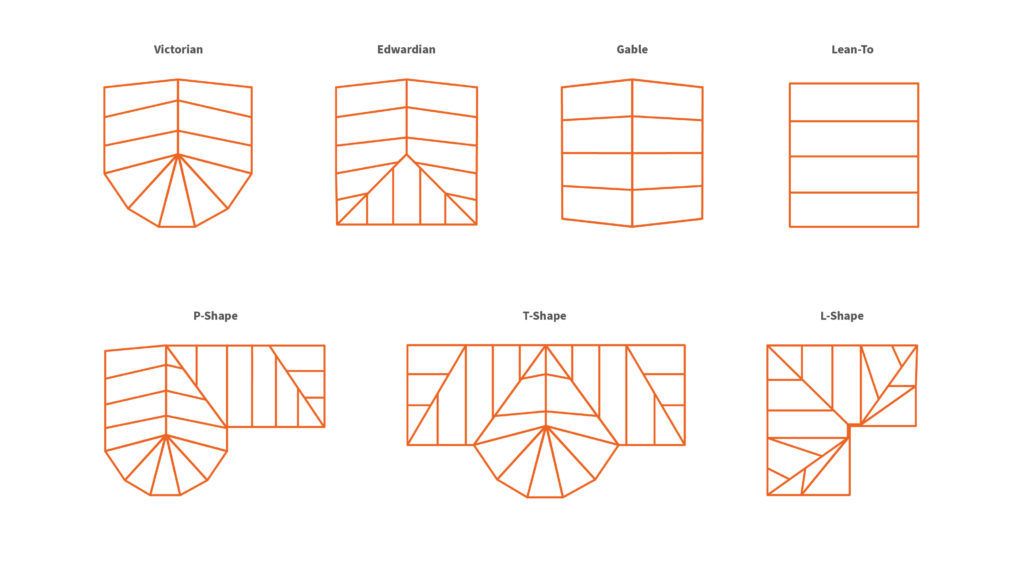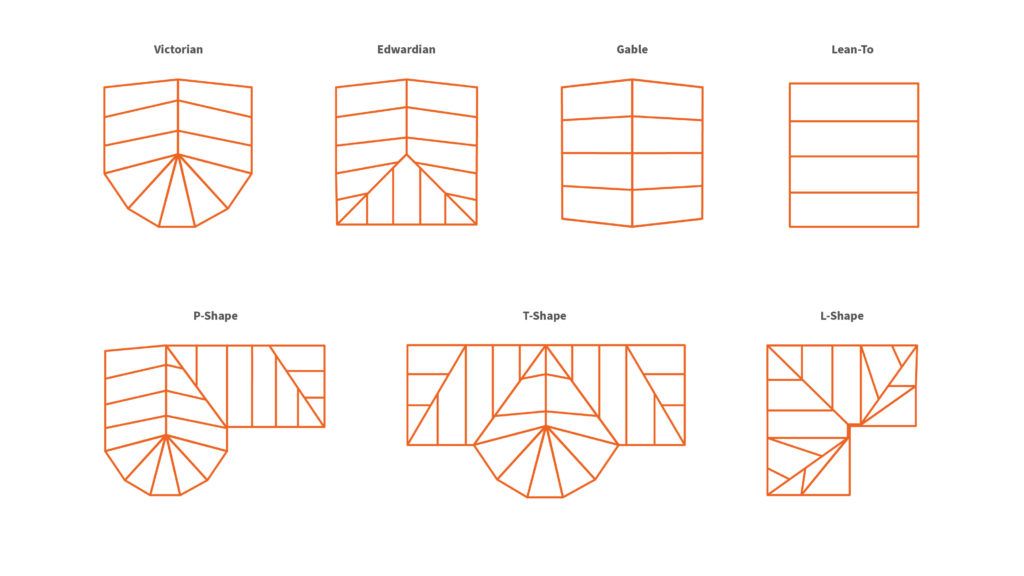 Avoid leaks and poorly fitted doors with professional installation
Buying a high quality conservatory is the first thing to do to minimise the risk of leaks. However, no matter how great your conservatory materials are, they can still fail if installed incorrectly.
Although we'll give you the advice to help you build your own conservatory, we understand that not everyone will feel confident doing this. That's why we've built a network of Approved Installers. Buying parts through us and using one of our recommended professional conservatory installers can still help you save you £1000s and ensures a polished finish.
Buy the conservatory roof you want
Just like the size of your conservatory, your choice of roofing system is something that's very difficult to do later in the day. Although there is the option for roof replacements, you want to make sure your first roof is right so that you can avoid this.
It's worth splashing out on the conservatory roof that you want. You should carefully consider your conservatory roof specifications, including the materials you use. The most common roof is made out of polycarbonate (plastic). However, after installation, many conservatory owners wish they had chosen a glass roof. Glass is the super option as it provides a better view and is quieter when it rains. If you don't want glazing, there is also the option of a solid roof.
Selecting the right conservatory glass
Not all conservatory glass is the same. There are different types of conservatory glazing available for your roof and/or windows and doors.
For conservatory glass roof glazing, we offer the unique Blue Self-Cleaning, Solar Control Double Glazing.
This glazing offers several benefits:
Self-cleaning – This double glazed glass has a self-cleaning coating which keeps maintenance costs down. No more scrubbing hard-to-reach panes.
Anti-glare – The subtle blue tinted glass offers good light transmission and reduces glare, helping you to enjoy the sunlight without discomfort.
Better view – Glass roofs are much clearer than polycarbonate, which can become very dirty, very quickly.
Improved temperature – All glass roofs offer more thermally efficient insulation than polycarbonate. However, they can get hot too quickly. With Solar Control, heat is reflected to create a more comfortable environment.
Before you choose this glass type, you need to first consider your roof type. We'd only recommend self-cleaning glass if your roof is steep enough, as it relies on rainwater to carry dirt away.
If Blue Self-Cleaning, Solar Control Double Glazing doesn't match your needs, there are other options available.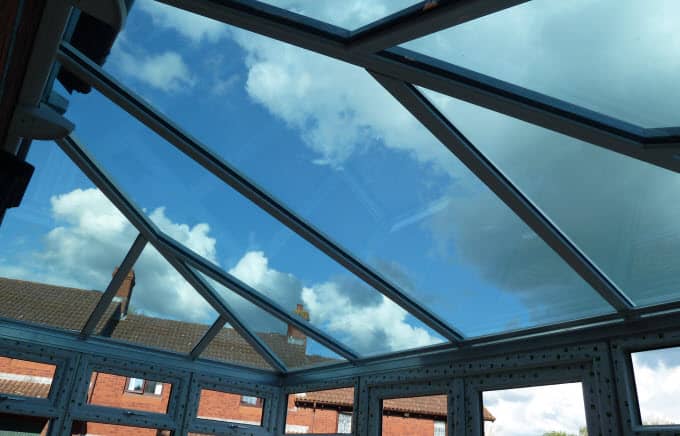 Select appropriate conservatory flooring
Choosing your conservatory flooring should not be an aesthetic choice alone – it needs to be functional. It's important to consider what you want to do inside this new living space before you install your flooring.
If you have pets, children, or will be using your conservatory as a gateway between your house and your garden, you're going to need to choose a type of flooring that is easy to clean and hardwearing.
Wood flooring is often a popular choice because of its look but it will require much more maintenance than other materials (such as vinyl). Woods that are particularly vulnerable to warping, such as timber, should be avoided in south-facing conservatories as the light and heat could cause damage.
Ready for a conservatory?
If you think you're ready to find your perfect conservatory, get in touch with us today.
Phone us for free for a no-obligation chat 0800 952 8000. We're happy to help.