Polycarbonate roofs — sometimes called polycarbonate glazing or plastic conservatory roofs — are popular options thanks to how strong, lightweight and cost-effective they are.
Polycarbonate roof options
There are several factors to consider when it comes to choosing your polycarbonate conservatory roof.
Thickness
The gaps between the layered sheets of polycarbonate — also known as tunnels — trap warm air, keeping it inside your conservatory. So the more layers you have, the better insulated your space will be.
Our conservatories can be supplied with a multiwall polycarbonate roofing system up to 32mm thick for exceptional energy and sound insulation. Upgrading your plastic roof thickness to 32mm will help keep your room warmer when temperatures drop.
Colour
ConservatoryLand currently offers four distinct polycarbonate colours to choose from: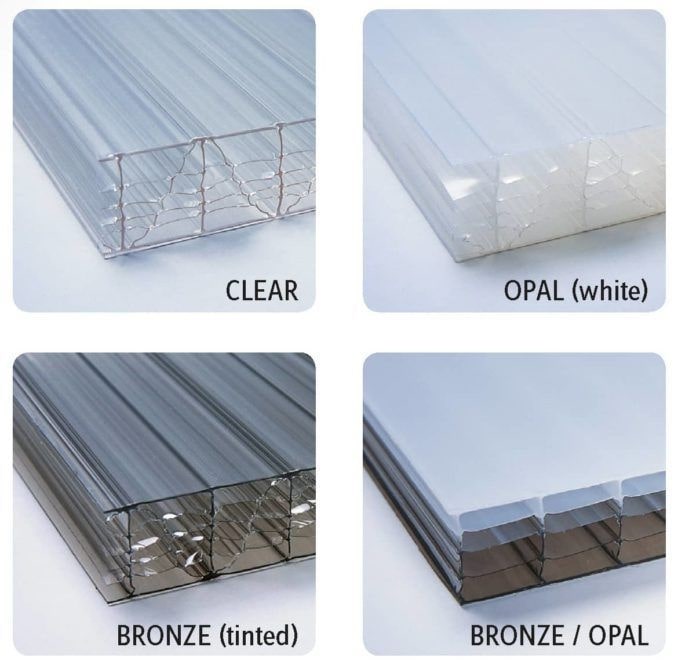 Polycarbonate conservatory roof prices
One of the main advantages of polycarbonate roofs is that they cost less than glass styles, ideal if you're working with a strict budget. The two factors most likely to impact the overall polycarbonate roof conservatory price are the type of build you choose, and its size.
As a general rule of thumb, the larger the roof area, the more the polycarbonate will cost. If the roof style is more ornate or complex in its shape, it might also affect the price. A simple polycarbonate Lean-to roof, for example, will likely be one of the more cost-effective options, while a larger Edwardian style could be more expensive.
Need some more inspiration? Download a free brochure today and explore the range of styles and customisation options available.