Want to increase your living space with a bungalow extension? From the options available to choosing the right solution for your needs and space, read on to learn more about extending a bungalow.
Can you put an extension on a bungalow?
Yes, it is possible to add an extension to your bungalow. What type of extension you can build largely depends on where your bungalow is, the size of the plot and how close you are to your neighbours.
If you have a big enough plot, you can extend to the back or side of your bungalow. Other ideas include extending up into the loft and even converting your bungalow into a two-storey house. Let's dig into these options in more detail.
What are the options when extending a bungalow?
1. Side extensions
If you've got a wide enough plot, a side extension is a good way of increasing your living space. Side extensions are great for maximising an often underused area, usually without compromising your back garden. You can sometimes combine side extensions with a garage conversion for added square footage.
2. Rear extensions
Want to make the most of a large back garden? A rear extension for your bungalow could be the answer. As with all single-storey bungalow extensions, you'll need to understand the relevant planning permission requirements (more on these later), including what type of roof you'll need.
3. Dormer (loft) extensions
A dormer loft conversion is when you add a box-shaped structure (usually with a window) to a pitched roof, creating walls that sit 90 degrees to the floor. This is a good option if you've got a smaller plot and space to extend out is limited, but you want more room than you'd get from extending into the loft and adding skylights to an existing slanted roof.
4. Second-storey extensions
This is the most expensive option, but second-storey extensions can greatly increase your living space. Adding a double-storey extension requires a sizable plot, and you'll need to seek planning permission. As well as your budget, you'll also need to consider any structural factors that might impact your extension. Speak to an architect or structural engineer for more advice.
5. Conservatory extensions
Alternatively, you can add a light and airy extension to your bungalow with a conservatory. With all your living space already at ground level, a conservatory can offer a multi-purpose, versatile extra room at a fraction of the cost of a full extension. Plus, you can choose a style that's in keeping with the look and feel of your bungalow.
Traditional bungalow extension or conservatory extension?
Whether you choose a full bungalow extension or a conservatory is likely to come down to the following factors:
Your budget
How much space you have – both your plot size and roof height
How restricted you are in terms of structural options
How quickly you want to add the new space
What planning permission you can (or want) to seek approval for
Your appetite (or not) for a large renovation project
Ultimately, if you want a relatively hassle-free, cost-effective extension that can be built quickly and easily, a conservatory might be the solution.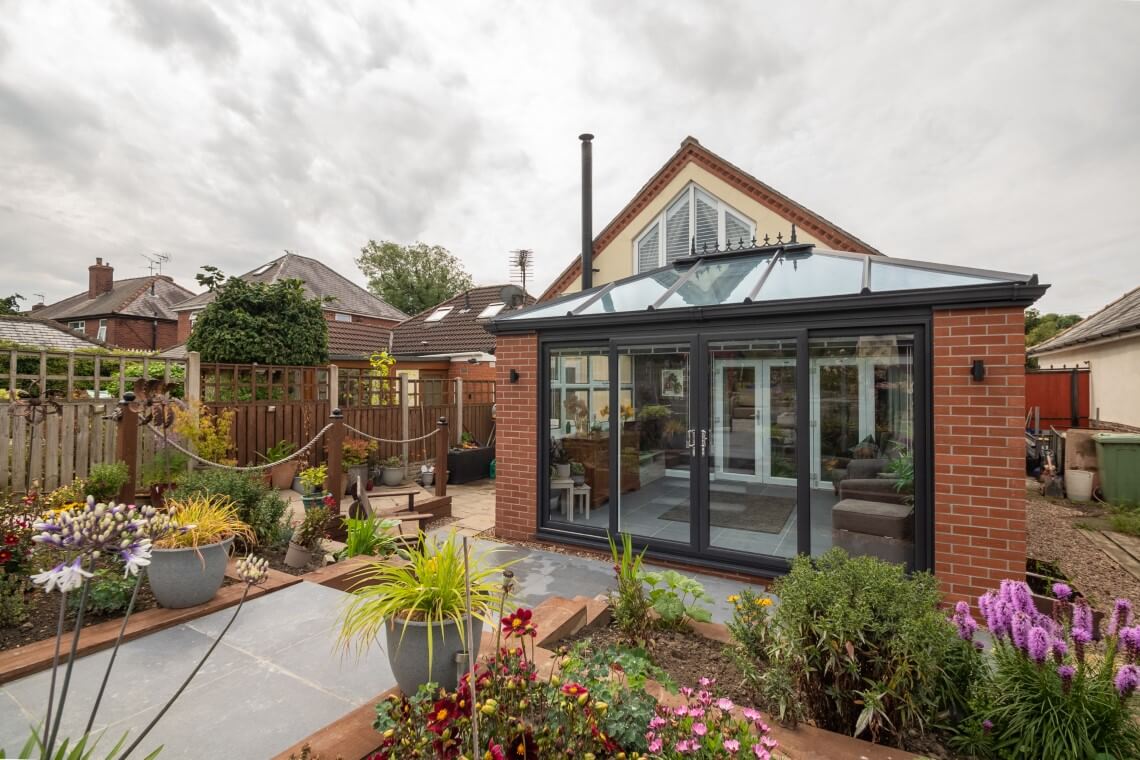 How much will a bungalow conservatory extension cost?
The cost of your bungalow conservatory extension will depend on the size and style you choose. 
Our quote engine is easy to use and can give you an estimate for your conservatory project in a matter of minutes.
5 tips for your bungalow conservatory extension
Want to get your extension right? Read on for our top tips and conservatory ideas for bungalows.
1. Choose a style that closely matches your bungalow
There are a variety of different options when it comes to the design and look of your conservatory. Pick features that'll help it blend in with the rest of your bungalow for an instant homely feel – from ceiling style and brick choice to uPVC colour and door finishes.
2. Think about how much natural light you'll get
Conservatories are well-known for their ability to bring in lots of natural light. But if you want to use your new space all day and throughout the year, think about what glazing options will be best in terms of temperature regulation, ventilation and privacy. Alternatively, if you're building your conservatory in a shady spot, consider how much light it'll get and choose your style accordingly.
3. Consider your conservatory roof height
Going higher than your pitched bungalow roof might feel like it will pull in more light, but it'll potentially look out of place. Ideally, you want your conservatory roofline to sit alongside the existing building as much as possible. If you're adding a conservatory to the gable end of your bungalow (if you have one), your roofline can join this wall, and you'll have more flexibility on the roof height of your new build.
4. Get creative with your conservatory shape
Because bungalows tend to have relatively large plots, you'll probably have a variety of options when it comes to the shape of your build. P-shaped or L-shaped conservatories can greatly maximise forgotten space and make the most of your available land.
5. Be realistic about how much space you need
While it can be tempting to go for a large conservatory when you've got a sizeable plot, it's worth thinking carefully about what you want to use your space for before committing to a larger conservatory than you need.
FAQs
Do you need planning permission for an extension on a bungalow?
Whether or not you'll need planning permission for your bungalow extension will depend on to what extent you build within the permitted development rights. As a general rule of thumb, the larger the project, the more likely you will need planning permission. Speak to an architect or your local planning authority to find out more.
You'll unlikely need planning permission for a bungalow conservatory extension if you meet certain criteria – read our guide to conservatory planning permission to find out more.
How much value does an extension add to a bungalow?
This will depend on where you live, your bungalow and the type of extension you choose. According to some property experts, adding a conservatory can increase the value of your home by approximately 7%.
Find out more about adding value to your bungalow.
How long does a bungalow extension take?
This depends on many factors, including your budget, who is doing the build and the type of extension you're adding.
A conservatory extension will likely take between three and nine days to install if you do it yourself through ConservatoryLand – thanks to our unique ConservaBase system. 
Not a DIY fan? Choose one of our ConservaBase system conservatories, then use a professional from our network of approved installers to take things from there. 
Create your dream bungalow extension with ConservatoryLand
Want to learn more about how you can bring your bungalow conservatory extension project to life? We're here to help you make informed decisions and find the right conservatory for your home and needs.
Get started today – our hassle-free quote engine lets you easily design and customise your perfect conservatory. Alternatively, download a free brochure to browse our range of conservatory styles, glazing and customisation options.