Adding value to your home can be a smart investment, whether you plan to sell imminently, or want to improve it for years to come.
So, how exactly can you increase value? You might consider affordable home improvements, such as energy-efficient upgrades, or opt for a more significant renovation, like adding a conservatory. But how much value does a conservatory add to your home? And which improvements are worth the investment?
In this guide, we'll explore ways to add value to your property, from a kitchen makeover to a modern, light-filled conservatory.
Contents
Five home improvements to add value
There are plenty of ways to increase your home's value, from simple DIY projects to more extensive renovations.

Let's dive into some home improvement ideas:
Update your bathroom
A newly renovated bathroom can increase your home's value.
One simple method to update it is to re-grout the tiles and remove all limescale. Refreshing the caulking and sealant around fixtures can also make a significant difference in the appearance of your bathroom.

Another easy way to make the space look more fresh and inviting is to replace the shower curtain or glass screen. To modernise the room, repair or replace any loose tiles, door handles and old taps.

Other ways to revitalise the space include replacing old lightbulbs, adding storage solutions and upgrading the toilet and sink.
Finally, a deep clean can help to create a fresh and hygienic atmosphere while also being a low-cost option for sprucing up the room.
Redecorate
Peeling paint may give the impression that your home requires repairs or renovations. So revive your walls with a fresh coat of paint. Consider repainting your entire home in neutral colours to help revitalise it while also creating a blank canvas that appeals to potential buyers.

Want to modernise your home? Upgrade your lighting and furniture. To add style, you could add new accessories, wall art and flowers, or replace old flooring to completely transform your home.
Revamp your garden
A beautiful outdoor living space can add appeal to your home, making it much more attractive to prospective buyers.

A well-designed and well-maintained garden can draw buyers in. Consider low-maintenance plants that don't require a significant amount of effort or money to upkeep. Storage solutions can also help to keep your outdoor space tidy, making it much more appealing.
Refresh your kitchen
Another way to update your home and add value is to refresh your kitchen.

Similarly to your bathroom, consider re-grouting and repainting tiles to modernise the space. Refreshing the kitchen sink and taps can also help to revive it.

If your cabinets are still in good condition, a fresh coat of paint can give them a new lease of life.

Consider replacing worn or outdated flooring with an easy-to-clean material like tile or vinyl.
Add a driveway
Adding a driveway is a major renovation that provides more convenience and accessibility. In fact, access to a driveway or parking is a top priority for British homebuyers.
For more ideas, check out our list of five DIY renovations under £5,000.
Does a conservatory add value to your home?
Adding a conservatory to your home can provide additional living space and natural light while potentially increasing your property's value.
Typically, conservatories are low-cost alternatives to brick-built extensions, so you could add value to your property without paying for costly building work.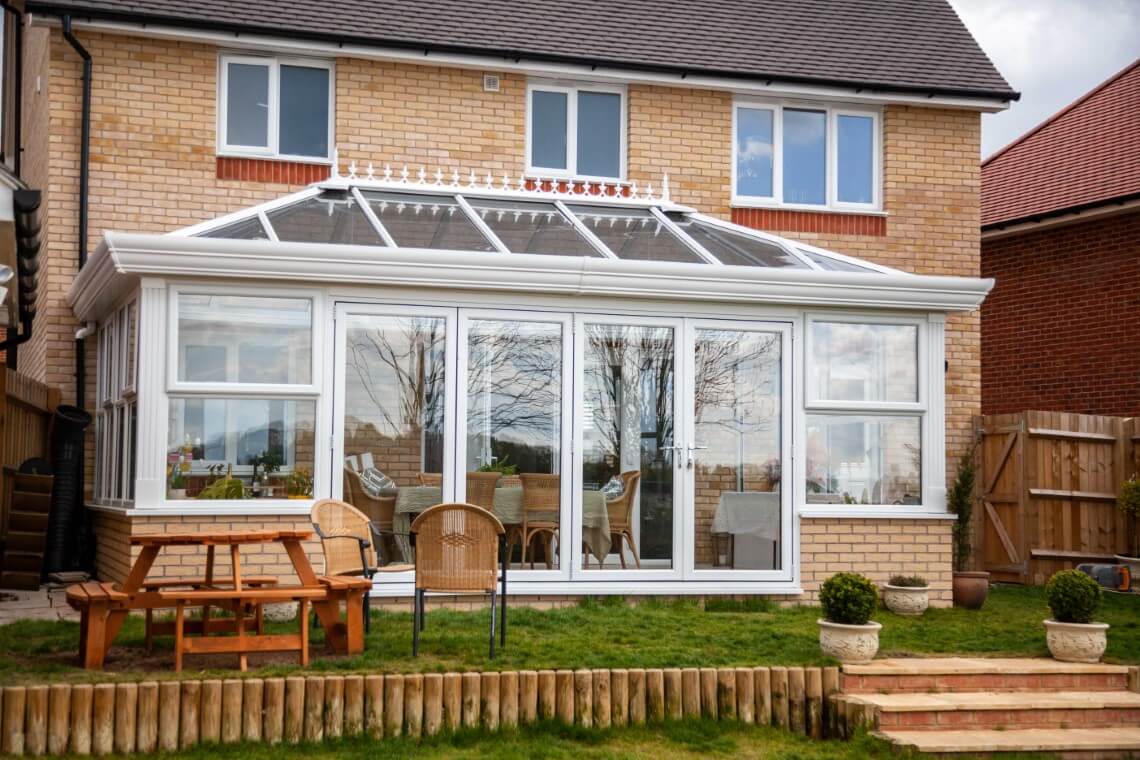 How much value does a conservatory add?
According to some property experts, adding a conservatory to your home can increase its value by 7%. In reality, the actual value added depends on several factors, including whether the extension complements its surroundings.
A high-quality conservatory that blends in seamlessly with your property can add value. Plus, a bright, sun-filled room creates a great first impression and may help you sell quicker. And thanks to the extra living space, your property may appeal to a wider range of prospective buyers.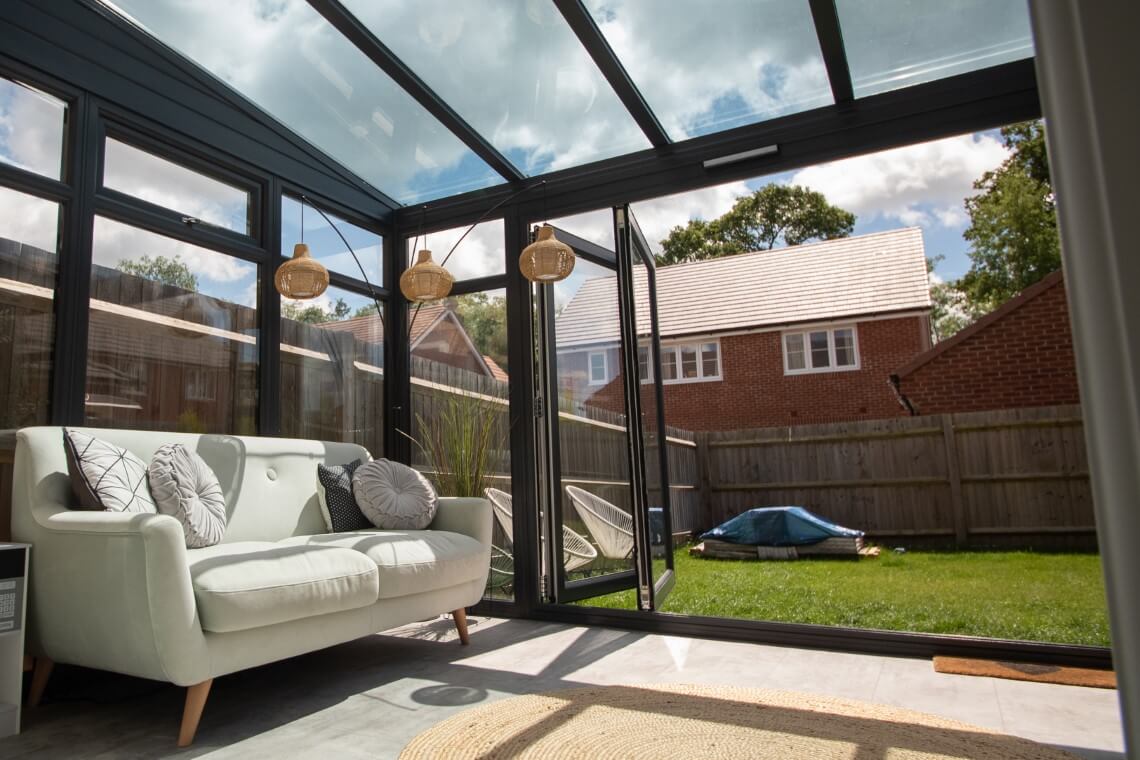 Five things to consider when adding a conservatory to your home
Let's take a look at some things to think about before starting a home extension project so you can get the most out of your investment.
Planning permission
A conservatory is considered a permitted development if it meets the applicable limits and conditions, so planning permission is usually not required.
It's crucial to check that your conservatory is a permitted development before you start the project. If you don't acquire planning permission when required, you may be forced to dismantle your new extension. And in the long run, this could be extremely costly.
Find out more information about planning permissions for conservatories.
Style of conservatory
It's a good idea to choose a conservatory style that matches your home's architecture and design to increase your property's value.
We offer modern designs, such as a Lean-to conservatory or Gable conservatory. Or, if you'd prefer a traditional conservatory, you can choose between our classic styles, including Edwardian and Victorian.
If you're unsure which style will suit your property, give us a call. Our team is on hand to help with any questions and offer useful advice on designing your dream conservatory.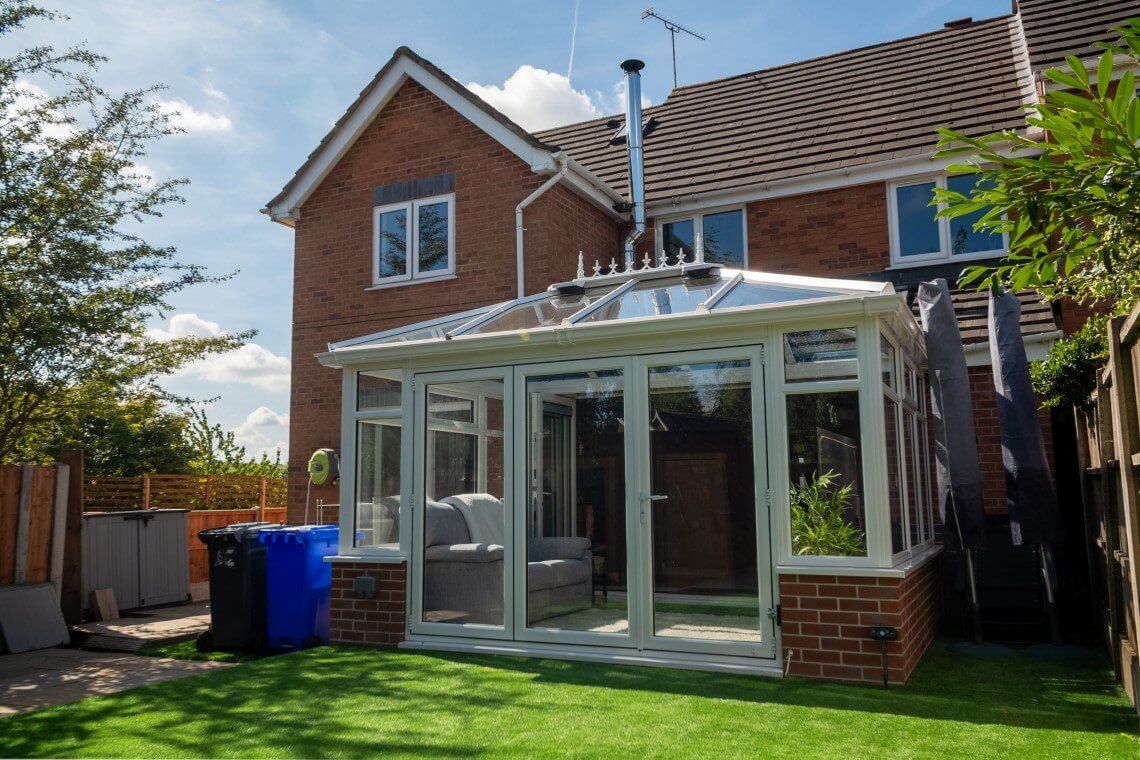 The position of your conservatory
Some conservatories receive more sunlight than others, depending on where they're positioned on the property.
A south-facing extension may be ideal for those who plan to spend a lot of time in their conservatory since it receives sunlight throughout the year. If you're an early riser, you might prefer an east-facing conservatory that gets full sunlight in the morning.
You should carefully consider the position of your conservatory as some may end up blocking sunlight or obstructing a picturesque view. Ultimately, a well-placed conservatory that maximises natural light and enhances its surroundings can significantly increase your property's value.
For more information, read our guide on conservatory positioning.
Size
Keep in mind that the size of your conservatory can influence the value it adds to your home.
The most valuable addition to a home is often a conservatory that complements the size of the property. Due to the strong demand for garden space, it's important to avoid overextending your home and therefore lowering its value.
The size of your conservatory might also depend on your budget. Small conservatories are a great way to expand your living space without giving up too much of your garden.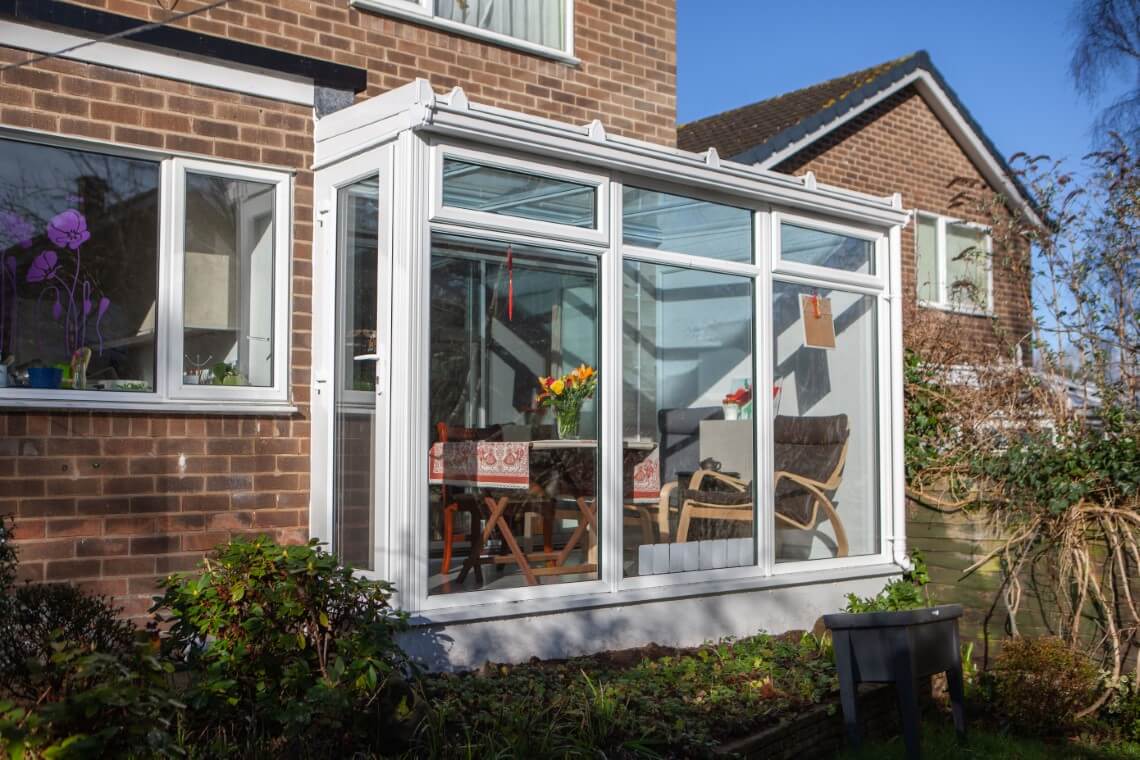 Heating options
When it comes to heating your conservatory, there are a variety of options available to suit any space and budget. Choose from a range of low-cost heating options, like electric heaters. Or if you prefer a more energy-efficient solution, a log burner may be ideal.
It's worthwhile investing in a heating solution so you can enjoy your extra space all year round. And if you're looking to sell your property, potential buyers may want to know that your conservatory is both functional and comfortable — no matter what the weather.
Explore our conservatory heating solutions guide to find the right option that suits your needs.
What reduces the value of a house?
Whether you intend to sell your home or simply maintain its value, it's crucial to be proactive in avoiding factors that can reduce its value.
Poor maintenance can lead to wear and tear, which may lower the value of your property. Keep your home in good condition — inside and out — to avoid costly repairs in future. Regular upkeep will also enable you to create a more relaxing living space.
Outdated fixtures and fittings can also reduce your home's value. For instance, an outdated kitchen can impact the perceived value of your home, and prospective buyers may factor in the cost of a renovation when making an offer.
Wondering what else might affect the chances of a sale? Find more information in our article on the interior trends that could devalue your home.
How to add value to your home on a budget
With our flexible payment plans, buying your dream conservatory is easy. You can spread the cost of your new extension with an initial deposit of just £99. Learn more about our finance plans.
What's more, you can design a conservatory project to suit any budget, thanks to our wide range of styles and customisation options.
At ConservatoryLand, we provide high-quality conservatories at an affordable price. With every element of the build in your hands, you can adjust the overall cost by customising the project, including the size, doors and glazing.