When it comes to expanding your home, there are a variety of options to choose from. Whether you're looking to increase your property value, get a much-needed extra room, or simply crave a brighter, sun-filled environment, it's important to define which design is right for you and your needs.
Glass extensions are a great way to enjoy the outdoors from the comfort of your home. Not only can they add great aesthetic appeal, but they're also energy-efficient, can be used year-round and provide a much-needed versatile living space.
What is a glass box extension?
A glass box extension is a structural addition to a property primarily made of glass or has extensive glass elements, such as walls and roofs. The key feature of a glass room extension is its use of glass as the primary material to create a space that maximises natural light and provides panoramic outdoor views.
A conservatory is similar to a glass box extension, but often with more decorative designs and intricate details.
What is the difference between a conservatory and a glass extension?
The main difference between a conservatory and a glass extension is how they look and what they're used for.
A conservatory typically has a more detailed design. Thanks to the variety of materials used, they can come in a range of shapes and styles. Conservatories commonly include brick finishes, uPVC frames, and polycarbonate or glass roofs that can be customised to suit your preferred style. There are also many conservatory door options to choose from, such as bi-fold, french doors and single-style doors.
A glass room extension typically has a simpler design. They focus on clean lines and minimalism. Glass extensions have a contemporary and sleek aesthetic.
Both types of extensions can be used as versatile living spaces, bring in natural light and create a seamless connection to the outdoors.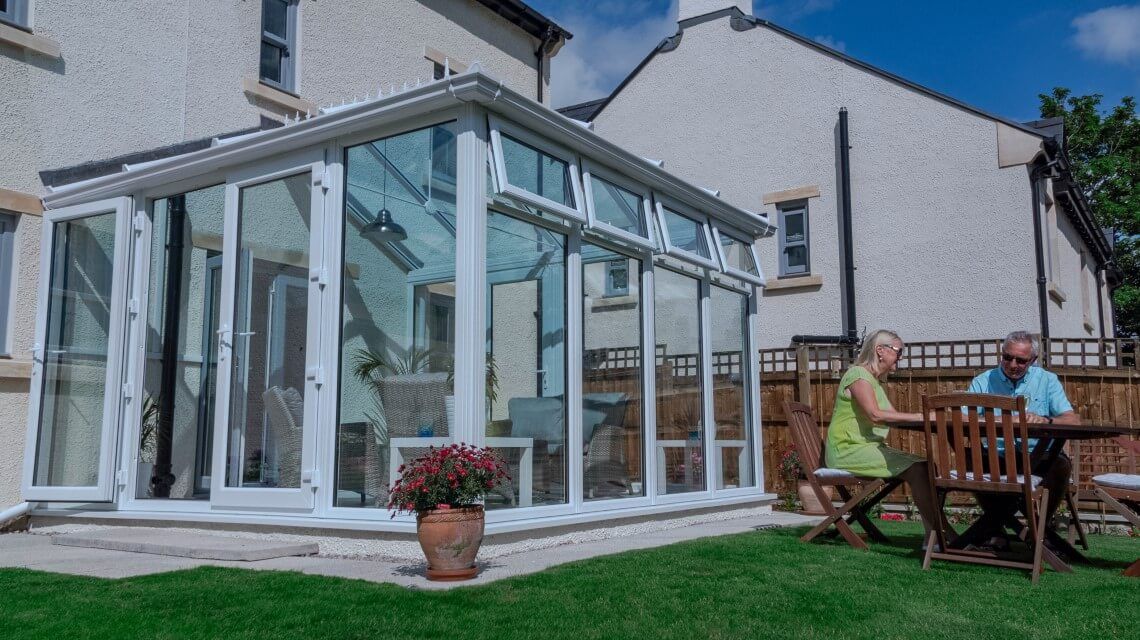 The pros and cons of a traditional glass extension
Traditional glass extensions offer several advantages. These include:
A sleek and modern aesthetic, adding to your property's visual appeal.
The frameless look can provide uninterrupted views.
Well-designed glass extensions can increase the resale value of a property due to their attractiveness and added square footage.
The disadvantages of a traditional glass extension include:
Traditional glass extensions can be expensive to build, especially if you use expensive materials.
They can have a lengthy construction process.
Extensions made entirely of glass can lack privacy, which may not be ideal if your home is close to neighbours or in a busy area.
Depending on your location and the size of the extension, planning permission may be required.
Without proper ventilation and insulation, condensation can occur on some glass surfaces, leading to dampness and potential maintenance issues.
The pros and cons of a full glass conservatory
There are plenty of advantages to choosing a full glass conservatory:
Much lower in cost than a traditional glass house extension. With a variety of material options available, there are also ways to bring the costs down to suit your budget.
With a variety of styles and designs to choose from, full glass conservatories are fully customisable to suit your preferences.
Full-Height and Dwarf-Walls with a brick finish can seamlessly integrate with the exterior of your home.
Adding privacy panels can add an aesthetic appeal while creating privacy.
A solar control glass roof helps maintain comfortable temperatures all year round.
uPVC frames improve strength and energy efficiency.
Whether you use it as a home office, playroom, lounge or dining room, the options are endless.
Adds value to your home.
The cons of a full glass conservatory include:
Unlike a full glass extension that can be built without framing, conservatories include uPVC frames.
They usually won't add as much value to your home as a full glass extension.
What are the style options for a glass conservatory?
There are a variety of conservatory styles to choose from. This depends on your design preferences and requirements for your extension.
Some of our popular traditional and modern glass conservatory styles include: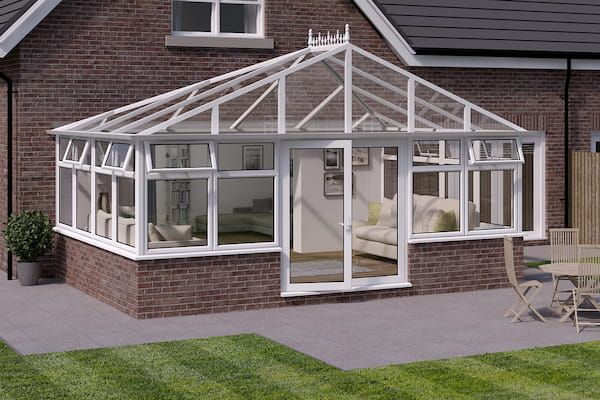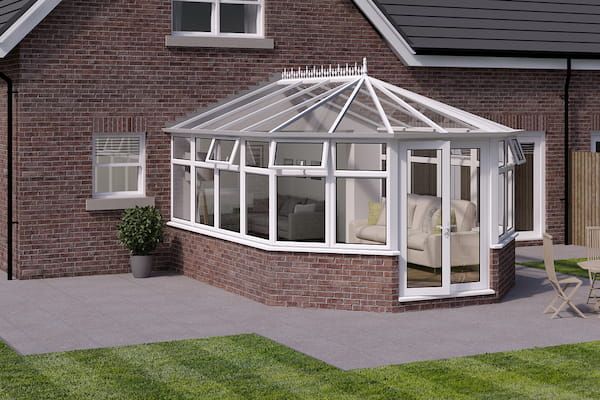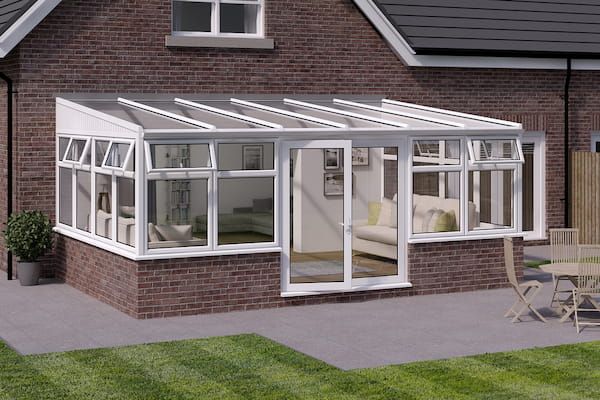 There are a variety of ways to enhance the glass look of your conservatory. These include:
FAQs
Do you need planning permission for a conservatory extension?
Planning permission is not required if your conservatory meets specific criteria.
Conservatories that comply with the limits and conditions are considered permitted developments. This would allow you to go ahead with your building project without the need for planning approval.
If your extension exceeds the requirements, you will likely need to obtain planning approval.
For more information, read our guide to conservatory planning permission.
Are conservatory extensions cheaper than brick?
The cost comparison between a conservatory and a brick extension depends on your specific project requirements, design preferences and budget. 
Typically, a traditional brick extension is more expensive than a conservatory because they involve more costs, such as architect fees and skip hire. Find out more about conservatories vs extensions here.
Are glass conservatory extensions cold?
The temperature in your conservatory largely depends on the materials used. There are a variety of options available to regulate the temperature of your conservatory, such as: 
A Blue Self-Cleaning, Solar Control Glass roofing system that can provide consistent temperatures throughout the year.

Double glazing

that provides

a higher degree of warmth and greater insulation than standard double glazing units.
Energy-efficient glass that increases the effectiveness of double glazing in your conservatory. It also allows plenty of light into your space while
How much is a glass conservatory extension?
A glass conservatory extension cost can vary significantly, depending on factors like size, materials, roof type and building labour fees.

Want to know exactly how much a garden room might cost? We've got you covered. Using our quote engine, you can design your glass conservatory by selecting the size, style and other customisation options. Whether you want bi-folding doors, full-height glass or a choice of colours, enter your specifications and choose your preferences directly in our tool — it only takes a few minutes to complete.
Ready to transform your home with a glass conservatory extension? Download a free brochure to browse our range of conservatories and customisation options to help you decide how to elevate your living space.
Disclaimer
Please note that the information provided on this page is a guide, not legal advice, based on planningportal.co.uk.
It applies to houses, not flats or other buildings. Other consents may also be required if your home is listed or in a designated area.
The details were accurate when published but may change due to legislation. Consult local planning authorities before starting any work.