We all know that a conservatory is a great addition to any home.
But, did you know that some conservatories are really special.
So much so, in fact, that they attract thousands of admirers to visit them each year?
We're not talking about the quaint and casual DIY conservatories supplied here at Conservatory Land, by the way.
We're talking about a range of breath-taking architectural sites dotted around the country that you can visit at any time.
So, if you're ever in need of some inspiration for your next family day out, then you've certainly come to the right place.
We've decided to explore these seven famous conservatories in detail – just to give you a flavour of what to expect should you decide to pay them a quick visit on your next outing.
Who knows – you may have even visited one or two of these yourself already?
Eden Project
Location: Bodelva, Cornwall
Built in: Plans commenced January 1995; Doors opened to the public on March 17th 2001
A truly iconic British landmark, the Eden Project is a must-visit while in Cornwall.
In fact, this is no longer just a tourist attraction – it's a wedding venue. And, given its dazzling surroundings, it's a fitting place to tie the knot, that's for sure.
The Eden Project's rich history and unique origin story has a lot to answer for. This is not your typical style of conservatory.
Each inflated hexagonal pillow is made from Ethylene-Tetrafluoroethylene (fluorine based plastic), instead of glass; due to it's strength and ability to retain heat.
Nonetheless, while the exterior view is impressive, the inside doesn't disappoint, either.
Home to over 1000 species of plants, of which many were planted from seeds, you can experience the ambience of four rainforest environments whilst you're there – Tropical South America, Southeast Asia, West Africa and Tropical Islands.
An elevated wooden canopy walkway takes you on a tour through these worlds, and with the trees towering above you, this is a unique experience you'll never forget
It's definitely worth a visit in person – even if it's just to get a feel for the sheer scale of the building.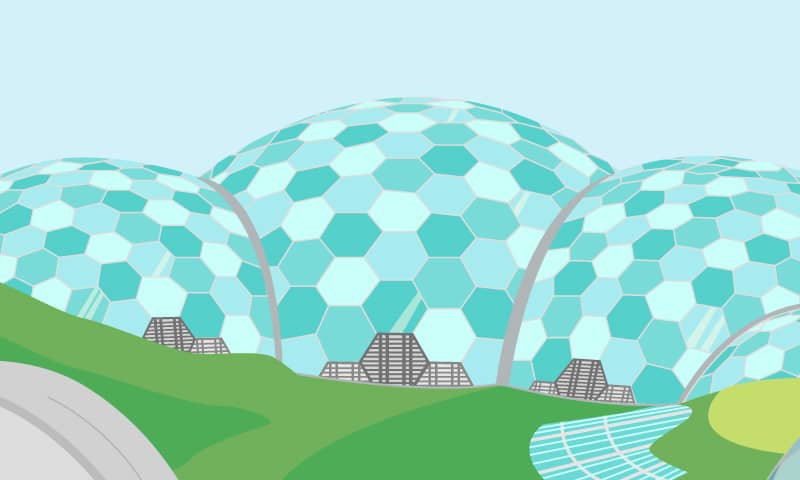 ---
Great Conservatory
Location: Syon Park, Brentford
Built in: 19th Century, Restoration work commenced in 1986/7
Syon Park has featured in film and TV.
So, even if you haven't visited this building in real life, you're likely to recognise this for its role on the big screen.
Made of stone, cast iron, and glass – this conservatory was the brainchild of architect Chris Fowler.
Filled with a variety of palm trees, the exposed stone work makes it a memorable place to explore.
You'll see from our sketch below that the main feature of the conservatory is the spectacular dome at the centre of the building. When you stand beneath it and look above, it really is a sight to see.
An admission is required to visit here, with prices varying based on what you want to see.
Syon is a famous family house, and is in fact the Duke of Northumberland's London home – owned by his family for 400 years.
The grounds offer lots to see, so you may want to consider a visit here on your next trip.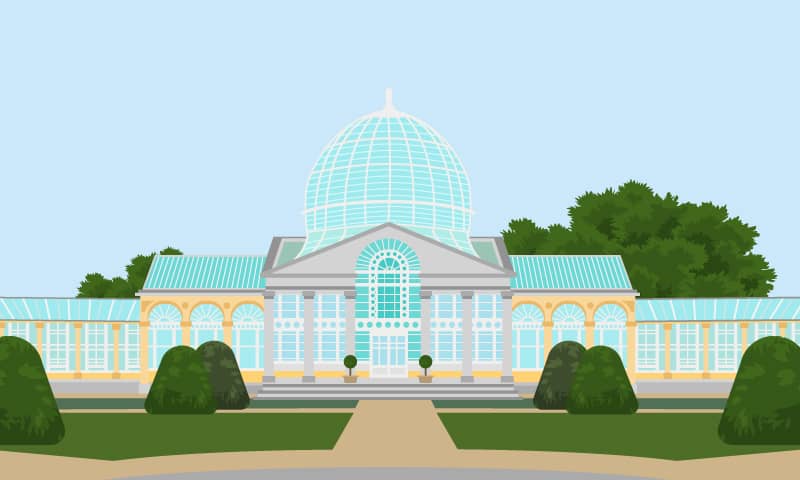 ---
University of Oxford Botanic Gardens
Location: Oxford
Built in: The Gardens were founded in 1621
This classic-style conservatory built from glass panelling from floor to ceiling, is a hidden gem owned by the University of Oxford.
The conservatory is filled with a variety of plants growing a range of citrus fruits such as limes, lemons and grapefruits.
Like all conservatories, the large volume of glass creates the perfect environment for plants to grow, so it's no surprise that it's filled with as much greenery as you can imagine.
The plant displays within the conservatory change with the seasons, so no matter what time of year you come to visit the gardens – you're sure to find something different every time.
Sat in 130 acres, there's even more to explore beyond the conservatory. So, if you do decide to visit – be sure to bring your picnic set along for the ride…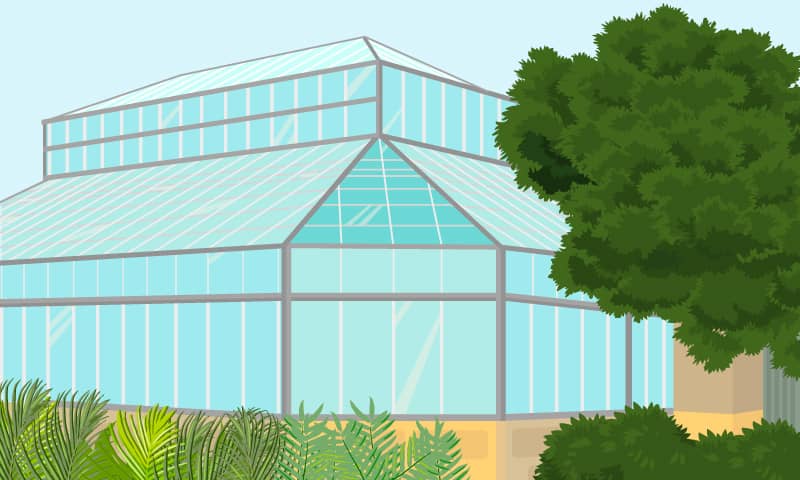 ---
The Isla Gladstone Conservatory
Location: Stanley Park, Liverpool
Built in: 1870
The Isla Gladstone Conservatory certainly captures the essence of classic Victorian style.
Located in Liverpool's Stanley Park, this is a real iconic venue, with its architecture dating back to 1870.
This conservatory was originally built to house tropical and exotic plants, but these plans quickly changed as public opinion regarding the conservatories existence turned sour – lasting for over a century.
From 2007 however, the Isla Gladstone was refurbished with many of its iconic features being improved and restored.
And now, it's become a real asset to Stanley park – especially with its eye catching tiered glass roof.
Since its restoration, the venue is savoured for special events such as weddings and other special family gatherings.
The arched windows and white frames make this a real spectacular place to visit.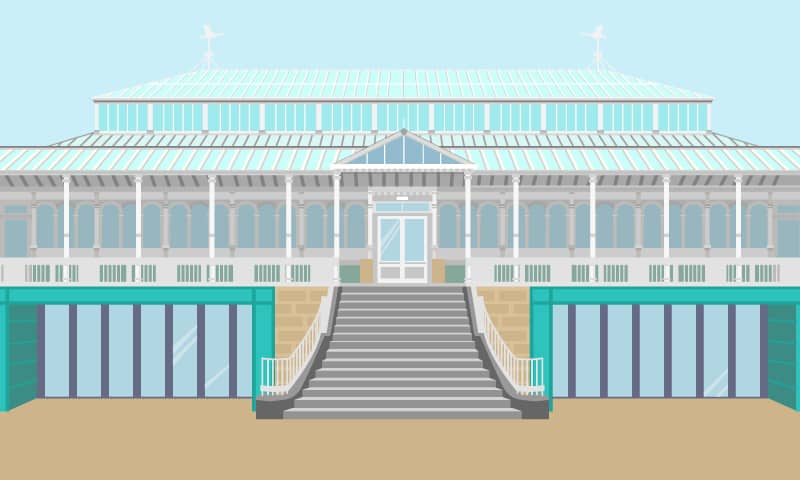 ---
The Barbican Conservatory
Location: Silk St, London
Built in: 1984
Stepping inside, you'll quickly see that this is not your average conservatory.
The second largest in London, this is a truly immersive tropical paradise.
Filled with greenery, tropical plants and towering palms, it's the perfect place to visit at a weekend.
The conservatory also has a large concrete tower at its centre, which is home to the Barbican theatre fly tower. It does, however, follow the traditional style of build, with large glass panelling and a glass roof.
The natural light fills the conservatory which makes it the perfect home for the thousands of plant species found inside.
The conservatory features fish-filled ponds, and if you do decide to pay the Barbican a visit, it also hosts a variety of events – including afternoon tea.
Not a bad way to enjoy a jam and cream scone, that's for sure.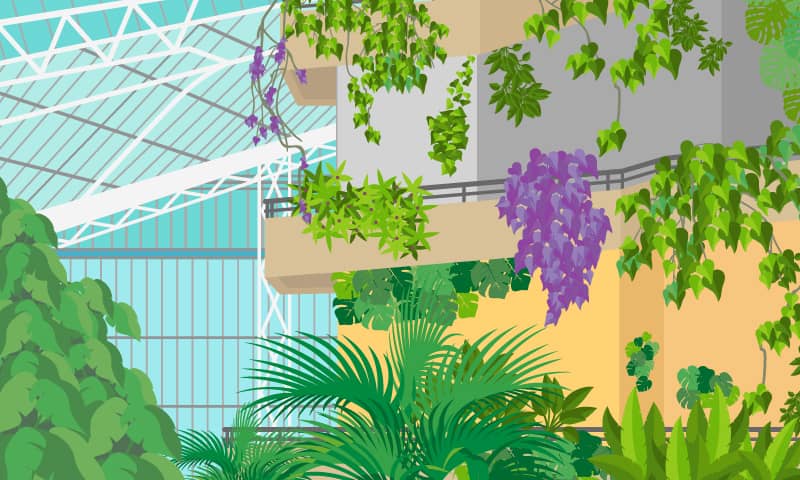 ---
Temperate House
Location: Richmond upon Thames
Built in: 1862
Temperate House very much encompasses the elements of a traditional conservatory build.
The largest Victorian glasshouse in the world, you definitely won't miss this when visiting The Royal Botanic Gardens in Kew. The house itself opened in 1863, however the construction work on this continued for a further 36 years.
It's a natural conservation area for some of the worlds most threatened plants, home to over 1500 temperate species in total; of which all need temperatures of +10 ⁰C in order to survive.
In fact, to ensure consistency in climate, the glass has a sensored opening mechanism to ensure temperatures remain steady. So, if the heat rises to above 12 ⁰C vents open to avoid overheating.
As you approach the entrance, prepare to be greeted by the elaborate stone statues.
You also won't miss the 116 pale urns surrounding the top of the house – copies of originals which are likely to have been sold to fund its restoration in the 1970's.
We'd definitely recommend that you visit this beautiful building when you're next in the Richmond upon Thames area.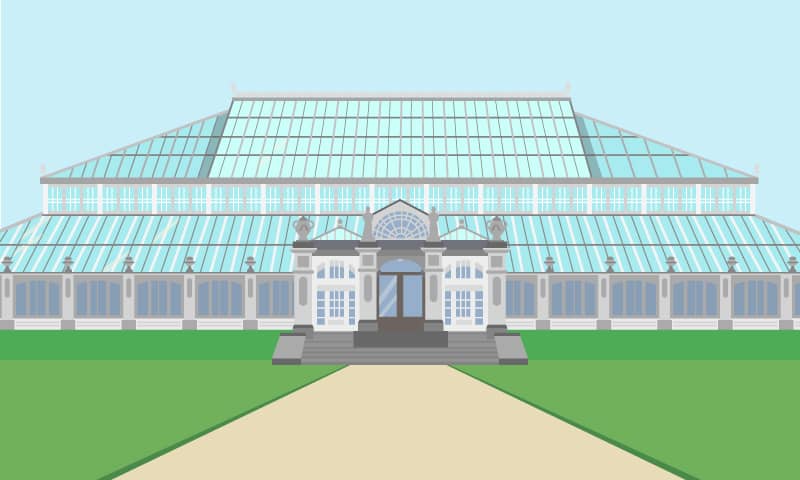 ---
Great Glass House
Location: National Botanic Garden of Wales, Llanarthney
Built in: 1997-2000
In the shape of a giant rain drop, the aerial view of this build really tells its own story.
The structure comprises of 785 glass panels, and is set in the hills overlooking Tywi Valley at a 7⁰ tilt to allow for maximum sunlight.
Similar to Temperature House, the climate within the dome is monitored by computers, with the glazed panels opening and closing to ensure the correct temperature is maintained.
Housing endangered plants from places such as Chile, Australia and South Africa, there's bound to be a whole variety of types you've never heard of before.
The interior of the glass dome has been designed to try and reflect the natural habitats in which these plants would grow around the world.
So expect to see rocky terraces and cliffs made of sandstone, as you explore the area.
Take the day to explore the botanic gardens and the great glass house, and be educated on the real varieties of this rare collection of plants.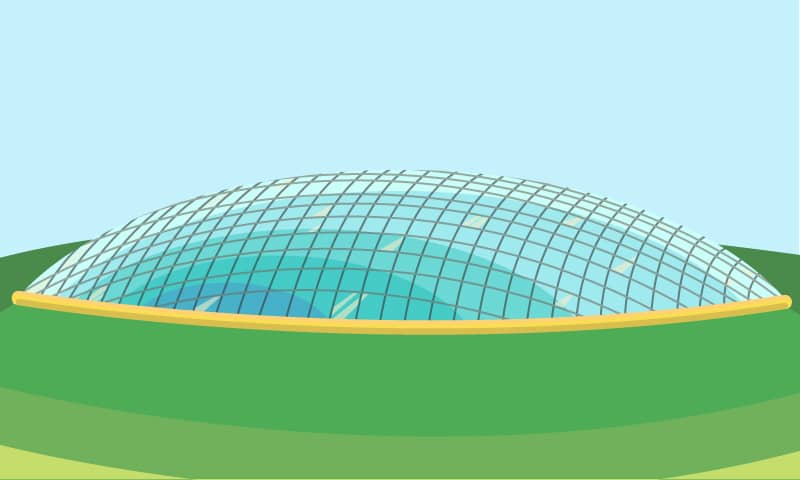 ---
As you can see, the UK really does have a mix of unique and wonderful conservatories; that go far beyond the extensions on your homes.
Dotted around the country and open for you to explore, each of these buildings are definitely worth visiting.
And if the impressive architecture has made you want to get planning the construction of your very own conservatory, why not request a brochure from us today?
You too could soon have a conservatory to be proud of!