If you're not familiar with home staging, you're not alone! Whilst home staging is popular in the United States its uses are lesser known here in the UK, however it is a great way to improve the look of your home, if you're looking to sell it.
Currently, there is a lot of competition on the market with the number of properties for sale hitting a two-year high, meaning if you're looking to sell your home quickly you may be in for a longer wait than you'd like.
So, we've collaborated with two industry experts to share their staging secrets; award-winning home staging consultant Jane Lee of Jane Lee Interiors, and interiors expert Maxine Brady. Below they explain the benefits of home staging, as well as insider tips that can make a home look more expensive and attractive.
What is home staging?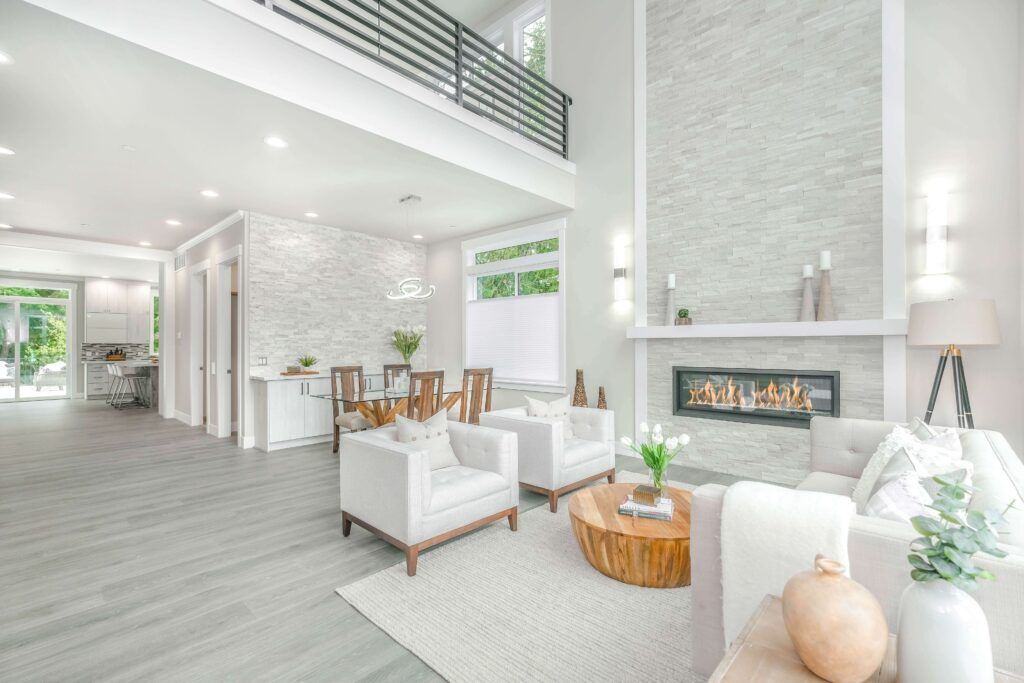 Award-winning home staging consultant Jane Lee, explains, "Home staging creates a look that appeals to a wide cross-section of prospective buyers, unlike interior design which reflects the personality of the current owner.
"Properties that are tired and cluttered tend to sit on the market longer than ones that look move-in-ready, which is why getting the presentation right is a wise investment.
"Invented by American estate agent Barb Schwarz in 1972, home staging is a well-known marketing tool in the US, Australia, Scandinavia and Europe – and a growing trend over here.
"Entire room sets can be rented for a set period, or alternatively some professionals (me included) specialise in transforming furnished properties, where the owner is usually living until it sells.
"My consultations reveal how to get a more magazine-style look using what's already there and flag up any negatives. Areas covered include:
Kerb appeal
Room layout and purpose
Décor
Areas to declutter and depersonalise
Cosmetic repairs
Ideas for new items
Interior styling

"Clients then tick everything off themselves, or book me to declutter and style in time for the marketing photos."
Can home staging increase the sale price of a property?
Jane says, "Research by Rightmove found that staged homes secure more viewings and offers and sell for 8% more than non-staged homes.1
"When estate agents were asked if staging increased the offer value of a property, 100% said yes2:  31% by 1-3%,  37% by 4-6% and 32% by 11-15%
"I've worked with clients who have sold for well over the asking price, and whose sale has gone to sealed bids on the first day. My home staging consultations have also prevented thousands being spent on unnecessary improvements.
"Of course whether somewhere sells fast – and for how much – also comes down to the current market, estate agent and asking price. Nonetheless, staging is always going to be cheaper than the first price reduction."
Top tips to stage your house for viewings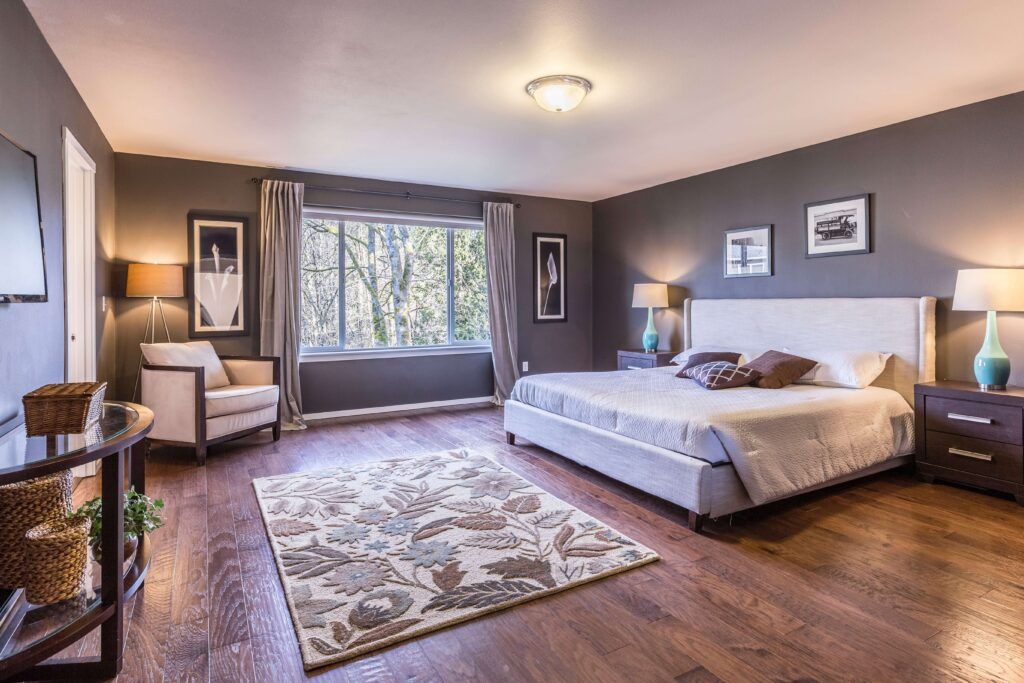 Clean and tidy
Jane suggests, "Look at your property with buyers' eyes. Do the windows need a clean? Is the paintwork looking tired? Could the driveway and paths do with weeding? Make their first impression a memorable one – for the right reasons. The main photo people see online is usually an exterior shot, so sprucing up the exterior and any outside space should be a priority."
Know your target audience
Jane says, "They could well be the same life stage as you when you first moved in. If your audience is professional couples, present a small spare room as a study or tuck a desk into an alcove or corridor: more people than ever work from home these days. If it's young families, have at least one room with a single bed and some cute toys and pictures."
Bin the bins
Jane advises, "Try not to have them on show if at all possible for the photographer and viewings, both outdoor and inside ones. Also hide toilet brushes, toothbrushes and dressing gowns. Photographers sometimes close doors to get their shot and the main focus becomes whatever's hanging on the back."
Clear clutter
Jane highlights that, "Even the most beautiful homes lose their lustre if they're overflowing with furniture and possessions. Having a big clear out before going on the market creates light and space, reduces time spent packing and unpacking, and cuts removal costs."
Tone it down
Jane says, "Strong wall colours and patterns divide the crowd and could see buyers knocking off thousands for repainting/stripping wallpaper. Buyers aren't frightened off by calming neutrals and can easily put their stamp on them. Vibrant red especially doesn't photograph well."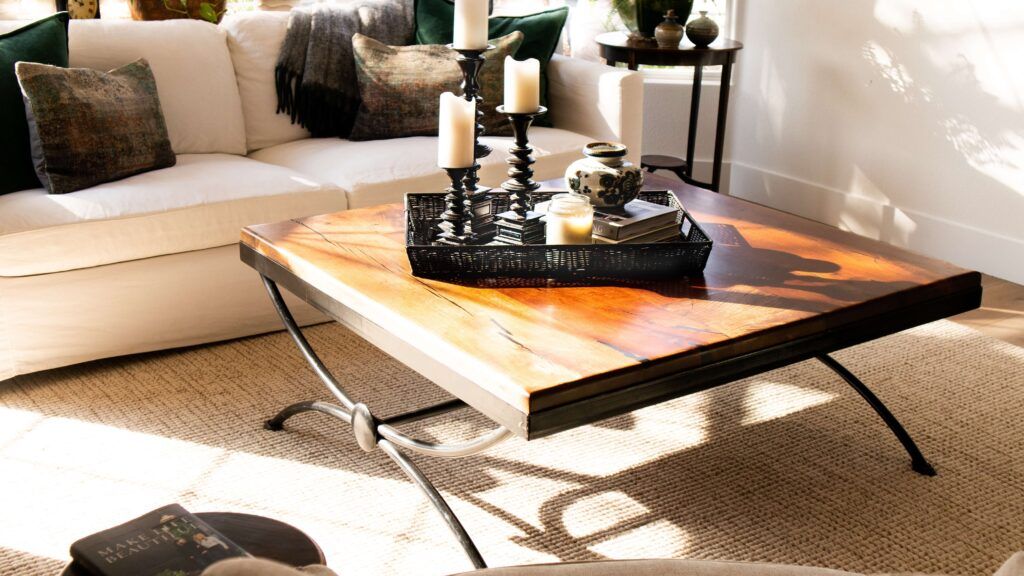 Simple touches
Jane highlights that, "Chips and scuffs, tired cupboard handles and broken drawers detract from a room and are relatively inexpensive to fix."
Perfect scents
Jane recommends that you, "Get rooms smelling sweetly before viewings. Go for reed diffusers over scented candles, they're less overpowering and, of course, safer." 
If you're looking for inspiration for which scent to choose, check out our blog post on popular candle scents for every room.
Green scene
Jane says, "At the very least have plants and flowers in these key rooms: hallway, kitchen-dining area, living room, main bathroom and bedroom."
6 conservatory staging ideas – whether staying, or selling:
Whether staying put or selling, below you'll find simple ideas from interior stylist Maxine Brady and home staging expert Jane Lee, that will encourage you to either make this room the heart of your home, or help inspire it to be someone else's.
Set its function
When choosing furniture for your conservatory, think about whether it should have one clear purpose, or be multi-functional.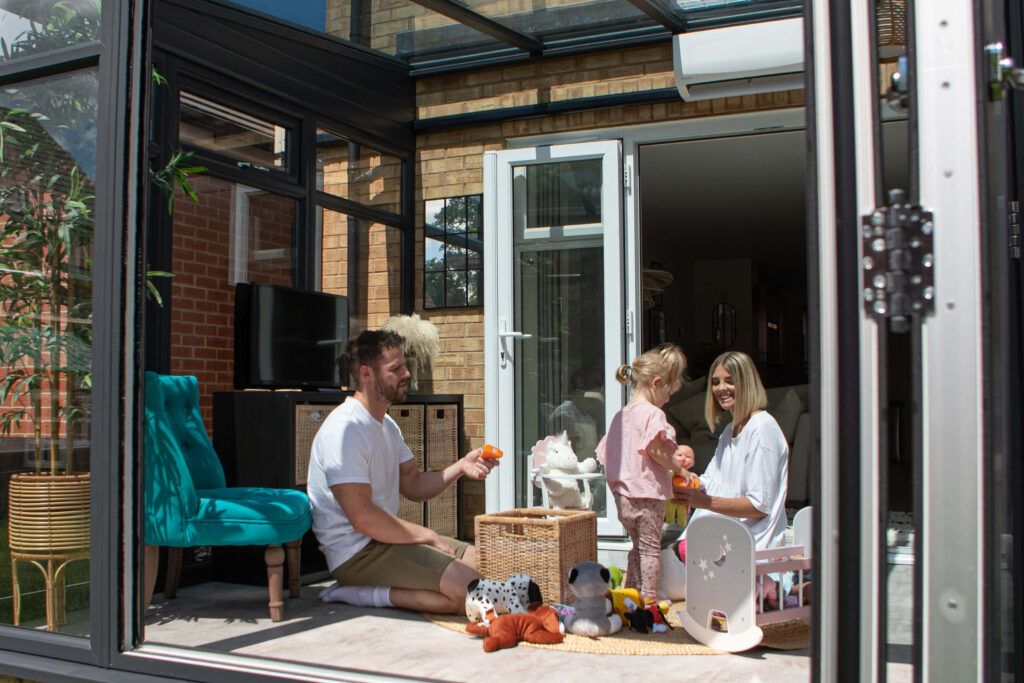 If staying:
Maxine suggests opting for a multi-use function, "Whether that means creating a social space for entertaining, reading nook, a playroom for children or a home working space, by arranging the room how you furnish it will allow you to use this space all year round. Rugs are a great way to zone your conservatory (and will keep you cosy underfoot). One way to make your conservatory more functional is to install an electric fireplace, log burner or underfloor heating for cosy vibes! Think about how to make the space work harder throughout the year.
"It's worth investing in decent storage to keep your conservatory feeling organised. You could have a shelving unit that will hold books, vases and accessories, making an attractive display space. Built-in storage seating is ideal for stashing away blankets and outdoor cushions. Or you could place a sideboard in there to store dinnerware and cutlery for when you're entertaining."
If selling:
Jane recommends setting one clear function for those looking to sell. "Give buyers the lifestyle they're looking for, which is somewhere to relax and entertain rather than a room crammed full of discarded furniture and dead plants (which is how a lot of conservatories are presented for sale). Every usable room adds value.
"Comfy sofas and armchairs arranged around a coffee table, or a proper dining table and chairs, make it feel like a space that's used year-round. Bookcases, pictures, rugs complete the look. Conservatories don't have to be furnished with 'conservatory' furniture."
Be creative with your decor
Conservatories are often an afterthought as you pass through on the way to the garden. Decorate the space to make it feel like an integrated part of the house. 
If staying:
Maxine highlights that, "You don't have to go for neutrals or green shades, instead you can go as wild as you like with bold colours, patterns and tiled floors. Conservatories get a lot of sunlight, so they naturally can take dark or rich colours. You could try a paint wash on your walls for a rustic look or a cheerful tone like peach with painted chairs for a joyful scheme."
If selling:
Jane agrees, "This is one room where you can really have some fun when you're selling: colourful floral, botanical, tropical and jungle print cushions add a splash of colour that will light up your listing. Don't be scared of vibrant shades of aqua, lime, orange, pink and yellow. Likewise pictures, table runners, rugs and throws."
Manage the light
Think about layering your window treatments to make the space work harder.
If staying:
Maxine highlights that, "You'll need adjustable shades up above that filter bright lights into the room on sunny days. Then window blinds to help you create a cosy environment during the evenings (handy if you want privacy when entertaining in this room). And to keep your space feeling warm and cosy, you'll want to hang curtains up at the windows and doors that you can draw in the winter months for the perfect temperature. You can always fit outdoor shades outside too that will give protection from the sun when stepping in and out of your conservatory."
If selling:
Jane recommends, "Upgrade or remove tired blinds and, if you can't manage yourself, get the glass professionally cleaned inside and out. Sparkling windows will flood the space with light. If viewings are at dusk, fairy lights, side lamps, flickering candles and outside lights add a warm, welcoming glow."
Go green
Our leafy friends love conservatory spaces! They are also a great way to add natural colour and texture to your space too.
If staying:
Maxine says, "Plants help to breathe life into a room and make a space feel welcoming and inviting. Make sure you choose plants that thrive in sunny spaces and style them into your conservatory in a creative way. You could try hanging a pole from your ceiling and then add hanging plants. Or you can train climbing plants to grow up your windows and walls for jungle vibes."
If selling:
Jane adds, "One of my favourite styling props, healthy pot plants and fresh flowers add colour and life to every room. Orchids, succulents, palms, bamboo and Swiss cheese plants are good options, and hanging baskets work well too. I've been known to raid garden borders (with the owner's permission!) during photoshoots and always bring along a selection of realistic fake plants and flowers. A few branches of foliage in a large jug or vase makes an eye-catching and extremely cost-effective display."
Showcase it as a sociable space
A key element of home staging is to create the lifestyle a prospective buyer will want – and who doesn't love socialising!
If selling:
Jane advises, "Laying a dining table with plates, wine glasses and a bottle of fizz in a wine cooler shows prospective buyers that this is a fun space for entertaining.
"A growing trend, thanks to lockdown, is home bars: my last two clients both had one. Storing wines, spirits and assorted glasses in a conservatory keeps everything at hand and eases any storage pressure in other rooms."
Update old frames
If your conservatory is looking out dated or a little unloved, then Jane shares a simple trick for sprucing it up.
If staying or selling:
Jane suggests, "If you have the time and budget, it's possible to freshen up tired wood, metal and PVC conservatory frames with specialist white paint. Sage green and black are popular contemporary colours and will transform the appearance."
Methodology & sources
https://www.rightmove.co.uk/news/what-is-home-staging/ [Accessed 11th May 2023]
Page 16, Home Staging Association Report 2022 [Accessed 11th May 2023]