Almost two thirds of Brits are actively looking for properties to buy across the UK right now, with new homebuyers checking sites like Zoopla and Rightmove three times per month on average. From a spare bedroom to an en-suite or a large, light conservatory, we wondered: What do property buyers REALLY want in their future homes?
According to our latest survey of 2,000 Brits, it seems that a garden or an outdoor space is the most important consideration for Brits on the hunt for a home, with more than half (52%) saying this was their top priority. Few are prepared to compromise on their list of "must-haves" as well, with less than a third (30%) of Brits willing to give up on their dream home, while many are willing to spend upwards of £6,200 in order to secure their perfect property, too.
The UK's New Home Must-Haves
While the majority of new home buyers are looking for properties with leafy gardens, they also want a space to park, room for visiting guests, lots of natural light, and tons of storage to boot. Talk about a dream home!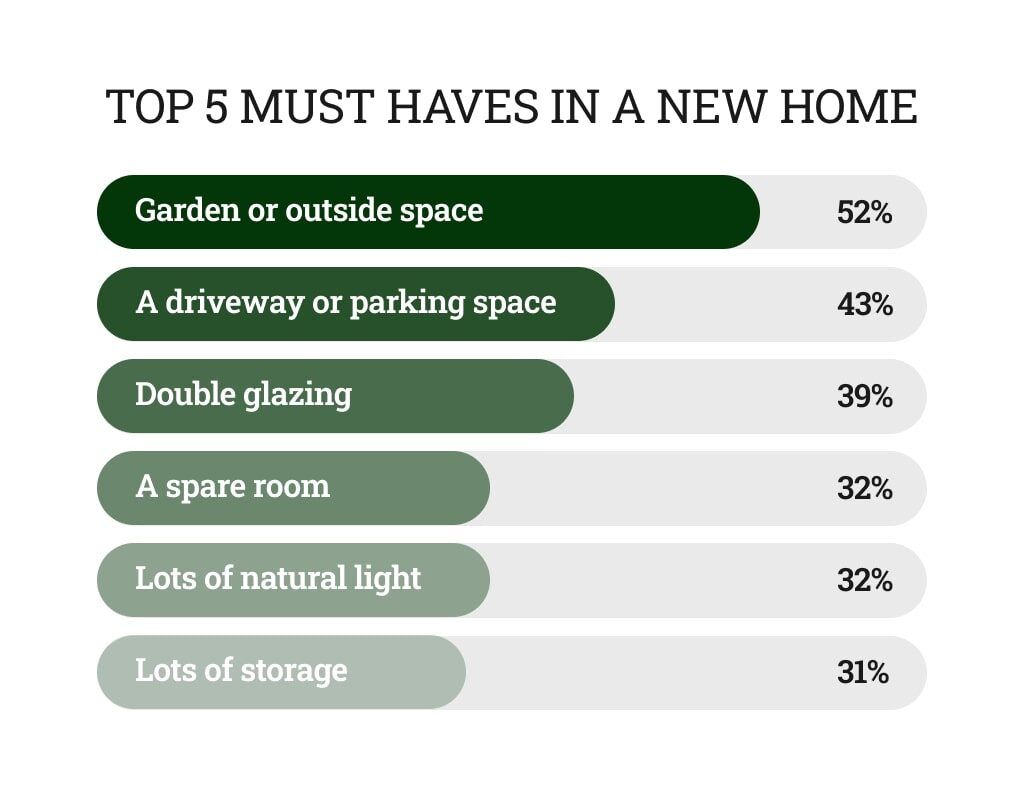 More than half (52%) of those surveyed said that a garden was their number one priority in a new property, and was the top "must-have" for every region of the UK too. In fact, having an outdoor space was rated as the most important factor in a new home by 61% of those living in the South West, while only 40% of those in the West Midlands said this was the top feature they'd want in a new home.
Following a garden, is access to a driveway or parking space, with 43% of Brits wanting this in their new home. This was most important to those aged over 74, with 50% of this age group rating this as a "must-have", while only 21% of Gen Z felt the same way. It seems that Gen Z cares more about having natural light in their new homes, as this "must-have" takes the second spot (22%) on their list, after a garden (27%).
Double glazed windows, a spare room, natural light and lots of storage are the other top "must-haves" for Brits. While 32% of the population make natural light a priority in their property hunt, Wales is the region with the highest interest in this, with 38% of home hunters here desperate for natural light in their next property.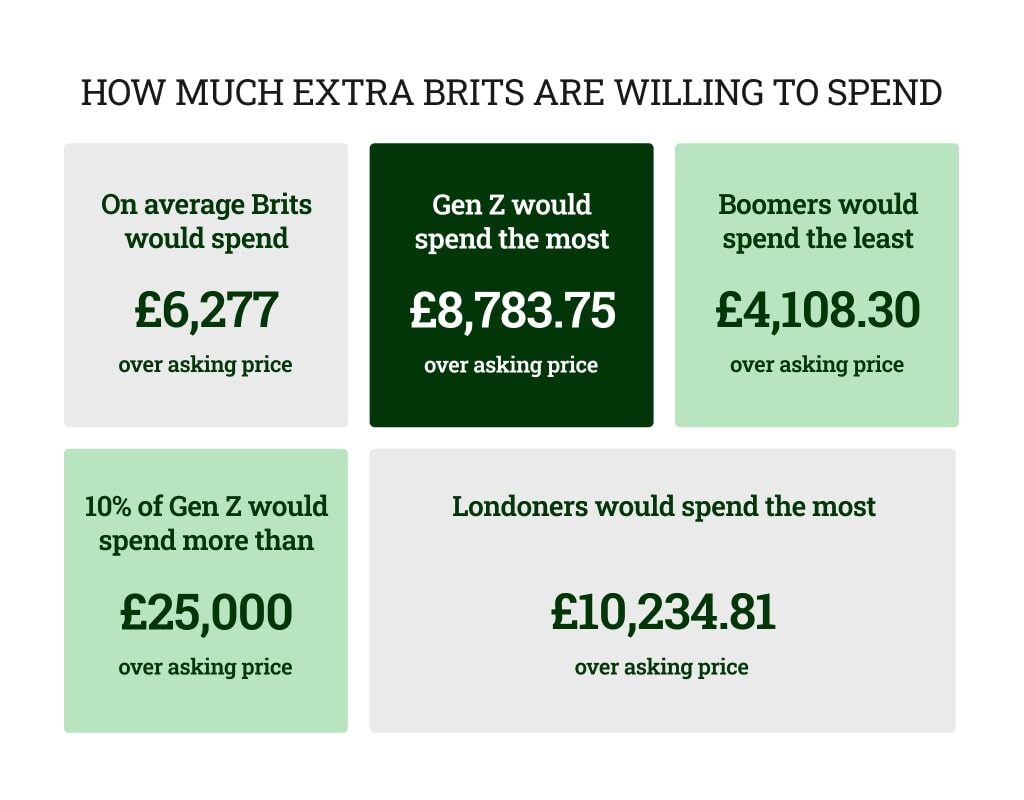 In order to get their hands on their dream property, it seems many are willing to go to extra lengths for it. On average, Brits are willing to pay an average of £6,277 more than the listed asking price in order to buy the home that ticks all the boxes. Gen Z are willing to pay the most over asking price, an average of £8,783.75 more than expected, while their older relatives – the Baby Boomers – are only prepared to pay as much as £4,108 over asking to buy their dream home.
It comes as no surprise that Londoners are prepared to pay the most over asking price, with this region saying they would spend more than £10,200 extra to get their top property, while 1 in 10 Gen Z home buyers said they would pay up to £25,000 extra to make sure they could purchase the home of their dreams.
Regions of Compromise
Despite being very certain about what things a dream home must have, it seems that potential buyers are also willing to compromise in some cases. Almost a third (30%) of Brits admitted to having compromised on "must-haves" in the past if it meant that the rest of their list was fulfilled.
Gen Z are the biggest age demographic to have settled for less than best, with 42% saying they have previously compromised on their "must-haves" in order to bag their dream home. Meanwhile, Londoners are the biggest victims of compromise, with 33% willing to compromise on must-haves, followed by home buyers in the East Midlands (32%) and Northern Ireland (31%).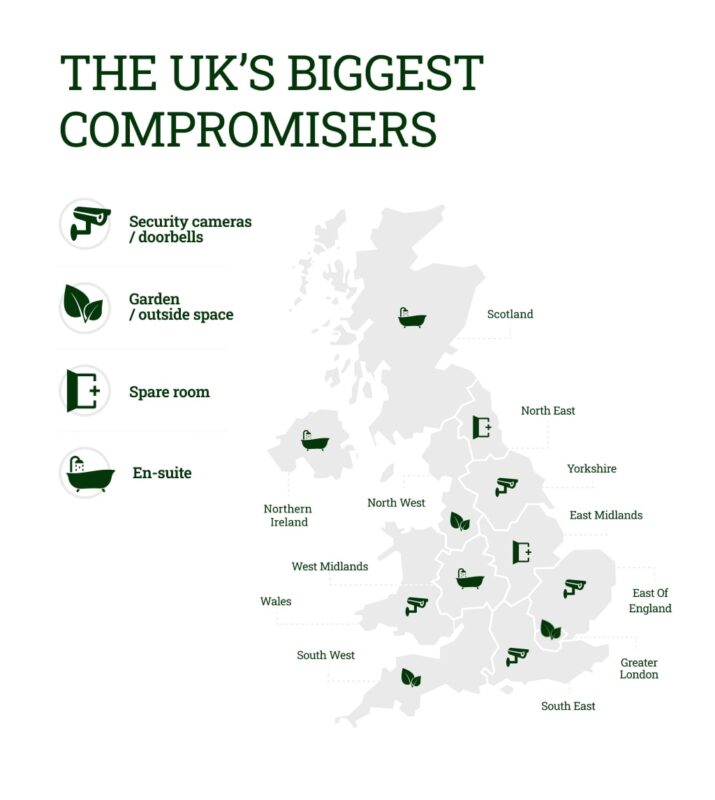 The biggest area of compromise is security cameras or doorbells, with a third of Brits saying they would happily give this up to get their dream home. The East of England (37%) and Wales (35%) are the regions most willing to give up having home security installed in order to secure their dream home, while Yorkshire and the South East are happy to drop this "must-have" out as well.
Almost a third of Brits are prepared to forgo an en-suite if the rest of their "must-have" list has been ticked off. Northern Ireland (48%) and Scotland (35%) are the most prepared to leave out an en-suite in their new homes, as well as house-hunters in the West Midlands. Gen X (those aged 43-54) are the age demographic most happy to drop the en-suite from the dream home list if it meant getting the rest of their "must-haves", followed by Millennials (28%).
Despite it being the most in-demand item on the list, more than 1 in 10 home buyers in the UK are happy to give this up for their dream home. Londoners are the region most willing to compromise on having a garden or outside space (16%), followed by those in the South West and North West (both 15%).
The UK's Biggest Turn-Offs
The survey revealed that while 61% of the population are actively looking at property websites to find the "home of their dreams", many don't feel confident in seeing the potential in those they do go and view. A fifth of Brits admitted that they weren't able to see where there is an opportunity to improve the layout of a property when viewing potential homes to buy, as they were unable to see past the current decor choices and properly envision their own furniture in the space.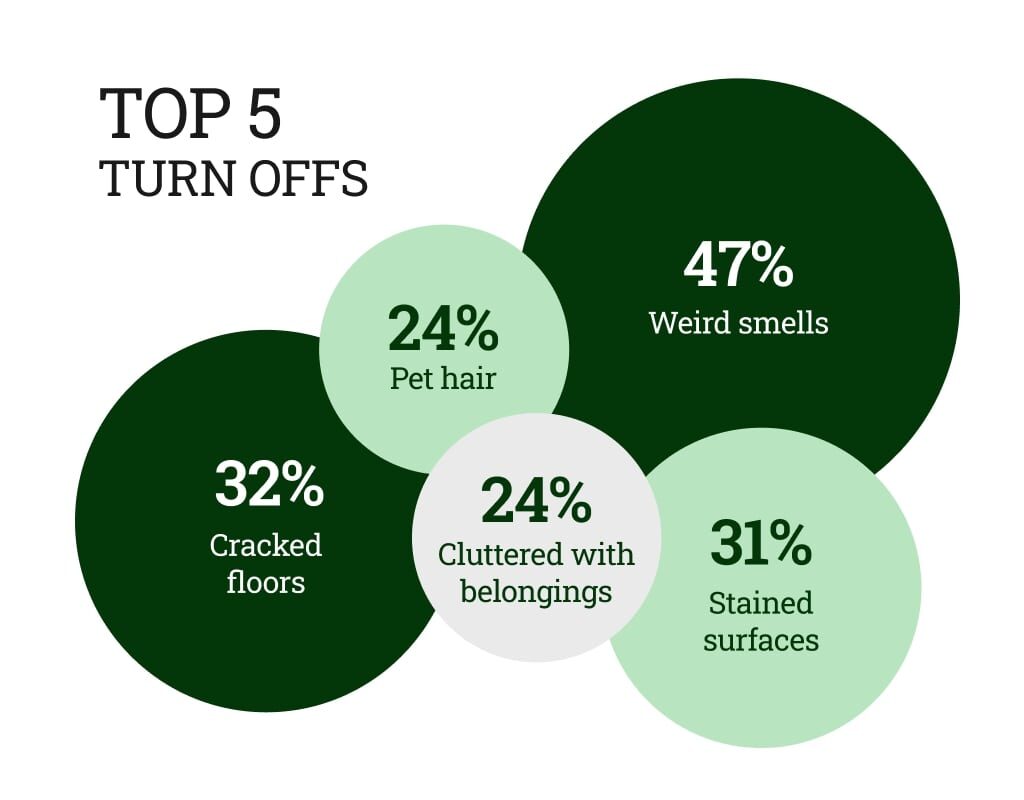 When asked about the icks home buyers face when it comes to viewing properties for sale, weird smells were the top turn off with almost 50% of Brits saying this was the clincher for them to disregard a potential home altogether. This was followed by cracked floors (32%), stained surfaces (31%) and pet hair and clutter (both 24%) rounding out the top five turn-offs for new home buyers.
While it seems that Baby Boomers care the most about pet hair (26%) and the current owners' clutter (25%) when viewing potential properties, Gen X are secretly critiquing your patterned wallpaper choices and state of your furniture (15%) and over 74s are being turned off by homes with small windows.
Feel confident knowing that a conservatory addition is a great investment for your home, with more than a quarter of buyers not willing to compromise on this bright and airy addition on their next home. Get a free quote today!