One of the things we love about our sleek and modern conservatories — besides more space and more light — is that they make great sun traps, particularly in the summertime. They're a fantastic place to entertain friends and family, whether you're free-flowing between the garden and the house during a sunny barbecue or enjoying a leisurely drink in the evening. But there's a fine line between enjoying the warmth and feel of natural light and having to squint through intense sunshine or, worse still, not being able to sit in your stylish, spacious conservatory due to the heat.
Luckily, help is at hand. Conservatory glass film and solar glass are both innovative solutions to reduce glare and minimise heat, while still letting natural light in. The result? A comfortable and sun-filled conservatory tailored to your home — whether you want to read, work or just relax with family and friends all year round.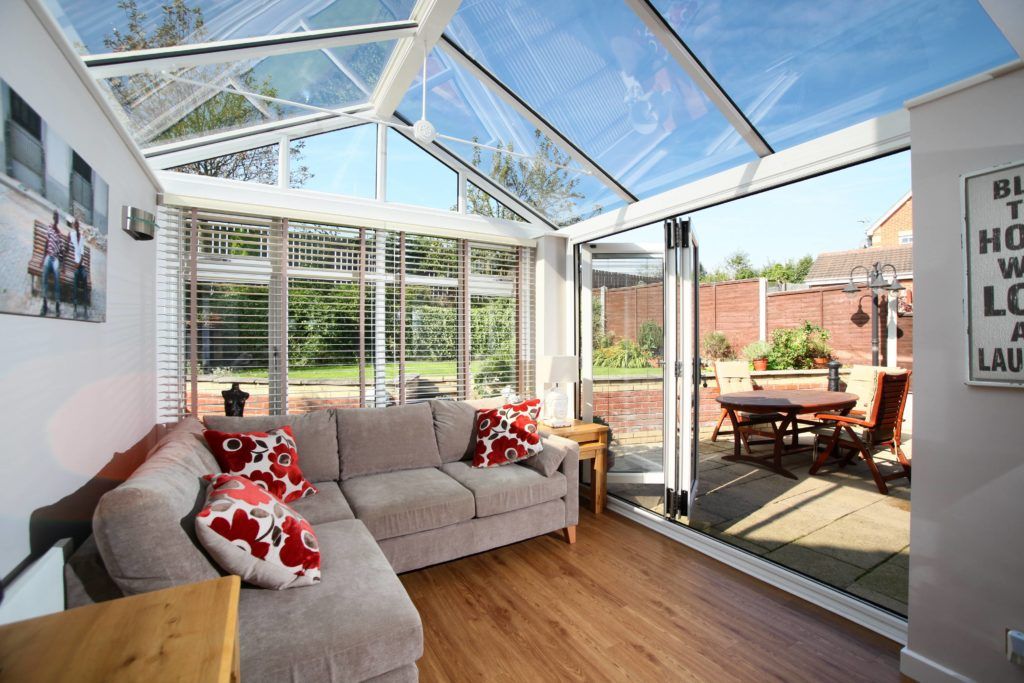 What is conservatory window film?
Conservatory window film is a type of adhesive plastic applied to the existing glass roof or windows to reduce solar glare and heat.
A clear conservatory window or roof film can help reflect heat from the sun, creating a more comfortable ambient temperature. Once applied, a window film for your conservatory reflects heat and light away — so you're left with a cooler space to enjoy all year round.
Does conservatory solar film really work?
Conservatory window film — sometimes referred to as conservatory glass film or solar film — reduces heat and glare from the sun, helping to regulate temperature, minimise sun damage to your furniture and keep your elegant conservatory a space for all seasons.
Ready to customise your conservatory to an all-year-round space? Read on to transform and refresh your favourite space for summer. We take you through the pros and cons of conservatory glass film and solar glass to help you find out which option is best for you.
Pros of glass film
It can reduce solar heat, which will make the temperature more comfortable all year round — especially in summer
Solar control film is suitable for both glass and polycarbonate (read our handy roof type guide if you're not sure on yours)
Conservatory window film lessens how much sunlight enters the room (handy if you're trying to concentrate on a TV or computer screen)
Minimising solar glare can also help reduce fading and discolouration caused by sun damage, which can happen to furniture and pictures over time if your conservatory roof or windows have no solar protection
Conservatory roof film is cost-effective and more affordable than a new solid roof — this is perhaps the biggest benefit if you want to minimise heat and glare but need to keep overall costs down
Different films offer different benefits — some conservatory window films block more light over heat, or vice versa
Cons for glass film
Solar film for conservatories is not as effective as solar glass — while you can expect a noticeable reduction in heat and glare, conservatory window film is ultimately not as long-lasting.

Not all glass films are compatible with all conservatory windows and roofs — especially if your conservatory roof or windows are a particular style or very old
Costs and quality can vary — not all conservatory window films offer the same solar benefits, so it's worth doing your homework before investing in additional work
You may have to compromise when it comes to tint or colour — different conservatory films have different benefits, but the more effective are often dark and can change the overall look of your conservatory roof or windows
Solar control films are tricky to apply — if done incorrectly, they can wrinkle, have air bubbles trapped underneath or can just not work altogether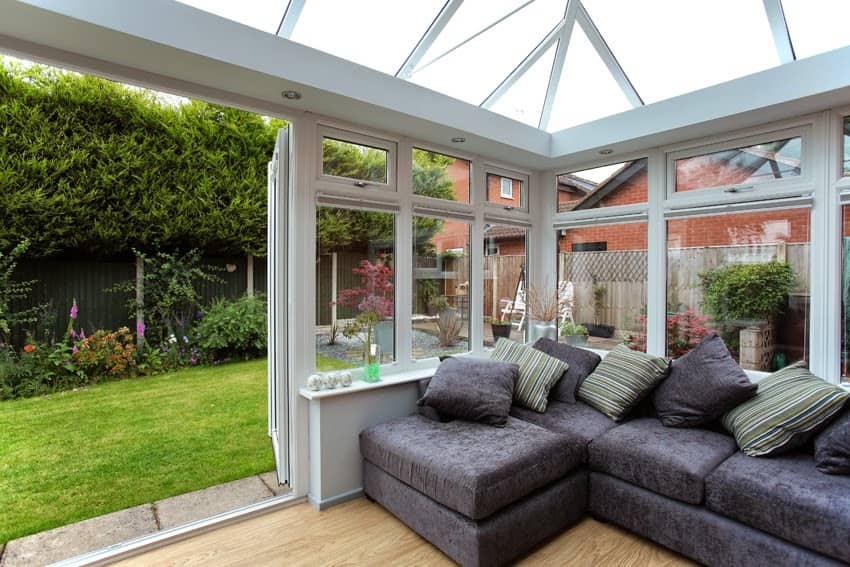 What is conservatory solar glass?
Conservatory solar glass is a type of glass treated to block UV rays and minimise heat, reflecting and absorbing heat from the sun and filtering light to reduce overall glare.
Like conservatory window film, conservatory solar glass controls how much light and heat gets in and out of your conservatory. Some modern conservatories are built with an existing solar glass conservatory roof, which can help to regulate both glare and temperature for years to come as well as improve energy efficiency.

If you're still shopping around, check out our guide to the best glass for your conservatory.
Pros of conservatory solar glass
Its effective solar control stops heat building up in your conservatory while still letting natural light in
Conservatory solar glass is so effective, it may mitigate the need for any additional air conditioning or even curtains/blinds
Solar glass is much quieter than polycarbonate roofs in rain or hail — essential if you use your conservatory daily as a work or living space
As with glass film, solar glass helps reduce the glare on TV and computer screens, and protects furnishings from fading and discolouration due to sun damage
Cons of conservatory solar glass
It can be more expensive than glass film, depending on the size and style of your conservatory, as well as the provider of the solar glass
If your conservatory roof or windows are polycarbonate, solar glass may not be an option for you without a conservatory restyle or refit of the roof
Solar glass involves a more complex process and takes longer to fit, while window film can be applied quickly and easily
Does ConservatoryLand offer conservatory window film or solar glass?
Here at ConservatoryLand, we offer a unique and highly effective solution to help you customise your conservatory. You can use our blue self-cleaning solar control glazing on windows and glass roofs, no matter the age or style of your elegant conservatory.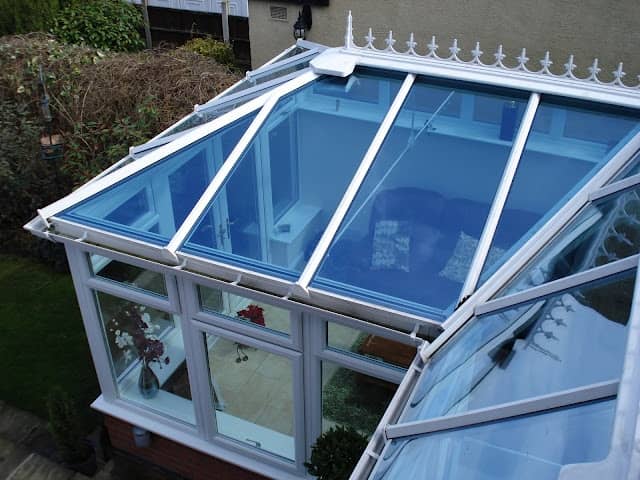 More living with solar control glass from ConservatoryLand
If you want to find out more about installing a high-quality, affordable conservatory with solar glass, download a free brochure or get a personalised quote today.