Adding a conservatory to your bungalow is a practical and affordable way of gaining valuable new living space in the home you love.
A conservatory can help to maximise space for a growing family or gain a better connection with your garden.
What is a bungalow?
A bungalow is typically a one-storey house with no stairs.
Bungalows are a sought-after property type for people of all ages, but are particularly popular with the elderly who may have difficulty going up and down stairs.
One of the key benefits of a bungalow is that they are often detached properties with reasonably sized gardens, offering better privacy and the opportunity to extend if you wish to.
It's important to find out whether you will require either planning permission or building regulatory approval before ordering your new bungalow conservatory to avoid problems later on.
Will I need planning permission?
If you've decided to add a conservatory to your bungalow, you may be wondering "do I need planning permission for a conservatory on a bungalow?"
To answer this question, it's important to familiarise yourself with the conditions that must be met for a bungalow conservatory to be considered a 'permitted development'.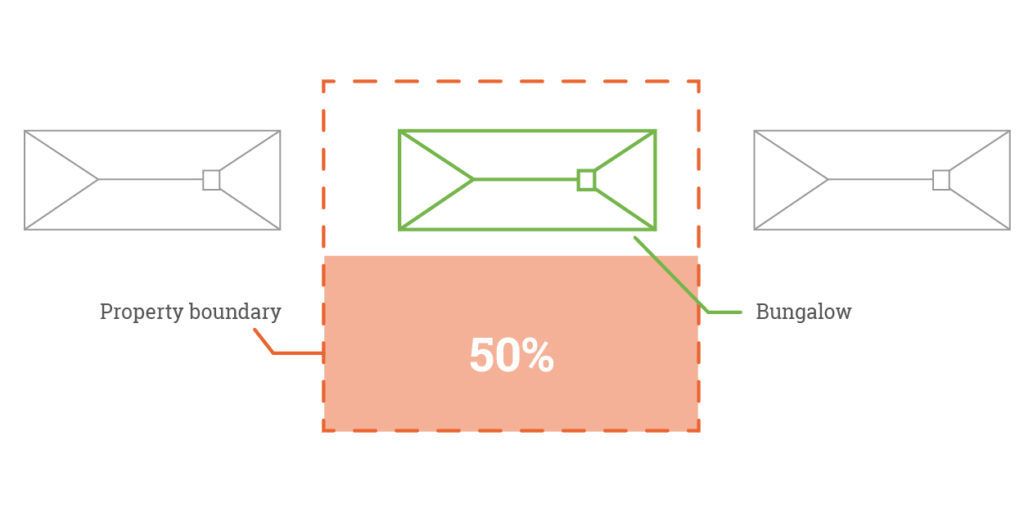 If a conservatory qualifies as a permitted development, then it will not require planning permission.
The conditions of a permitted development that relate to bungalows are:
"No more than half the area of land around the "original house"* would be covered by additions or other buildings."
This restriction includes existing buildings as well as your new conservatory. No more than 50% of your home's total land (that is not covered by your house) should be covered with buildings. The term 'original house' refers to your house when it was first built, or on 1 July 1948 for older properties.
"Single-storey rear extension must not extend beyond the rear wall of the original house* by more than three metres if an attached house or by four metres if a detached house.")
This condition states the maximum size a conservatory can be and is dependent on whether your bungalow is detached or semi-detached.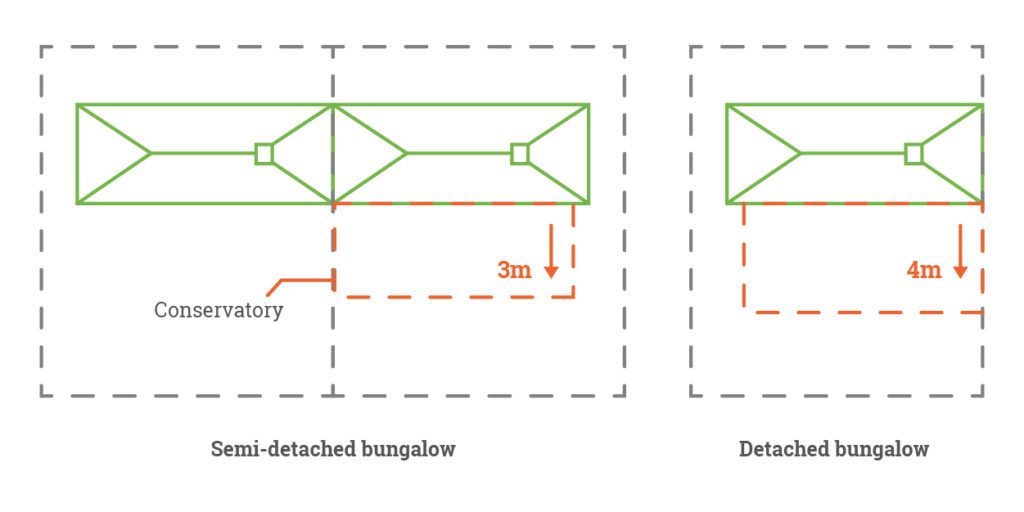 "No extension to be higher than the highest part of the roof."
Those adding a conservatory to a bungalow must be careful to ensure that the conservatory they choose is not too tall, as the conservatory roof must not extend past the highest part of the bungalow's roof.
You should also ensure that your bungalow conservatory complies with building regulations and apply online for building control approval if necessary.
If you are in any doubt about whether your conservatory's specifications meet these requirements, you should always check with your local authority planning department first.
Bungalow conservatory styles
Whilst there may be some height restrictions when adding a conservatory to a bungalow, there are still plenty of different styles to choose from.
Our bungalow conservatories are available in a variety of attractive styles, including the popular Hipped-Back Edwardian model.
Speak to our team of experts for advice on the size and style of conservatory suitable for a bungalow. We will always do our best to ensure that your conservatory meets all relevant building regulations and planning permission conditions.
Give us a call on 0800 952 8000 or request a free quote online today.