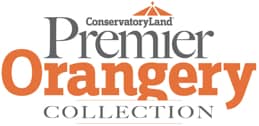 An elegant and stylish new range from of orangery extensions from the self-build specialists at Conservatory Land.
You can save on labour costs with ConservaBase, and build your own DIY Orangery in just five days.
Other benefits include:
Free delivery

Beautiful pilasters

An enhanced, eye catching aluminum gutter system

A modern internal pelmet

High-quality materials

Complete support throughout construction if needed

Adds a touch of class to your home
If you'd like to learn more about our DIY orangery extensions, request a free brochure from us today.
Simply enter your details and we'll post you a copy right away. It's that simple.
What is the difference between an Orangery and a Conservatory?
Whilst orangeries and conservatories are very similar, orangeries can be more expensive and are generally viewed as a more aesthetically pleasing option.

The key differences with an orangery are its deep external guttering and use of brick columns and pilasters. Both features add to the orangery's elegant and luxurious image.

Our blog what is the difference between a conservatory and an orangery explains the differences in more detail.
See more orangery images in our customer gallery
See more examples in our customer gallery
DIY orangery kit specifications
As you will see below, every DIY Orangery we manufacture is different and made-to-measure to suit your home, preferences and budget. If you don't see what you need below, please ask us!
Roof Types
We normally manufacture a standard DIY Orangery roof at a 25° pitch, but depending on height requirements, this can be anywhere between a 20° and 35° pitch.
Orangery roof glazing normally consists of:
Subtle Blue, Self-cleaning, solar control, 24mm glass sealed units

, which is available in various colours and thermal specifications to suit your needs and preference.
Models
Our DIY Orangery models are available in either:
Dwarf-Wall Model

 – we normally manufacture the frames to suit a 600mm high wall, but we can manufacture them to suit any wall height according to your requirements.

Full-Height Model

 – full height frames with glass to floor. These frames are usually 2100mm in height, but we often manufacture them at different heights when needed, in order to fit various different  site situations.

Full-Height Bottom Panel Model

 – Full height frames with solid PVCu panels in the bottom. Again, these are normally 2100mm high but this can sometimes vary, the same as already stated above.
Orangery Window Frames
You name it, we can supply it! Below are just some of the options available to you:
Window frames to suit any wall height 

including dwarf-walls, three-quarter height walls and full-height walls.

Fixed or opening windows

 where desired.

A choice of handle colours: 

white, gold or chrome – all our window handles are auto-locking, with additional key operation.
Doors
Depending on your preference, we can supply any of the following door types, and you can have as many different door types as you want in your Orangery:
Single Door –  

half or fully glazed, inward or outward opening.

French (Double) Doors

 – again, half glazed or fully glazed, opening inwards or outwards. French doors are our most popular choice.

Patio (Sliding) Door

 – sliding left or right, these are available in 2, 3 or 4-pane options.

Bi-Fold (Concertina) Doors – left or right sliding and opening in or out, these come in many different configurations and provide maximum opening between your Orangery and garden.
A choice of handle colours: – 

white, gold or chrome – all our doors feature multi-point locking mechanisms.
Colours
All our Orangery models are available in White only.
Base, Floor and Walls
All our DIY Orangery designs are fully compatible with ConservaBase, our optional, steel conservatory base, floor and wall system. Or we can manufacture your Orangery to fit onto a conventional concrete base and brick walls.
Our DIY Orangeries are fully customisable, please see our Specifications page for further details.
Orangery Planning Permission
Orangeries are bound by the same planning permission regulations as conservatories.
You can read all about planning permission, and whether or not you need it, right here.
Orangery Cost
So, how much does an orangery cost?
Like all conservatories, it depends on the type of extension you buy. We build bespoke orangeries for your exact needs – and the Orangery price will depend on what those needs are.
Things like size, dimensions and specifications will determine the overall cost of the orangery.
A few more points to consider when deciding a budget for your new orangery are; whether you require a new base for your orangery, the type of glazing you would like, the style of frame you're looking for and whether you feel confident installing it yourself.
We offer a range of interest free and low-rate credit options to help you finance your new orangery. See our Conservatory and Orangery finance page for more details.
Customer of the Month Case Study
The Drake family had a Hipped-Back Edwardian Orangery supplied by Conservatory Land in May 2017. After the initial brick work was completed Mr Drake began building the rest of the orangery himself – an experience he says he "thoroughly enjoyed".
Throughout the project, Mr Drake made a few phone calls to his dedicated technical advisor here at Conservatory Land, to ensure he was doing everything right.
Their orangery is incredibly spacious, and gives the Drake's exactly what they needed.
Customer Quote
Once the children are in bed, we love relaxing in our Orangery, enjoying a nice glass of wine and taking in the views of our much-loved garden.
Katherine Drake, Nottinghamshire
You can read the Drake's Experiance in the Hipped-Back Edwardian Orangery Case Study along with many other Case Studies in our archive.
Ordering a DIY Orangery kit
Purchasing a DIY Orangery from Conservatory Land is easy.
All you have to do is give us a call (the number is 0800 952 8000) and let us know your measurements.
They don't have to be exact right now, estimations are fine.
We can discuss your options, give you a quote, and once you've made a decision to buy, we'll begin the manufacturing process.
Once the order has been manufactured, we'll deliver your brand new orangery to your home for free.
Building an Orangery
Our DIY orangery kits comes with easy-to-follow instructions, and you'll can phone our advisors at any time during the building process.
As mentioned earlier, building an orangery can take up to 5 days.
If you would rather leave the job to a professional orangery installer, then why not call in one of Conservatory Land's approved installers?
Not everyone has the time or inclination to build their own DIY orangery kit. Whilst calling in the professionals will increase the cost of building an orangery, it will make the process simple and stress-free.
Every installer we have approved has been thoroughly vetted for your peace of mind. Meaning you can rest assured that your orangery construction will be completed quickly, efficiently, and to a high standard.
Our Reviews

Thomas Williams
2020-10-06
Great service great price lovely conservatory really friendly staff talk you through every stage delivered on time and looks great

Outstanding service, communication and quality from the start of the process to the finish. Our installers were amazing, nothing was too much trouble and the attention to detail was fantastic, they really took pride in the job they were doing. My conservatory is everything and more than I expected and has already made a huge impact having the extra space. Already planning my next one with them, i would highly recommend them.

So everything arrived on time and in order. Everything is good quality. The only thing that lets it all down are the instructions. They are useless. They don't tell you anything as they are made for many different types of conservatory. Apart from that it looks good and took a week to put together with just two of us doing it. Staff are helpful though and overall I'm pleased.

Having been unsure about how a UPVC conservatory would look on our traditional stone house, we are absolutely delighted with the result. Before ordering, a year ago, we were shown round the factory so we were able to see the structure and good quality at a reasonable price. The showroom was in the process of re-design, but the Conservatory Land colleagues were very helpful in showing us the various design combinations available and helped us through one or two of our changes of plan without issue. The delivery of all the glass, frames, doors and parts went smoothly. The construction ( our own builders) went well and advice and help was still easily available to us, throughout. We love our conservatory and spend a great deal of time, in all seasons, in our light and roomy new living space. Thank you ConservatoryLand. (Photos sent previously)


Excellent sales, delivery process and fitting.

Overall was a good experience,from start to delivery ,I was a little worried buying online so I was nvited down to the factory which I have to say was impressive they manufacturer everything on site and you can see everything being made. I placed the order and was given a date for delivery which arrived on the exact date even the driver was helpful unloading and giving advice All instructions was good and used the utube videos if got stuck I had to call the helpline just once which they quickly answered my question ,I am in the building trade so didn't really struggle with any thing and the finished product is superb ,the major niggle I have was on the French doors the locking mechanism is not adequate for security is Very basic is no hook system or deadbolts therefore would be Very easy to break in ,I have upgraded All the mechanism to a higher version which wasn't a big cost , maybe if this is standard they should offer a upgrade pack as this is probably the most important part keeping safe .