Transforming your conservatory into an office is a great way to maximise space while creating a bright and productive workplace.

Here, we'll look at the benefits of a conservatory office and some ideas to help you create a functional and stylish space.
Why should you turn your conservatory into an office?
A conservatory home office offers plenty of benefits:
A quiet workspace — conservatories are typically quieter than other parts of the home, thanks to less footfall.
Increased natural light — enjoy a light-filled conservatory office, which could reduce eye strain and increase productivity.
A calming environment — connect to nature by stepping into your garden on a break.
More space — an office in a conservatory can provide an additional area without sacrificing your living space.
Cost-effective – utilise your conservatory by transforming it into a much-needed office, rather than investing in a traditional brick-built extension.
Read on to discover how you can turn your conservatory into an inspiring home office you can be proud of.
7 ideas for your conservatory office
Turning your conservatory into a home office is easy with the right planning.

Let's take a look at seven conservatory office ideas to consider when setting up your space.
1. Get the basics sorted
Set up your conservatory properly for your needs. The two most important factors will likely be electricity sockets and WiFi (depending on the type of work you do).

Make sure you have enough outlets to run your electrical equipment, including monitors and power cables. Next, figure out where you'll need to put your furniture in order to reach the sockets.
Check your WiFi coverage in advance to ensure it's adequate for your needs. Having trouble staying connected? Consider getting a WiFi booster to help you get online.
You may want to think about how to keep your office equipment safe and secure. Storage solutions can help to conceal your possessions. It's also worthwhile checking all office conservatory doors and windows have dependable locking systems.
2. Work with natural lighting
Conservatories let in a lot of natural light, which is one of the key reasons why conservatory home offices are so popular.
However, abundant light may cause glare, so consider blinds and curtains to help with this. You'll also want to prevent the space from overheating, especially on hot days. Desk fans are ideal for ventilating your conservatory.
When the early nights arrive, spotlights or desk lamps can provide extra light and are worth considering for your home office setup.
3. Choose the right furnishings
If you're going to be spending a lot of time working in your office conservatory, it's important to invest in high-quality furniture that will prevent back or posture problems caused by sitting for long periods.

A spacious desk with drawers will help keep your space tidy and organised. Short bookcases can also help organise the room and are less likely to obstruct your beautiful views than taller ones.
A well-placed armchair catching the last of the day's rays might also be a great complement to your conservatory office, giving you somewhere to unwind after a long day.
4. Don't forget the details
You can personalise your home office in various ways to make it feel comfortable, inviting and inspiring.
Add colour and texture to your home office with cushions, throws and rugs. Conservatory plants can brighten your space and can improve air quality, too.

You may want to add stylish touches like photos, artwork or ornaments to add character to the room.

Remember to think about all the practical features you want in an office, such as enough pens and coasters to protect your furniture and a footrest and lumbar support to keep you comfortable.
5. Keep a multi-purpose mindset
If you're limited by space, make the most of your conservatory by keeping it multi-purpose.
Get smart with storage and clear away equipment at the end of the week so you can enjoy your conservatory on weekends — whether as a dining room or entertainment space.
Another option is to use a dining table as a desk, so you have an area to work on but can quickly switch things up for dinner in the evening without taking up extra space.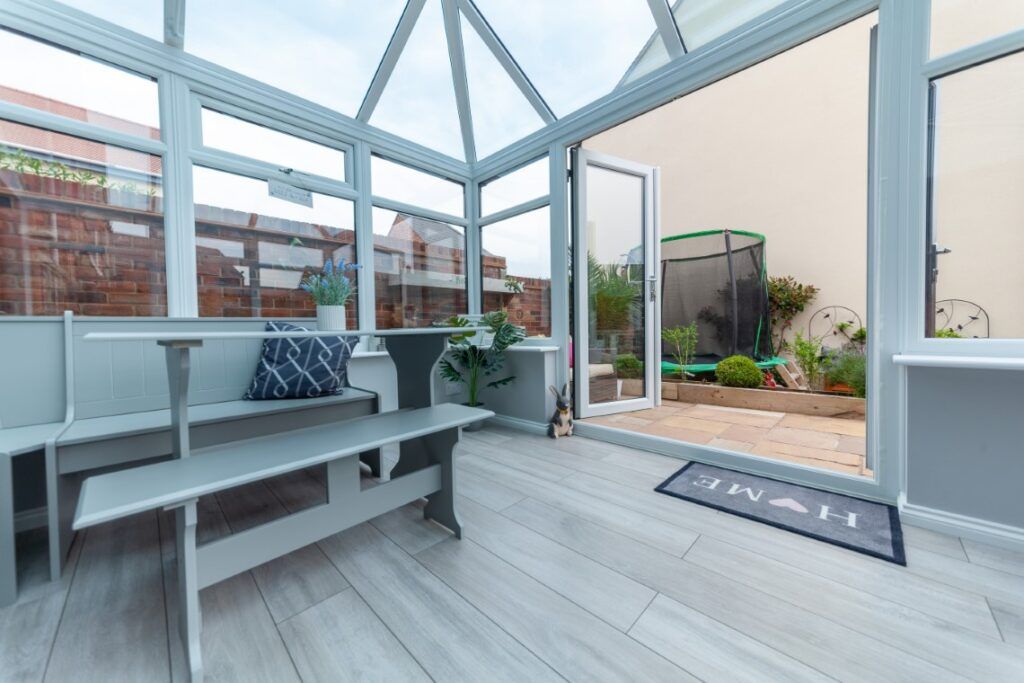 Interested in style and decor inspiration? For more ideas, check out our conservatory interior guide.
6. Protect your furniture from the sun
A solar control glass roof can reduce the light that enters the conservatory, helping to regulate the temperature all year round. It's also an easy way to prevent intense sunlight from damaging or discolouring your equipment and furniture over time.

Blinds and curtains can also help protect your furniture from sun damage.
7. Make your conservatory office useable all year round
Temperature control is essential for your home office in a conservatory, as the temperature can fluctuate depending on the season.

Installing high-quality insulation and using energy-efficient heating solutions can help keep your office conservatory comfortable all year.

For more ideas, read our page on how to enjoy your conservatory all year round.