Back to list
If your conservatory has been relegated to a disused dumping ground, it's time to modernise and claim back the space.
Conservatories can be a haven. A peaceful space surrounded by the garden and tucked away from the noise.  But if you and your family have found that you're using your conservatory less, it's time to evaluate why that is, and update the space accordingly.
Whether your conservatory is too cold and draughty, or outdated and cluttered, investing in modernising the room can add space and value to your home and improve your quality of life.
We've put together our top tips and advice on how to modernise a conservatory to help you create a space that is practical, comfortable and enticing.
Conservatory interior makeover ideas
If you've fallen out of love with your conservatory it may only take a few small updates to its interior to transform the space again.
Chances are you don't need a full conservatory renovation.  You'll be amazed at how much of a difference a few new and carefully curated items can liven up a room.
When considering how to modernise a conservatory, think carefully about the room's function and research interior ideas before making any purchases to ensure that everything ties in together.
Furniture – an easy way to totally makeover the feel of the room is to update conservatory furniture.  Think how to make the most of the space you have by choosing furniture that is practical as well as functional. Multi-function furniture is great for saving space and preventing small rooms from looking cluttered.
Lighting – lighting can make or break a room and plays a huge part in creating a relaxing ambience.  If your conservatory's primary function is relaxation then you don't want any bright, harsh, overhead lights.  Instead, opt for lamps and lights that can be dimmed.
Textiles – rugs, curtains, blinds, throws and cushions all present a great opportunity for injecting some colour, pattern and texture into your conservatory. If you feel like your conservatory is lacking character, try replacing old conservatory curtains, adding a huge new rug, or a colourful set of cushions to give the room back its energy.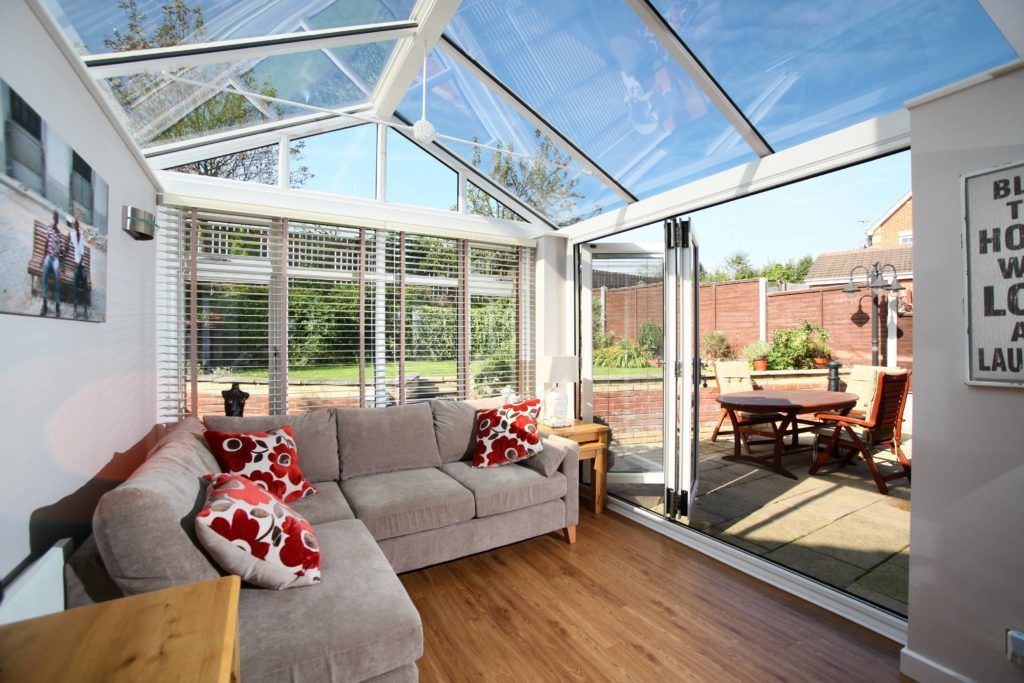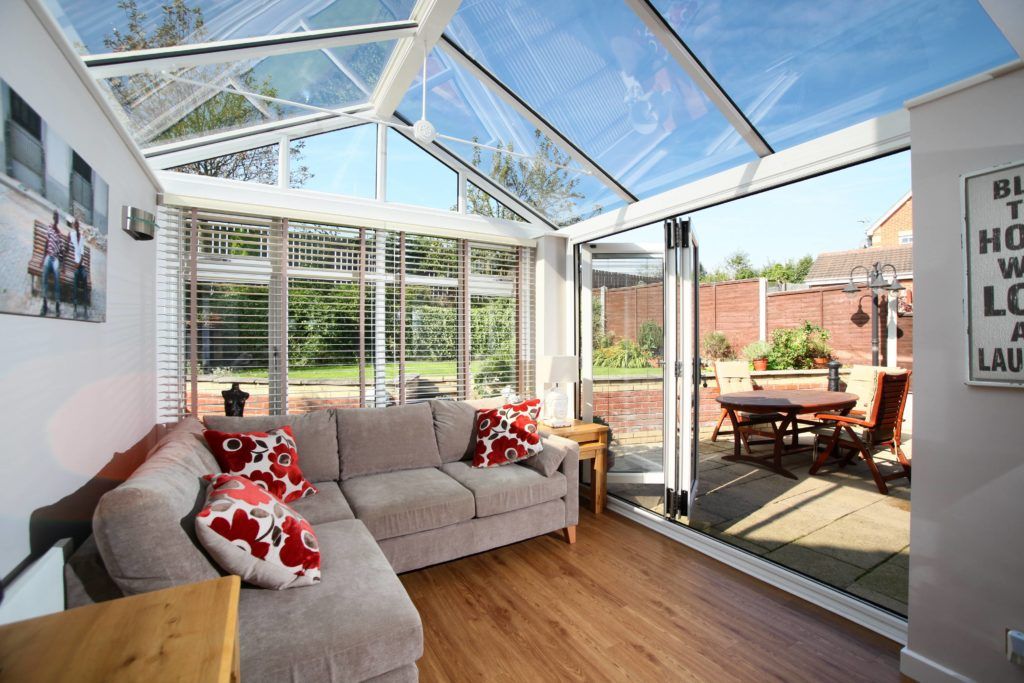 Update your conservatory's exterior
A conservatory is a great place for enjoying your garden when the weather is too cold for getting out.
Of course, you're only going to enjoy the views if they're unobstructed and well maintained. An overgrown garden or dirty windows is unlikely to have the zen effect you're looking for.
If your views are looking a little bit streaky and smudged, then it may be time for a deep cleanse.  Either grab a telescopic brush and read our blog on how to keep your conservatory clean, or call in the professionals.
Once you're happy that your windows are clean, it's time to tackle the landscaping around your conservatory.
It may be that your garden needs a little bit of love and attention, clearing weeds, pruning plants and trimming hedges.  If your borders are looking a little sparse, add more of the plants that you love in easy view of your conservatory's seating.  You could even add a water feature for a touch of serenity.
Surround your conservatory with an outdoor oasis and it'll soon become your favourite space in your home.
Bring plants indoors
Conservatories often offer great views of the garden. But why not bring a bit of the outdoors indoors too by adding more indoor plants to your conservatory?
As well as looking lovely, surrounding yourself with greenery can be great for your health too.  Indoor plants improve the air quality in your home by purifying the air and releasing more oxygen into the atmosphere.
Studies have found that having plants indoors can have a positive impact on both our mental and physical wellbeing by reducing stress and anxiety, lowering heart rate and blood pressure, and reducing fatigue.
Try incorporating a mixture of tall leafy plants in pots on the floor and trailing plants high up on shelves. Hanging plant pots can also create an attractive focal point and are currently right on trend, so there are plenty of designs in the shops to choose from.
If your conservatory has a glass or polycarbonate roof, be extra careful to check the care instructions and make sure you're choosing light-loving plants.
Need some inspiration on which plants to choose? Read our blog to discover the best indoor plants for conservatory interiors.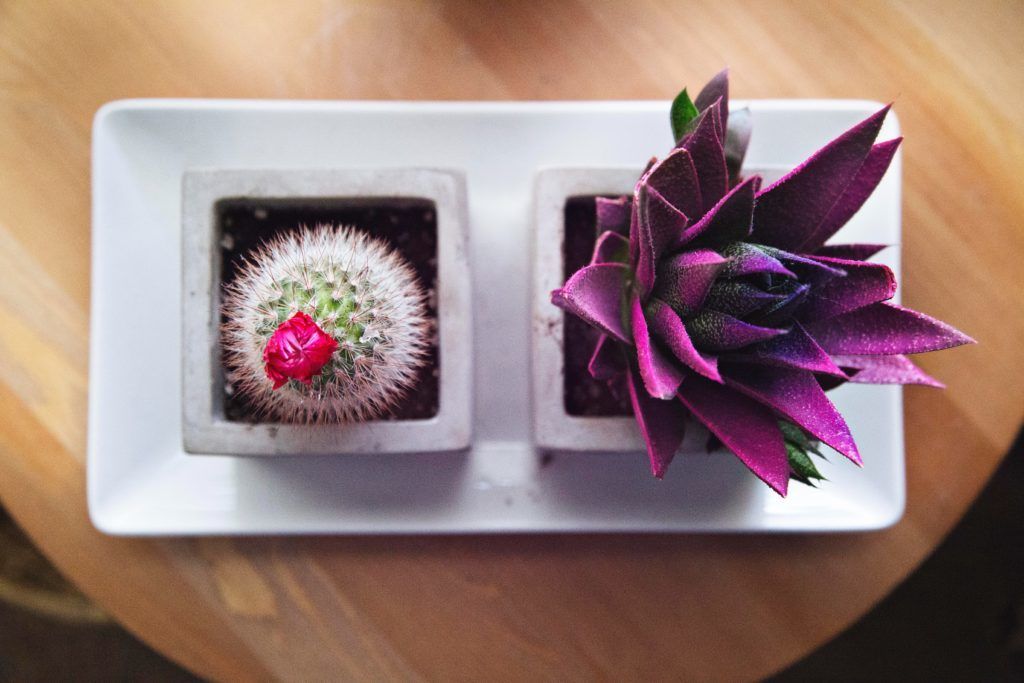 Install smart technology
If you're looking for ways to modernise your conservatory, it's wise to consider adding smart technology to future-proof your investment.  
From Google's Alexa to Apple's Siri, voice-controlled smart technology offers a convenient and efficient way of controlling the technology in your home.  Smart light bulbs, thermostats and multi-room audio and visual systems can all add an extra layer of comfort and luxury to your conservatory.
Replace your conservatory roof
If your conservatory has had the same roof for ten years or more, you may be able to revitalise the space by replacing it with a modern roof.
A few problems you may encounter with a very old conservatory roof include leaks, mould, condensation, loss of heat, and noise pollution.
Modern conservatory roofs are now available with an abundance of features that can make your conservatory more comfortable and energy efficient, including:
Glass panes filled with Argon gas – for improved insulation, efficiency and soundproofing.
Thicker panes – upgrade the thickness of your polycarbonate roof for improved energy efficiency.
Climate control roof vents – automatically open and close to keep your conservatory at a comfortable temperature.
Self-cleaning glazing – keeps your conservatory roof looking cleaner for longer and reduces time and money spent on maintenance.
UV protection – roof glazing that protects from the sun.
Colour variations – more choice than ever when it comes to the colour and style of your roof, so you can choose a look that complements the rest of your home.
For further information about any of our conservatory roofs, speak to a member of our team for a free quote and advice on the best conservatory roof types for your particular project.