With their large panes of glass, conservatories provide plenty of light and living space and offer beautiful views of your garden. They can be peaceful havens surrounded by nature and tucked away from the day-to-day rush of a busy home. If, on the other hand, your conservatory has fallen into disrepair or you're not using it as much, it's time to revamp and reclaim the space.
Whether your living space is too cold and draughty or outdated and cluttered, a conservatory makeover can add more value to your home while improving your quality of life.
We've put together our top tips on modernising a conservatory to help you create a functional, comfortable and appealing room.
7 conservatory makeover ideas for the interior
If you've fallen out of love with your conservatory, it may only take a few minor interior changes to bring it back to life.
Here are seven conservatory makeover ideas to consider:
1. Furniture
Looking to give your conservatory a makeover without carrying out a complete renovation? Revamp the room with new conservatory furniture.

Choose practical furniture to make the most of your conservatory. Multi-functional furniture is ideal for saving space and preventing small rooms from looking cluttered.
2. Lighting
If your conservatory requires a makeover, then modern lighting could add style and that extra touch you need to create a relaxing ambience.

If its primary use is for relaxation, you don't want bright, harsh overhead lights. Instead, opt for dimmable lights and standing lamps.
For more inspiration, explore our guide to conservatory lighting.
3. Textiles
Bringing textiles into your space can upgrade your conservatory from outdated to modern and stylish.

Throws and cushions can inject colour while bringing comfort and warmth when the temperature drops. Add a colourful set of chair cushions to give the room back its energy. Consider an attractive tablecloth that brings texture to the room if you have a dining table in your conservatory.
4. New flooring
Conservatory flooring adds style and warmth — and can quickly transform your space into a new room.

Practical floor tiles that can withstand temperature fluctuations are easy to clean and come in various styles. Carpet may provide the soft feel you want underfoot, or you may prefer laminate flooring for a more modern look.

If you're looking for cost-effective flooring, rugs are low-cost options that instantly refresh a room.
Find more conservatory flooring ideas in our blog.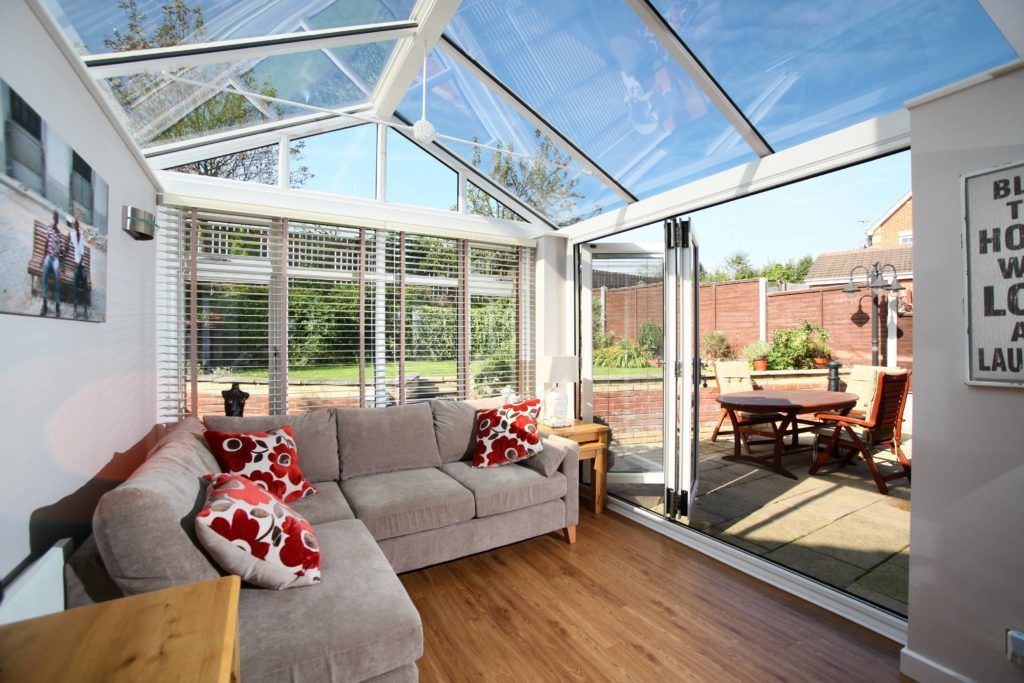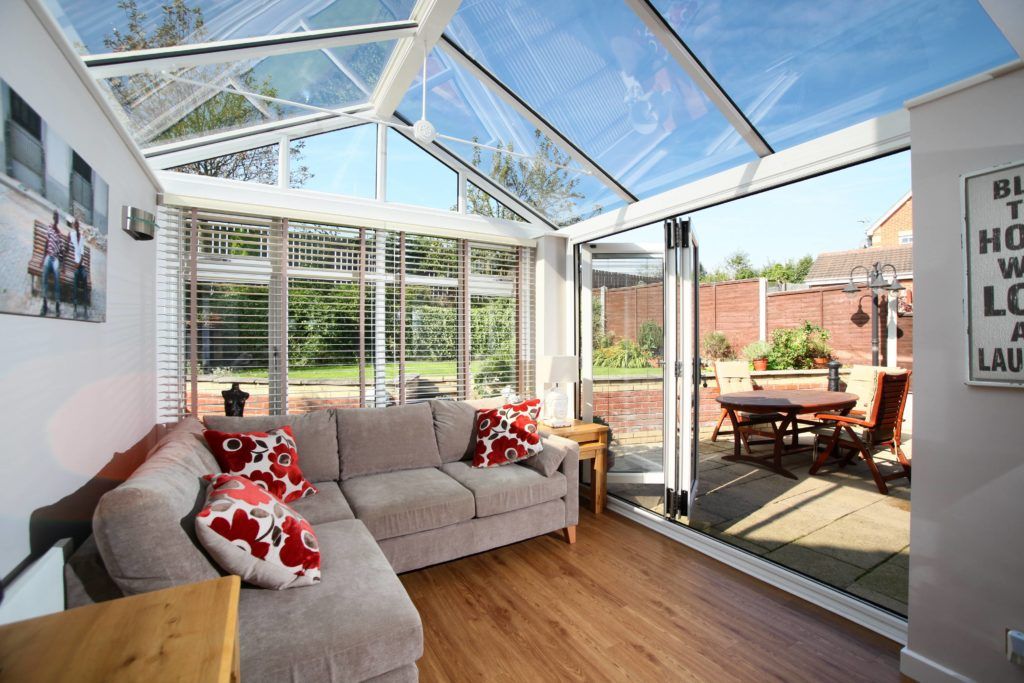 5. Blinds
Blinds or curtains can make or break a room and are often effective ways to create a stylish conservatory.

Choose colourful options to brighten the space. Or opt for neutral colours to create a contemporary conservatory design.

Some well-worn conservatory curtains may only need a quick wash. Consider replacing mouldy or sun-damaged blinds and curtains to revive your conservatory.

Beyond style, blinds and curtains can add comfort by keeping heat inside during the colder months.
6. Bring plants indoors
Most conservatories offer panoramic views of the garden. But why not bring the outdoors in by introducing plants into your living space?
Surrounding yourself with greenery can be great for your health, too. Studies have shown indoor plants improve our mental and physical well-being by reducing stress, heart rate and fatigue. They improve indoor air quality by purifying the air and releasing more oxygen into the atmosphere.
Incorporate a mix of tall leafy plants in floor pots and trailing plants high up on shelves. Hanging pots can also serve as an eye-catching focal point.
If your conservatory has a glass or polycarbonate roof, choose plants that will thrive in your bright space.
Need some inspiration on which plants to choose? Read our blog to discover the best indoor plants for conservatories.

7. Install smart technology
If you're looking for ways to modernise your conservatory, it's worthwhile considering smart technology to future-proof your investment.
Voice-controlled options like Google's Alexa and Apple's Siri provide a convenient and efficient way of controlling the technology in your home. Smart light bulbs, thermostats and multi-room audio and visual systems can all add a layer of comfort and luxury to your conservatory.
For more inspiration on modernising your living space, check out our guide to conservatory interior design.
How to modernise your conservatory's exterior
The exterior of your conservatory, like the interior, impacts its overall comfort and appeal.

Here are some ideas for modernising your conservatory's exterior so that it looks as good on the outside as it does on the inside.
1. Clean your conservatory
If your windows appear streaky and smudged, it may be time for a deep cleanse. Glass and polycarbonate roofs require regular maintenance, too. A bright, clean conservatory can do wonders for your living space, making it feel fresh and modern.

For some helpful tips, read our blog on how to keep your conservatory clean.
Your garden may also require attention, such as weeding, pruning plants and hedge trimming. Place colourful plants in easy view of your conservatory's seating. You could even add a water feature for a touch of tranquilly.
Surround your conservatory with an outdoor oasis, and it will soon become your favourite room in your home.
2. Replace your conservatory roof
Many older conservatory roofs suffer from wear and tear. You might experience leaks, mould, loss of heat and more. That's why a replacement roof could revitalise your space.

Modern conservatory roofs have high-quality features thanks to advanced technologies and building methods. As a result, your conservatory will be more comfortable and energy efficient. These technologies include:

Glass panes filled with argon gas

– offers more insulation, efficiency and soundproofing.

Thicker panes

– provides improved energy efficiency when you upgrade the thickness of your polycarbonate roof.

Climate control roof vents

– keep your conservatory at a comfortable temperature by automatically opening and closing.

Self-cleaning glazing

–maintains a clean conservatory roof for longer and saves you time and money on maintenance.

UV protection

– offers sun protection.

Colour variations

– allow you to select a look that complements the rest of your home.
3. Change your doors
After years of exposure to the elements, conservatory doors can show wear and tear. Updating your doors is a quick way to improve your conservatory's appeal and modernise its exterior appearance.

A new set of sliding conservatory doors can add style and functionality. Elegant French doors are also practical options that can help increase airflow. Or simply replace an old single door with a new one to instantly upgrade your extension.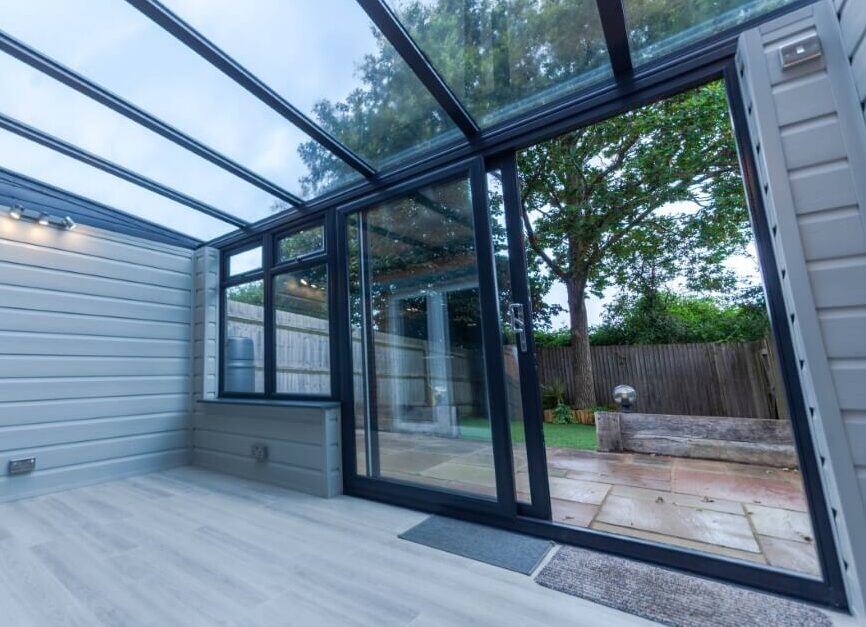 4. Update old frames
Your old conservatory frames, like your conservatory doors, may show signs of wear and tear. Some conservatory suppliers offer bespoke conservatory replacement frames at reasonable prices, so this might be the right approach for your living space.

Updating old frames will instantly refresh your conservatory. New frames can also help if your old conservatory has leaks or damp.
Build a new conservatory
Conservatory makeovers are excellent ideas for extensions that may only require a few carefully selected items to bring them back to life. If your living space is old but well-loved, it may be time to replace your conservatory.

A replacement installation allows you to create a modern space tailored to you and your home. And you'll be able to enjoy your new conservatory for years to come, thanks to high-quality materials.
Create your dream conservatory with ConservatoryLand
A modern conservatory brings space, comfort and character to your property. You'll be able to enjoy the smooth, airy transition between your indoor and outdoor areas, as well as plenty of sunlight.

At ConservatoryLand, we offer contemporary conservatories made-to-measure based on your needs and budget.

Design your dream conservatory today using our quote engine. For more information about our range of conservatory styles and customisation options, download a free brochure. Our friendly team is always available to help if you have any questions.