Here at Conservatory Land, we like to take time each month to celebrate one of our customers.
For September, we decided to choose Mr and Mrs Hill from West Wick, Somerset, who bought and built the amazing conservatory displayed in the photos below.
Our favourite couple decided to purchase a conservatory shortly after moving to a new home.
"We realised that we needed more living space, ideally closer to the emerging garden," they said.
After researching various conservatory suppliers, Mr and Mrs Hill found that they could save up to £12k by purchasing a self-build model.
Although slightly concerned about constructing the extension by himself, Mr Hill spoke to our staff regularly and was convinced that it was something he could do.
He said: "I built confidence over several weeks with Conservatory Land that really swayed me to take it on in the end."
The Hills also paid a visit to us here at Conservatory Land, in Mansfield, which all potential customers are welcome to do so! Our full contact details are supplied on our contact us page.
While here, they spoke to our designers and told them exactly what they needed. We were happy to oblige.
Mr Hill said: "The design team were very patient while we homed in on the preferred design, all the while confirming that it was within planning regulations and was structurally sound.
Within this activity we selected a wide bi-fold door unit to maximise the feeling of external space and the company was very helpful in selecting the right product."
Before long the Hills had their conservatory delivered and built, complete with a steel base structure.
Mr Hill put it together all by himself, with nothing but a standard tool set. He found it "relatively easy", and was in regular contact with members of our team.
Four years later and the conservatory is still standing strong.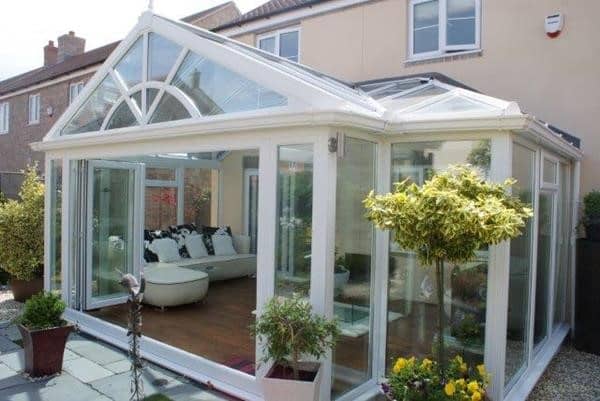 "There is a large degree of satisfaction in knowing how it was built, as well as the fact that we saved £12k. I would whole heartedly recommend Conservatory Land."